This walk: 2011-6-29. Combestone Tor, pony, foals, wind-shaped hawthorn trees, Sharp Tor, Dart Valley, Wheal Emma Leat (now dry), clapper bridge, Cumston Farm Leat, Hamlyn's (Holne Moor) Leat, O Brook Valley, Heath Spotted Orchid, O Brook, foxglove, soft rush, bog asphodel, Horse Ford, Hooten Wheals tin mine, cist, cairn. Horn's Cross, triple stone row, umbrella tree, Warren House Inn, Hangman's Pit.
Walk details below - Information about the route etc.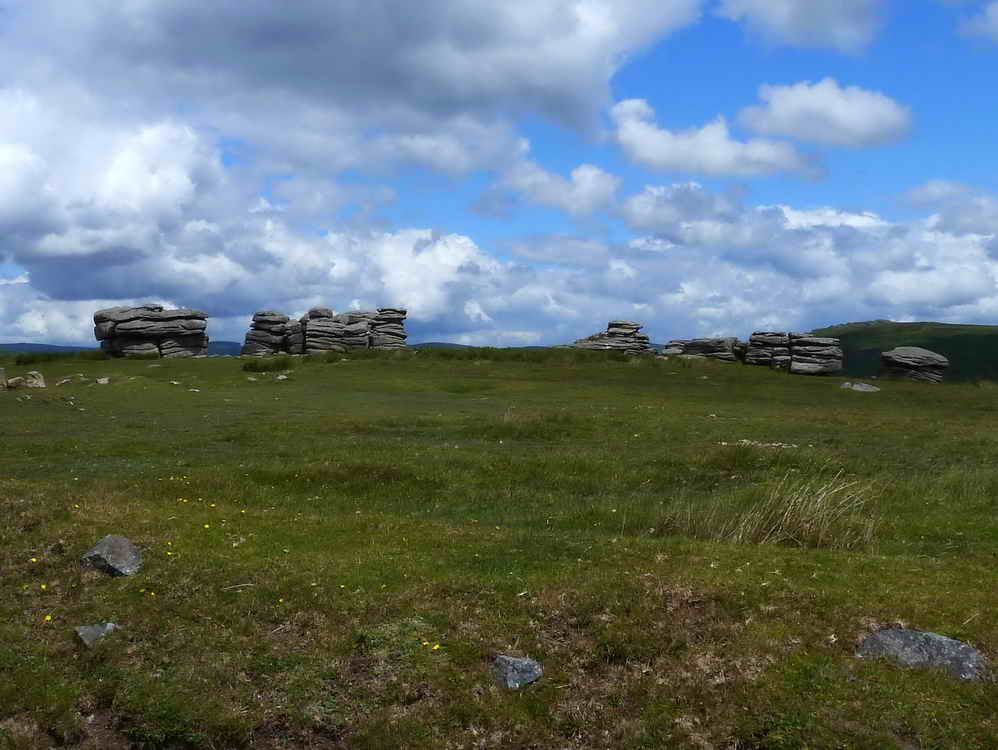 Combestone Tor, SX 670 718, elevation 356 metres (1168 feet) ..... from the road .....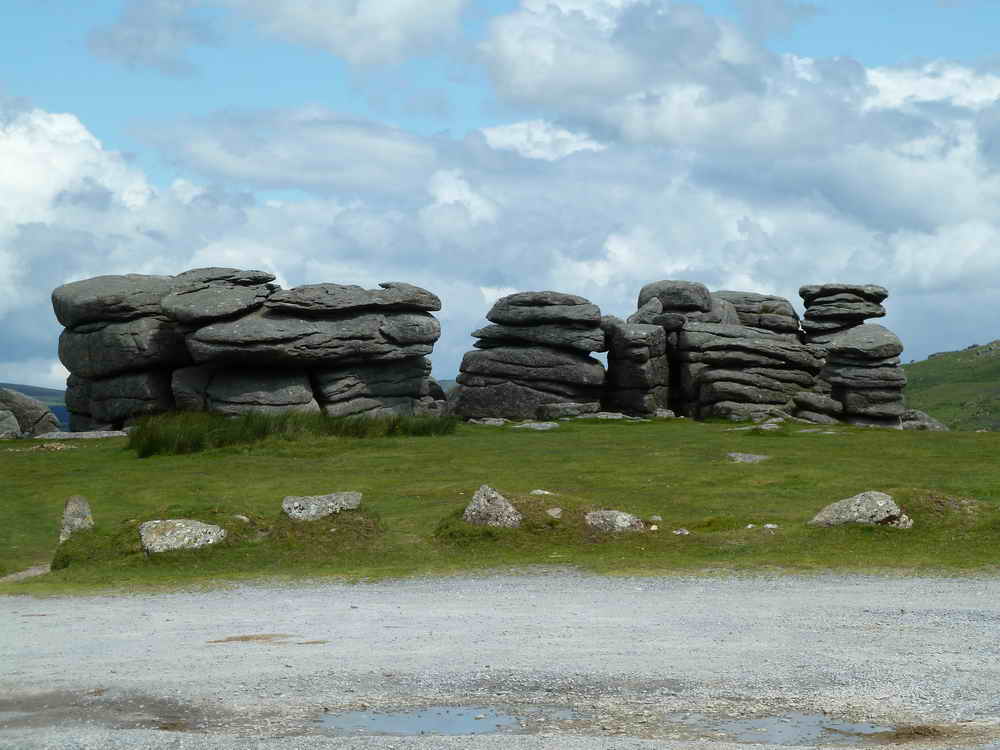 As previous photograph but from inside the car park - the only tor that you can park beside?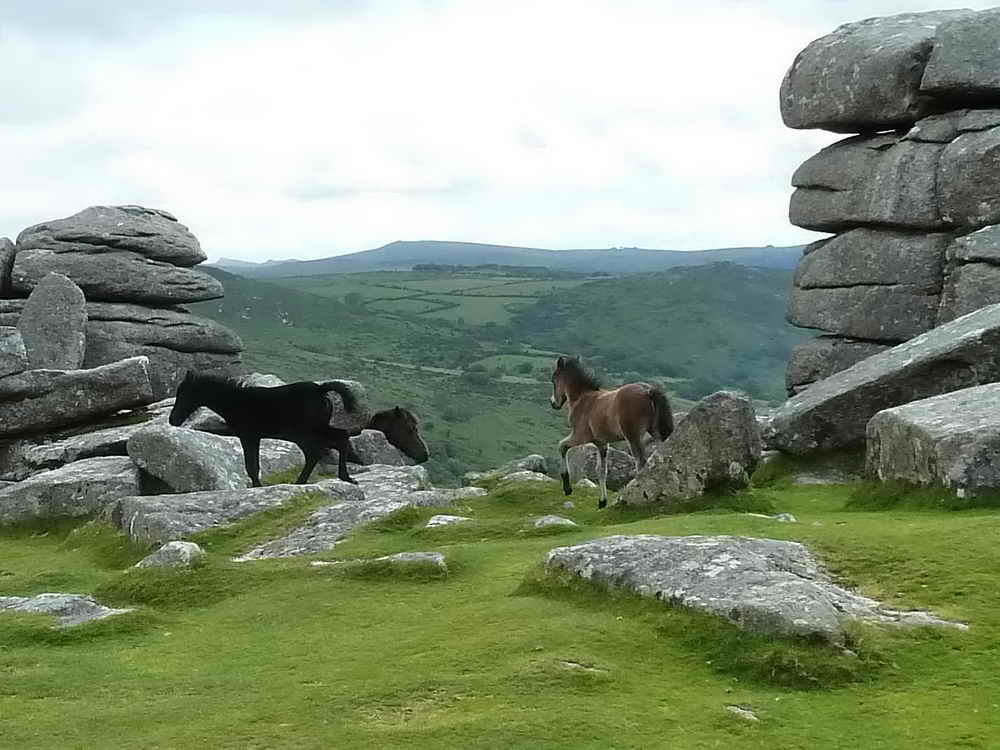 Around the back of the tor .....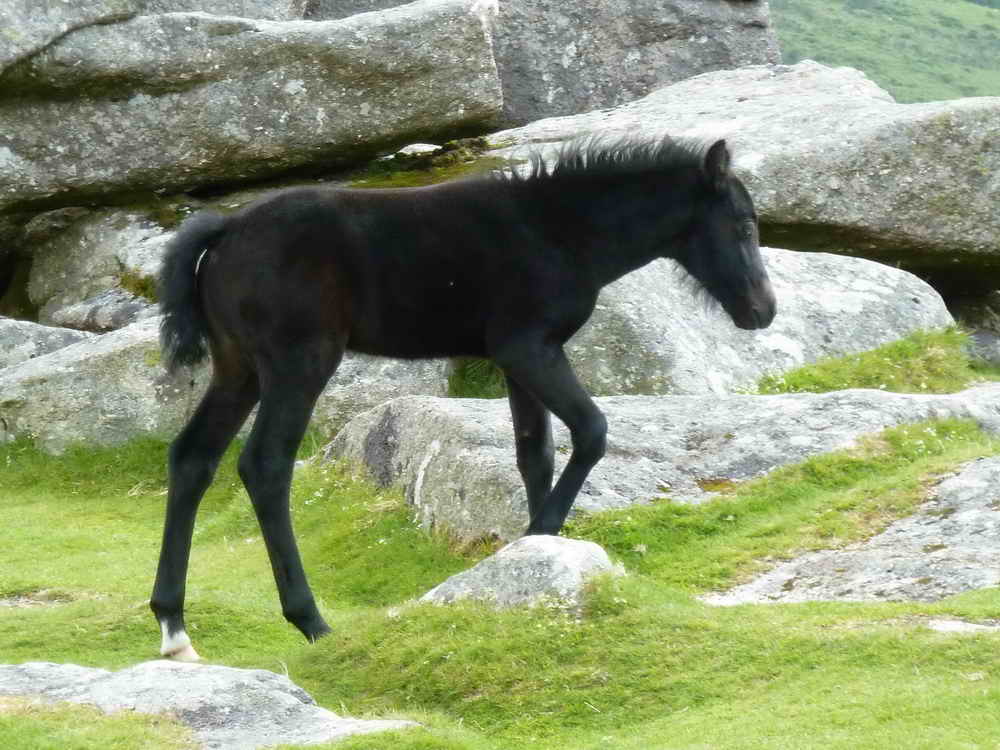 A black foal .....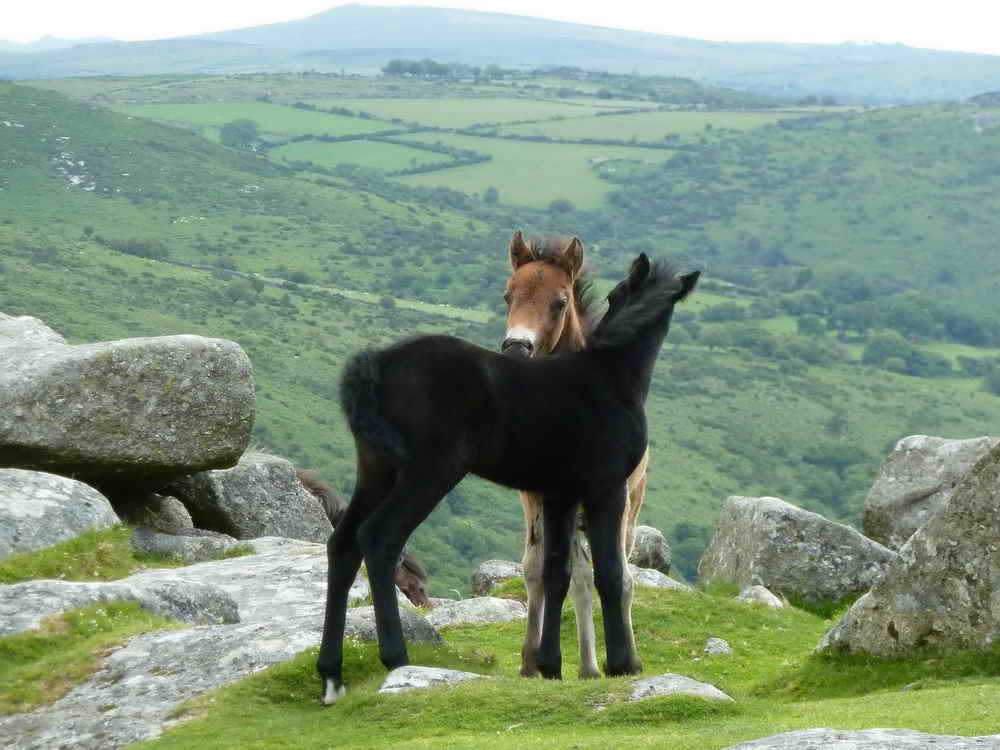 "Have you heard ....."

Two wind-shaped hawthorn trees crying out to be in a banner photo!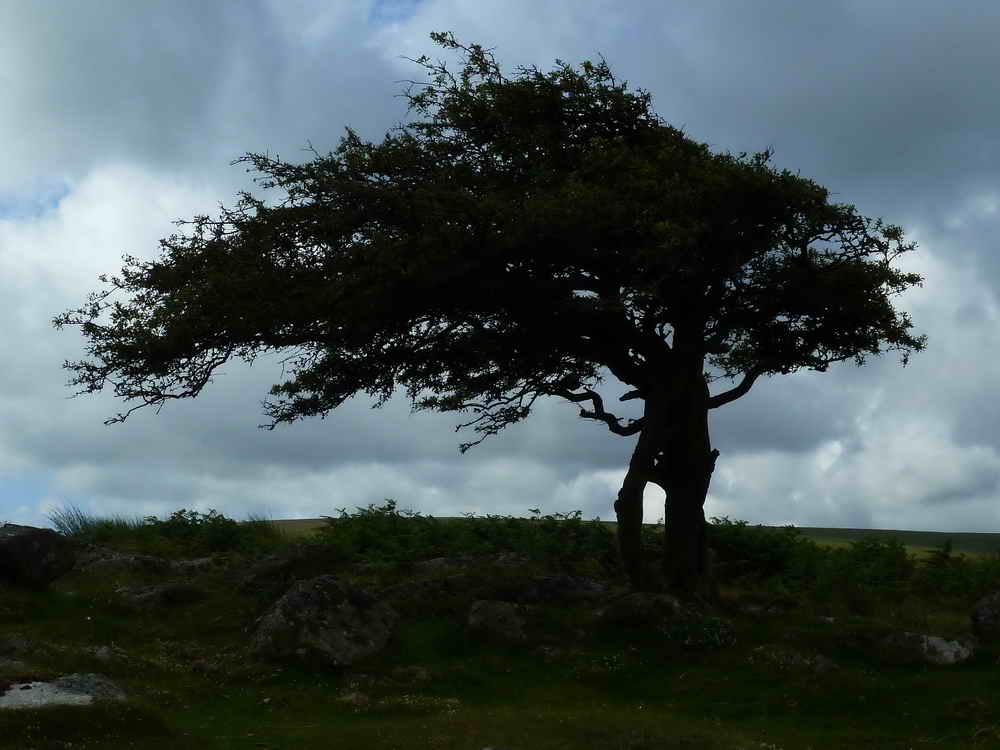 One of the trees taken from behind, down on the ground .....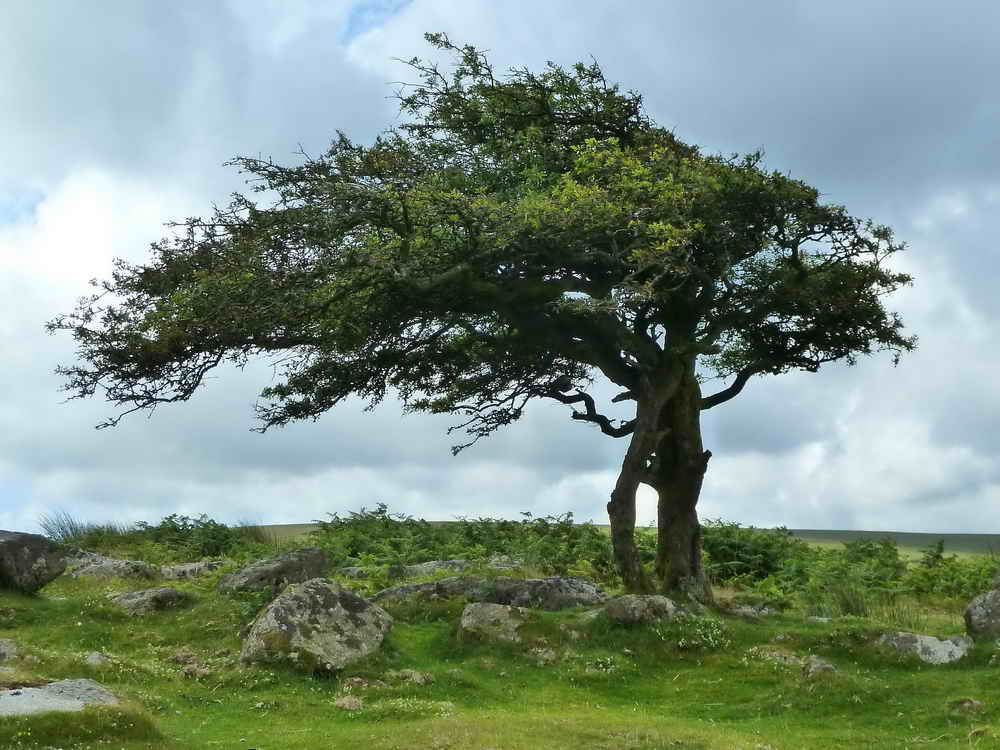 Ditto.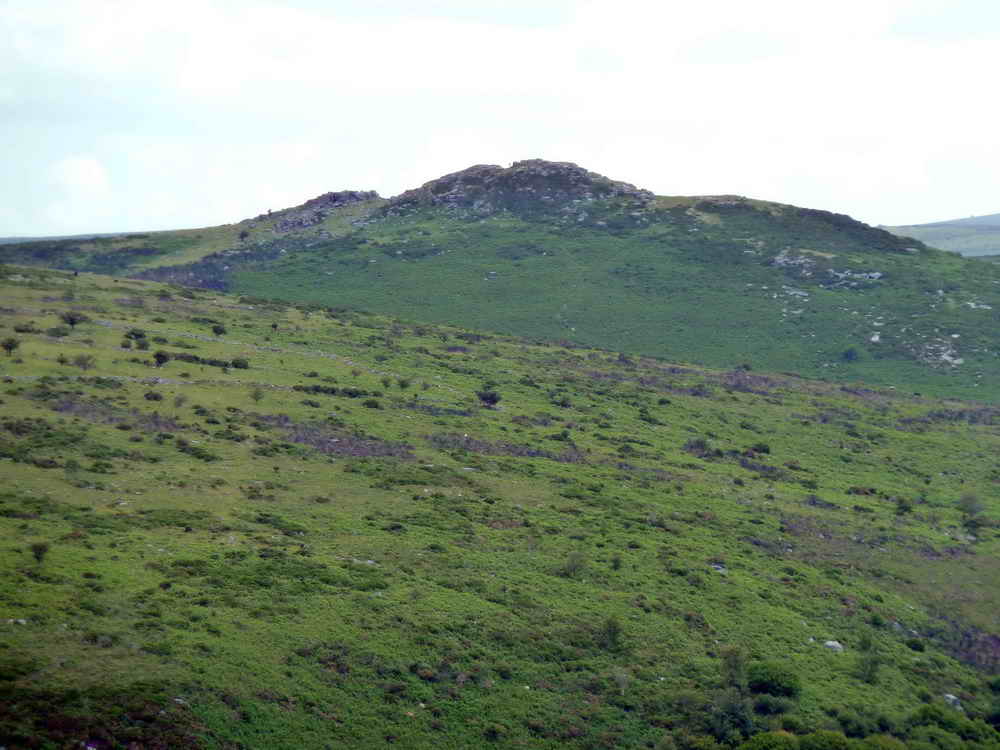 Zoomed view to Sharp Tor, SX 686 729, elevation 380 metres (1247 feet) .....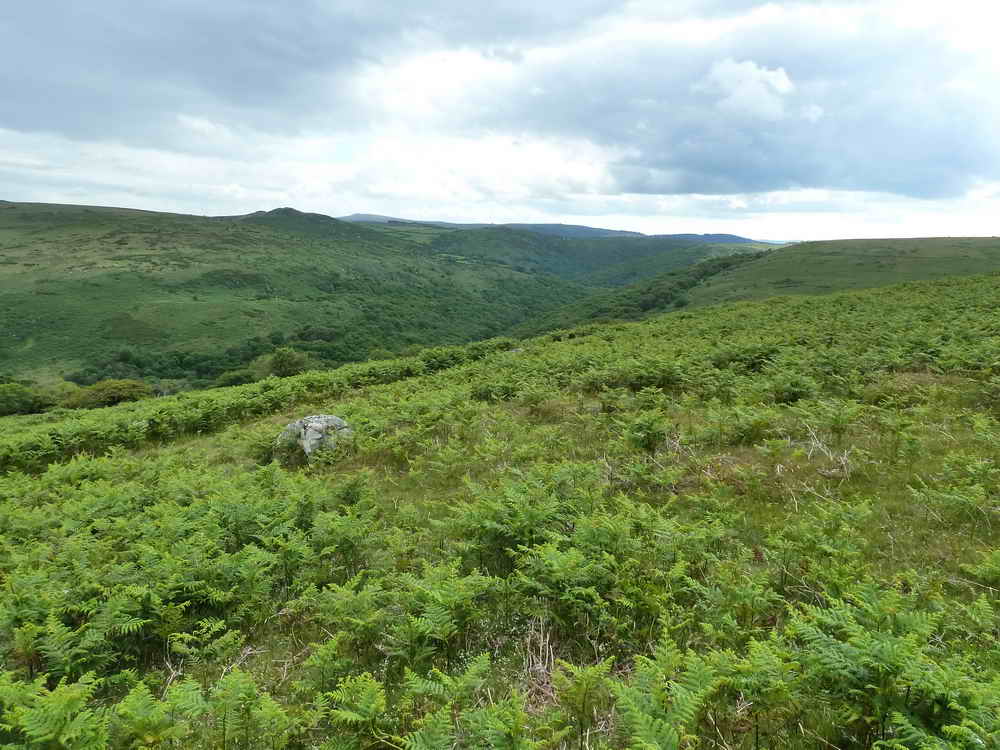 Normal view to Sharp Tor in the distance, looking down the Dart valley, this is below Dartmeet where the East Dart and West Dart join together.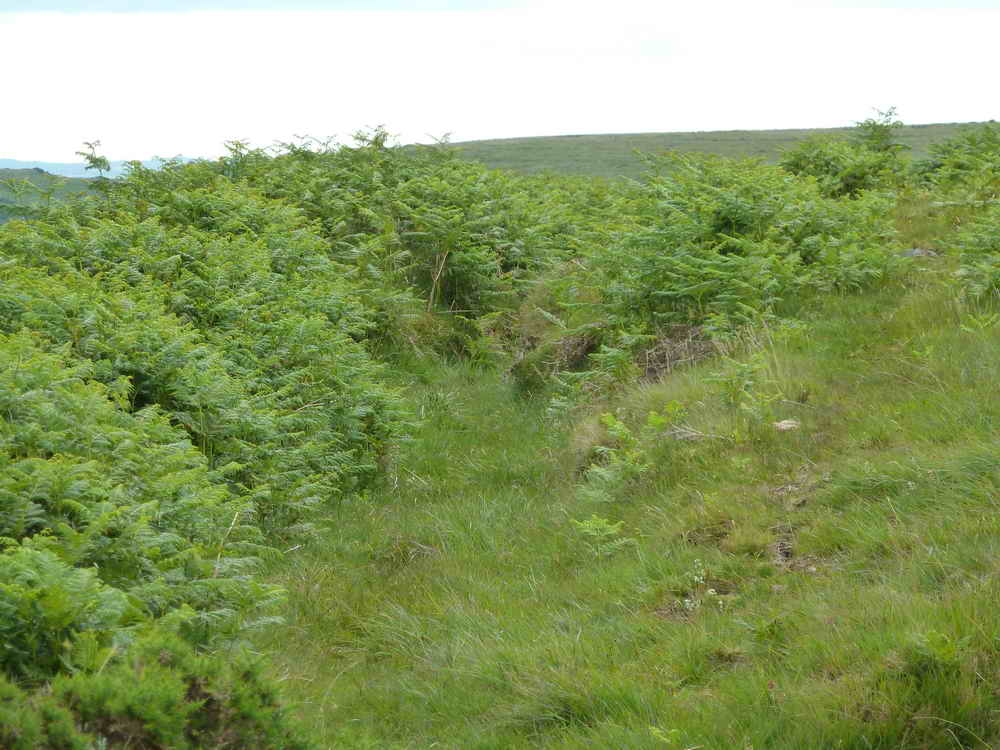 Part of the extensive Wheal Emma Leat (now dry).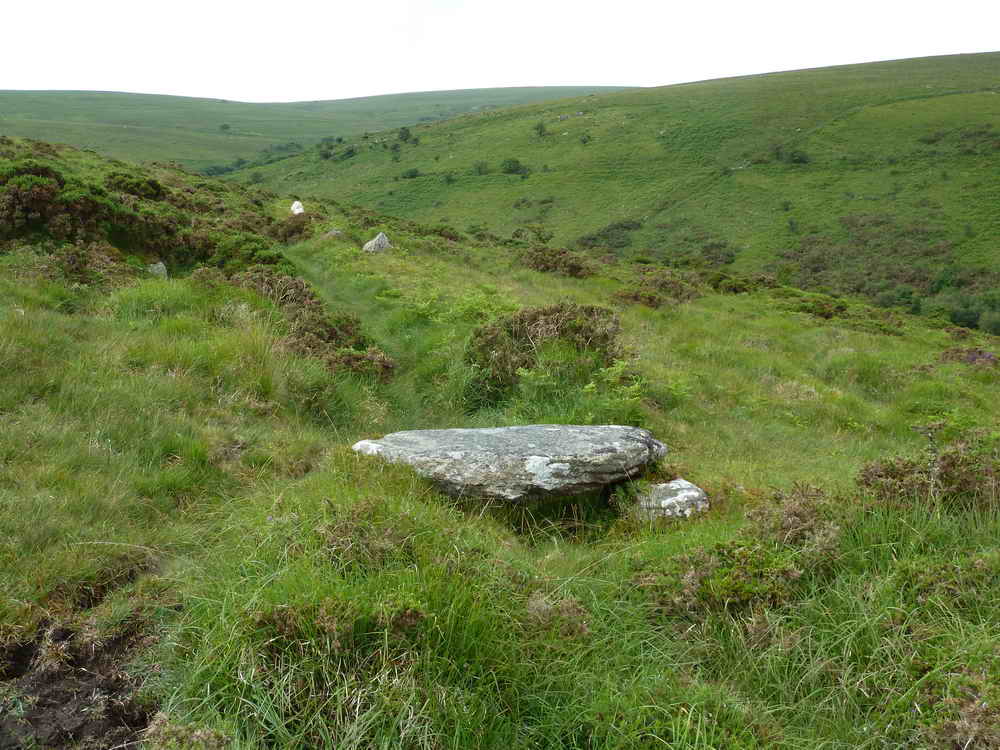 A small clapper bridge over the leat.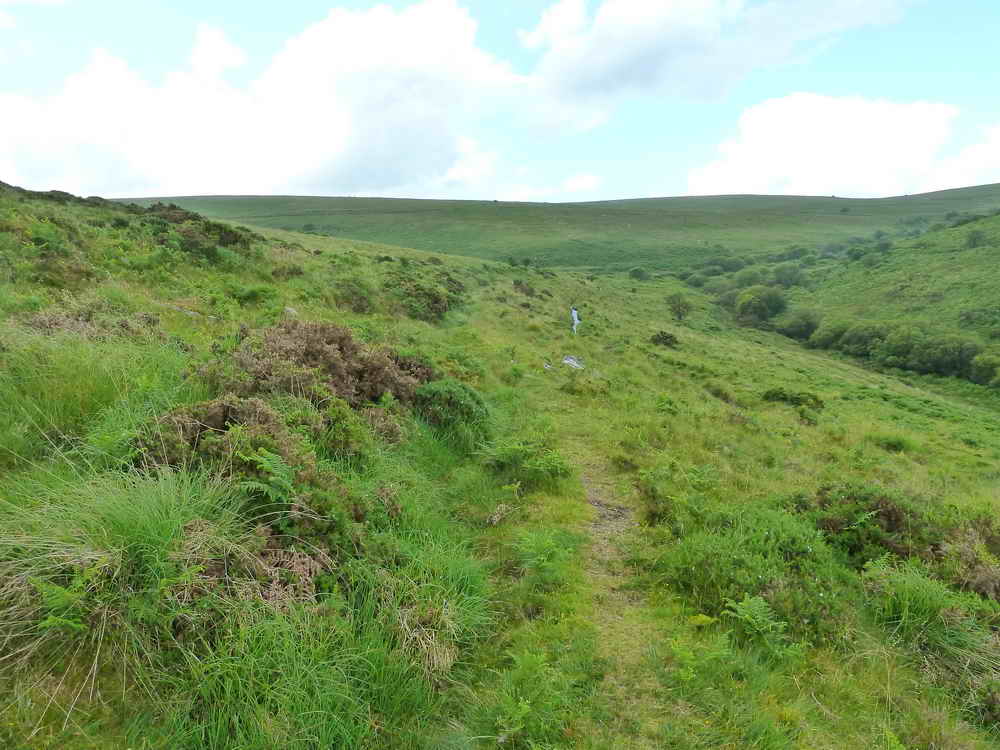 There are three leats here! On the left is the Wheal Emma Leat, in the centre is Cumston Farm Leat and down on the right, with water in it, is Hamlyn's (Holne Moor) Leat.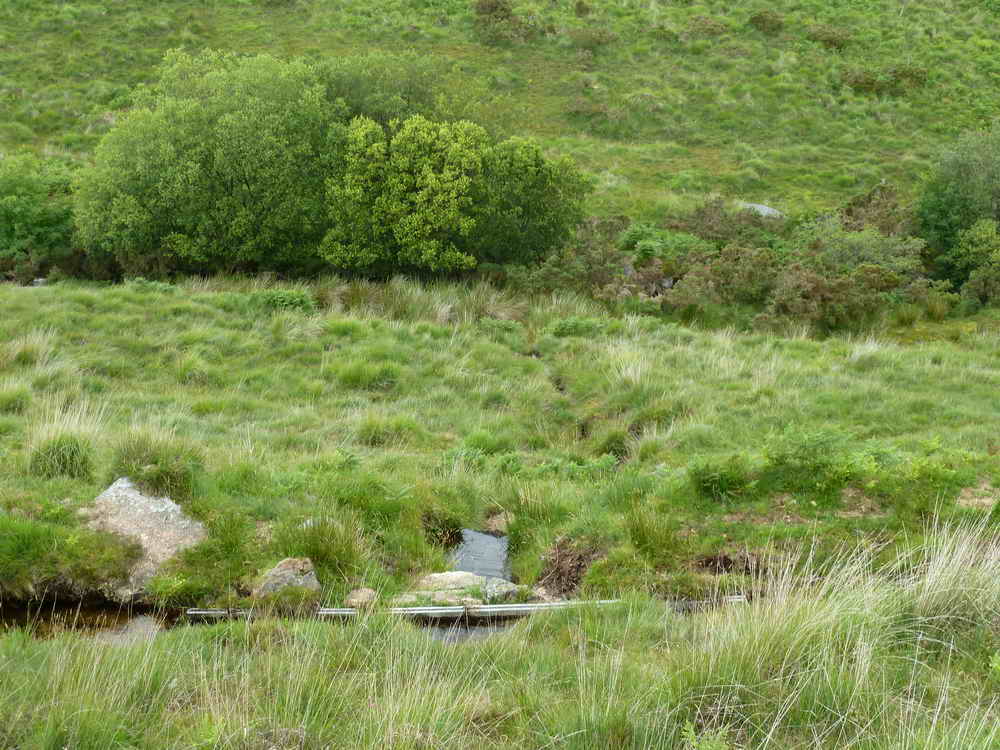 Looking down on a take-off point in Hamlyn's Leat.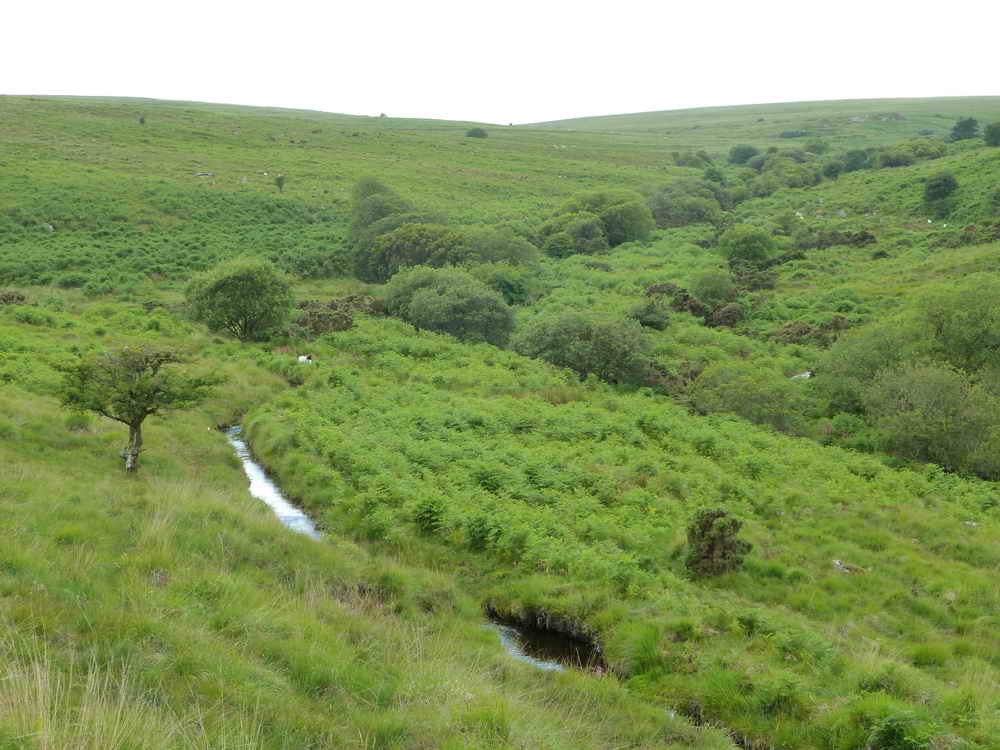 Looking up the O Brook Valley towards Horse Ford.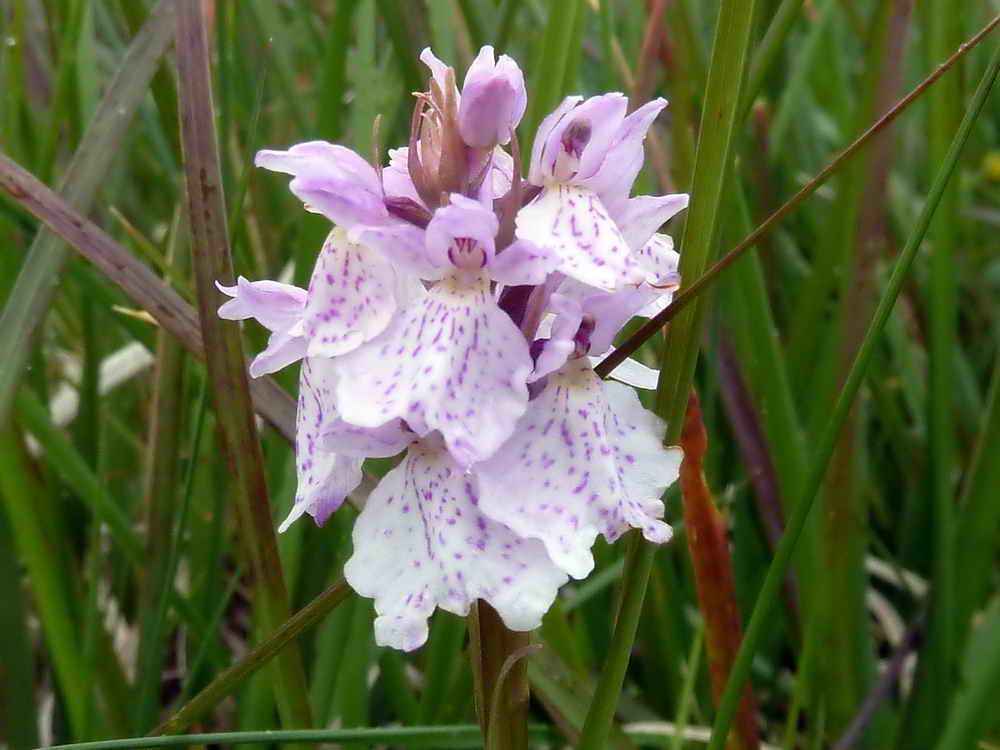 Believed to be Dactylorhiza maculata - Heath Spotted Orchid .....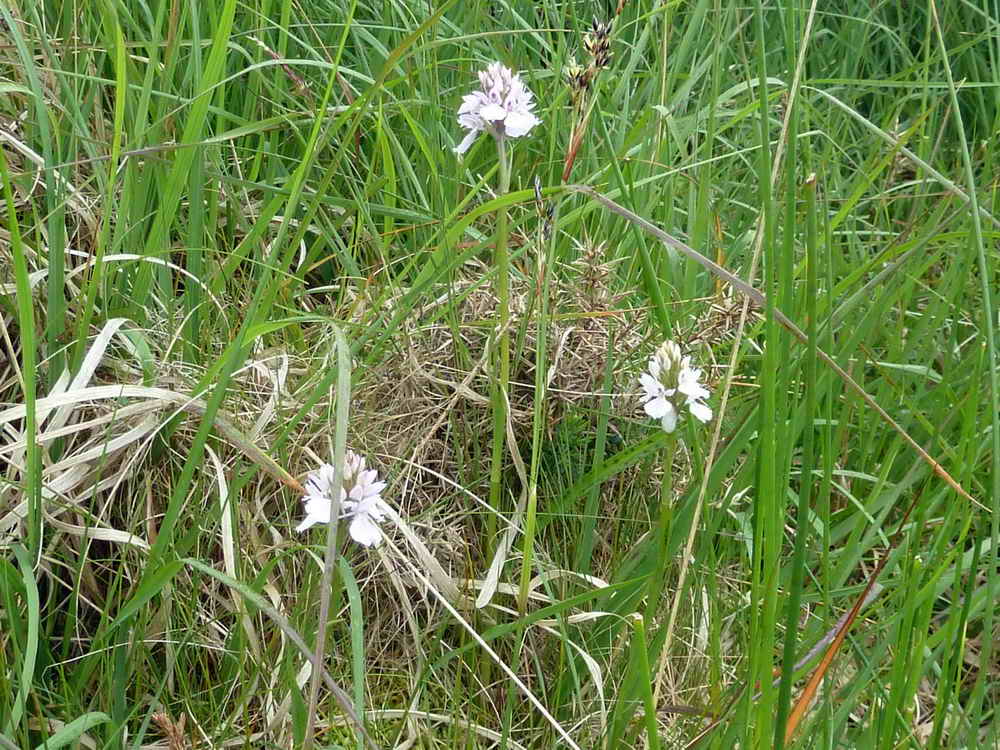 Three orchid plants together.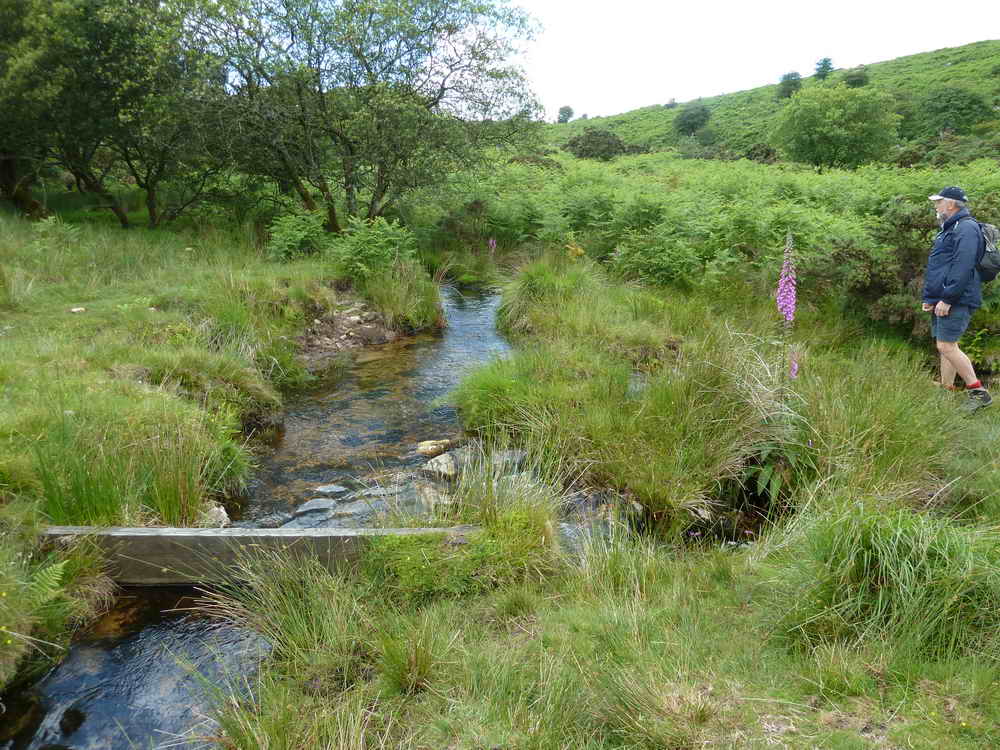 The O Brook flows down to the right, beyond the walker, Holne Moor Leat flows down to the left, and in the centre seems to be a cross-channel between the two, the purpose of which seems a little elusive at present!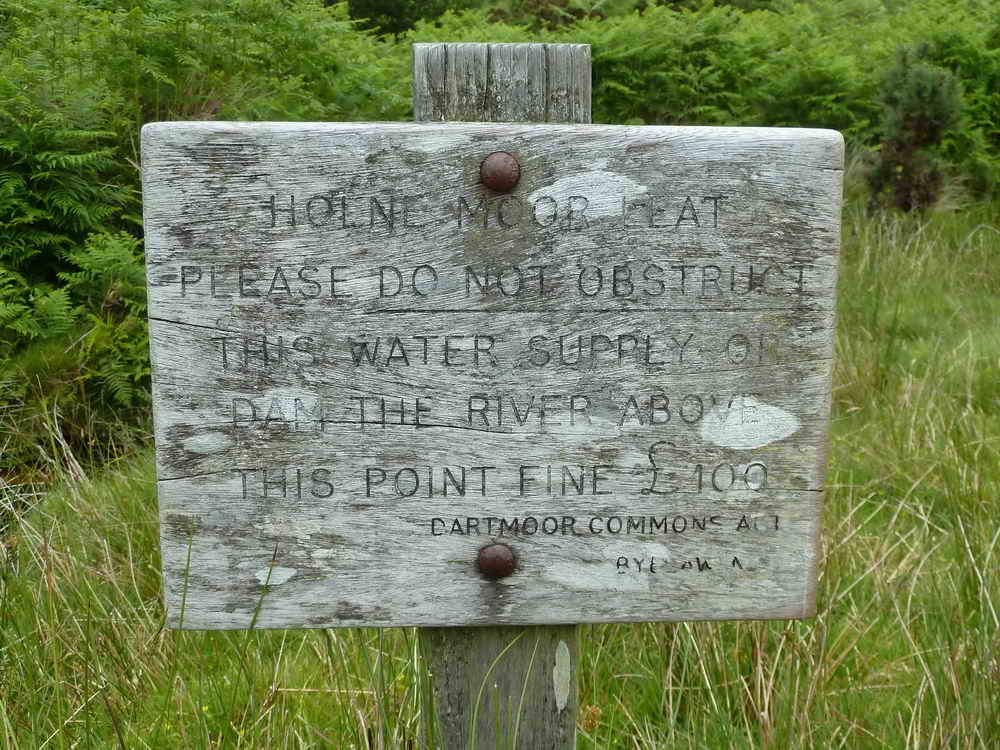 Self-explanatory notice, now ageing.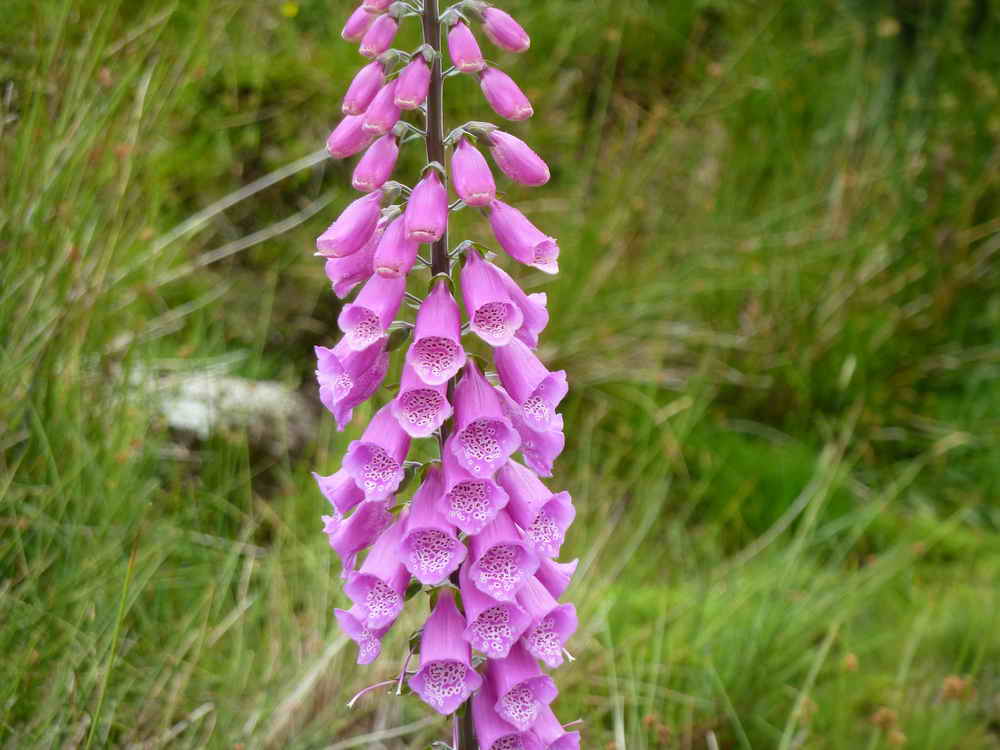 Digitalis purpurea, Common Foxlove.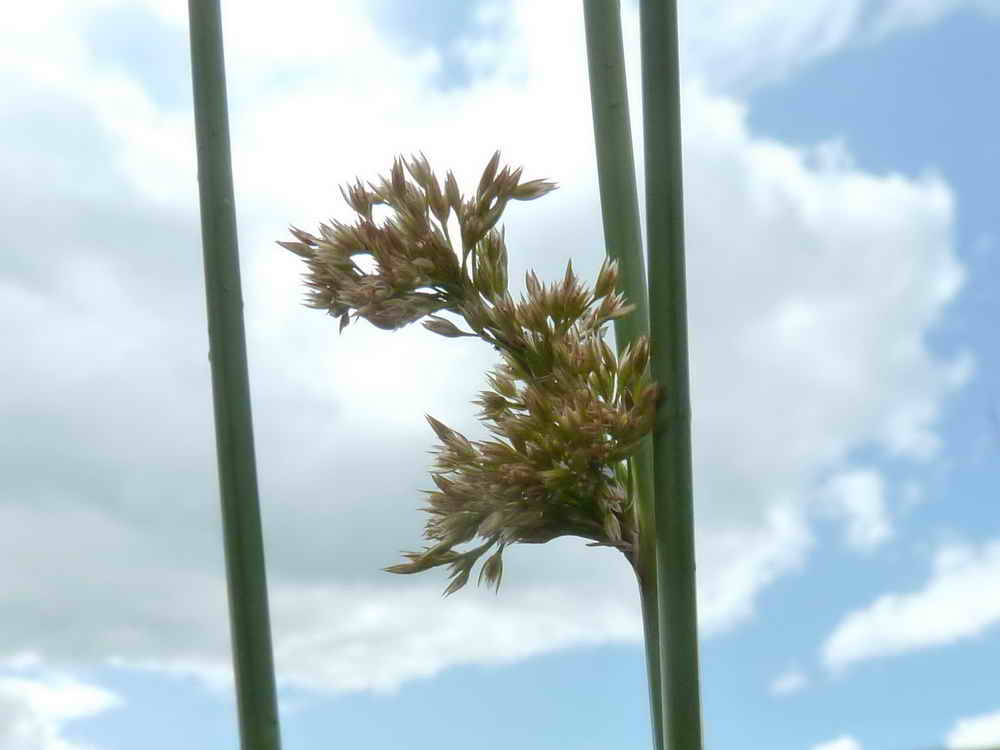 Soft rush, Juncus effusus, seen in clumps all over Dartmoor, photographed against the sky (a good trick!).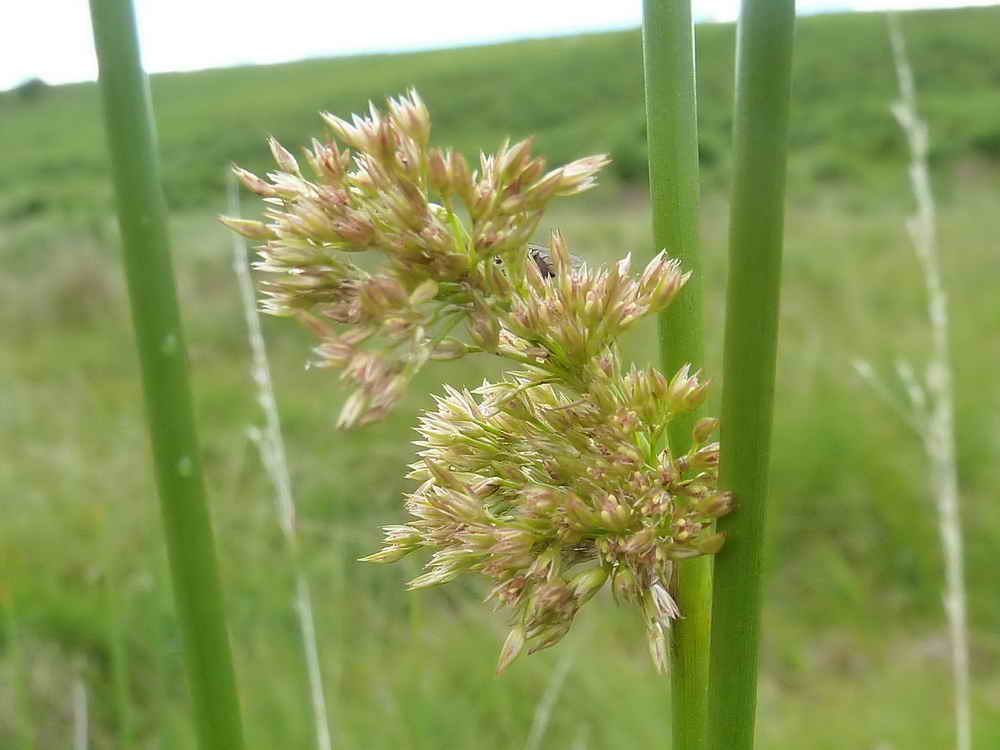 The same soft rush, photographed from an upright position.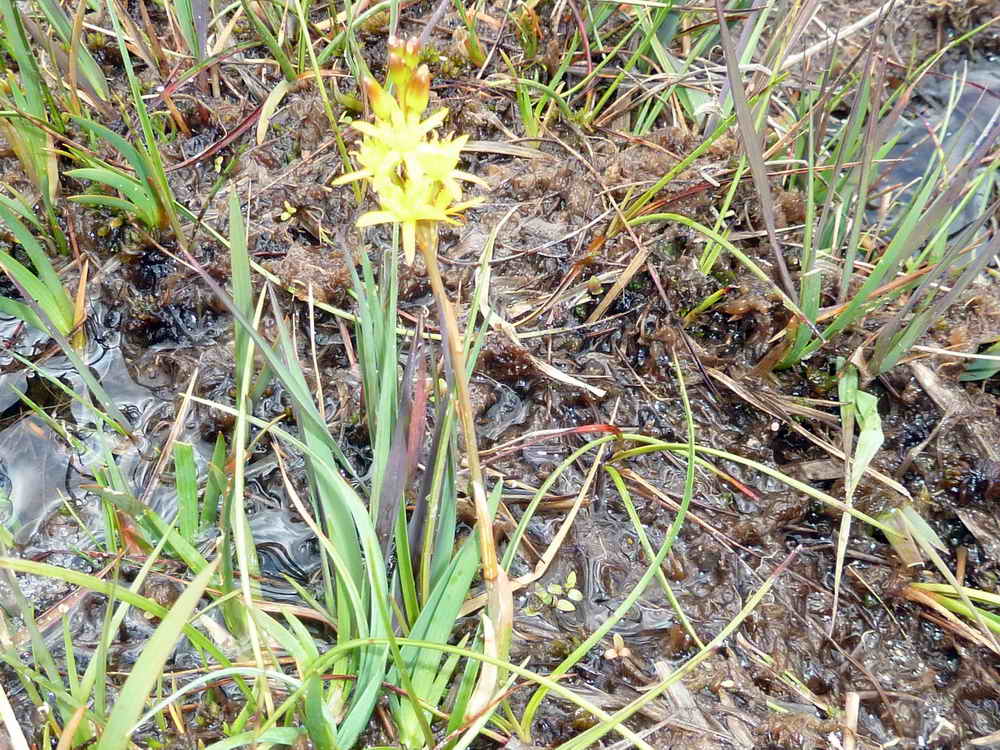 Bog asphodel, Narthecium ossifragum .....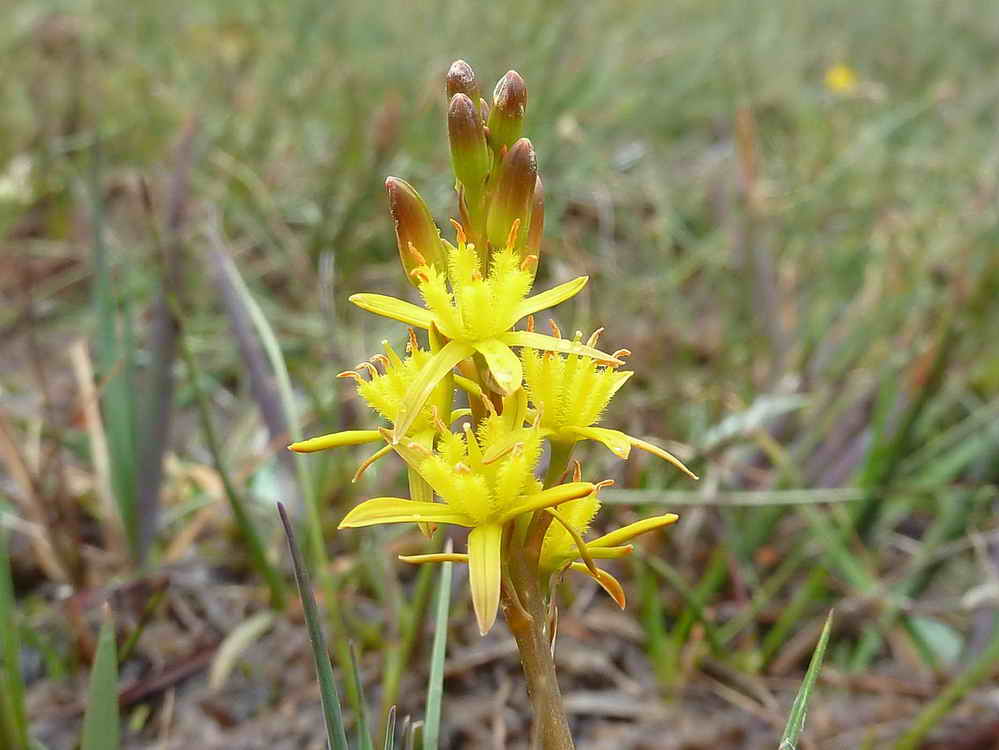 Bog asphodel .....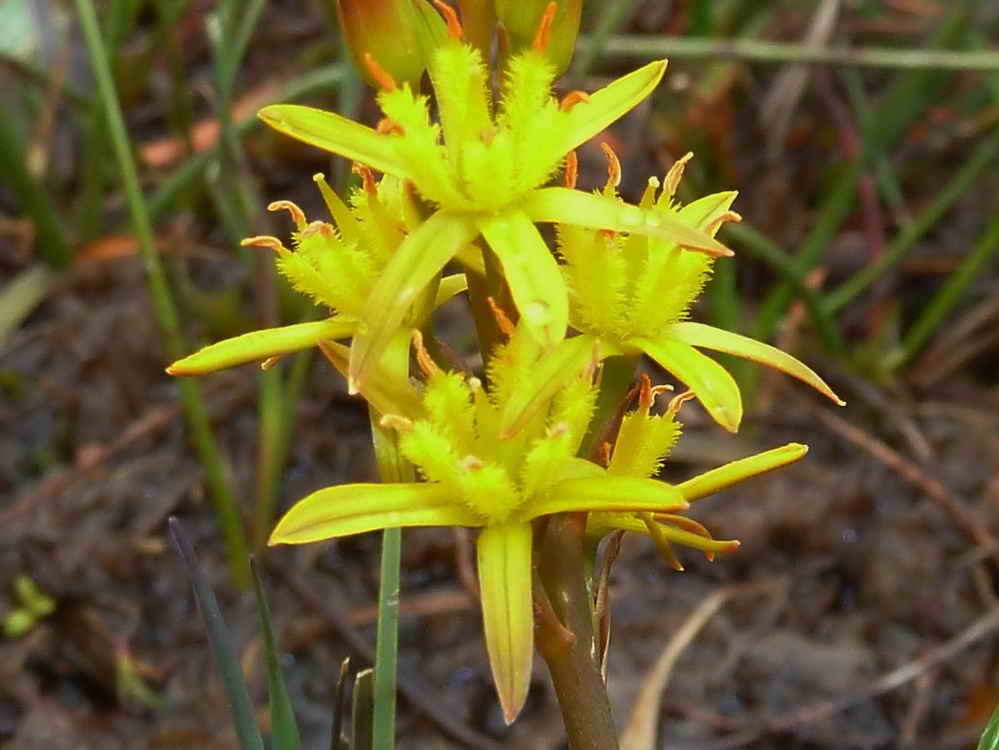 Bog asphodel, close-up.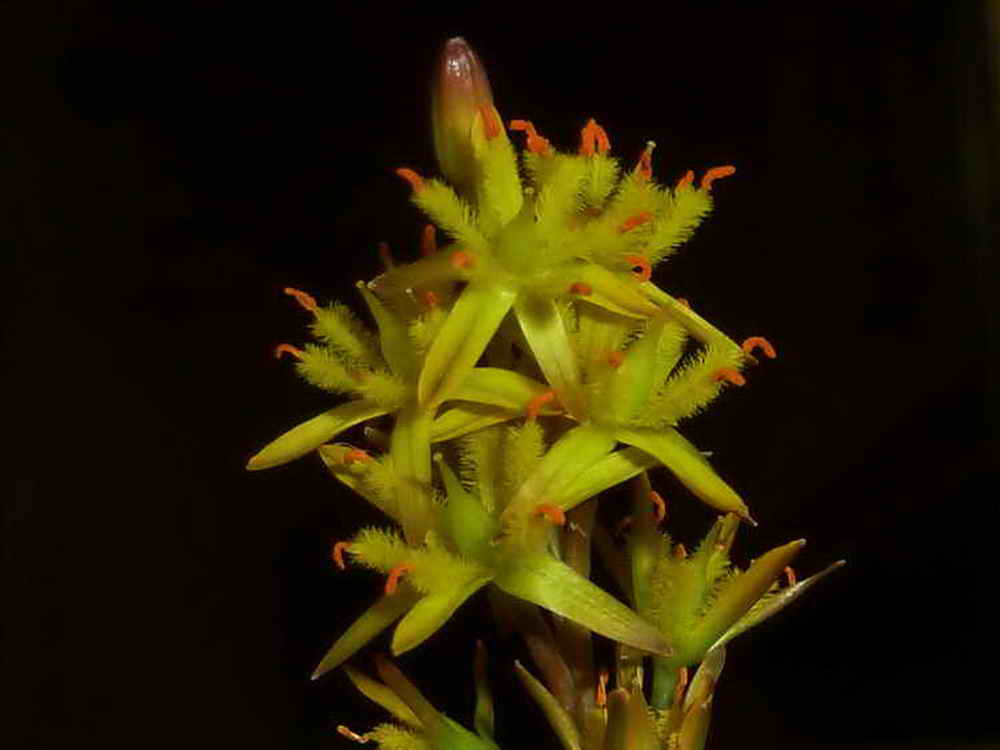 Close-up, dark background ..... the central female carpel (or pistil) with its terminal stigma, long style and basal ovary can be seen with the surrounding male stamens that have red pollen-producing anthers borne on "hairy" filaments .....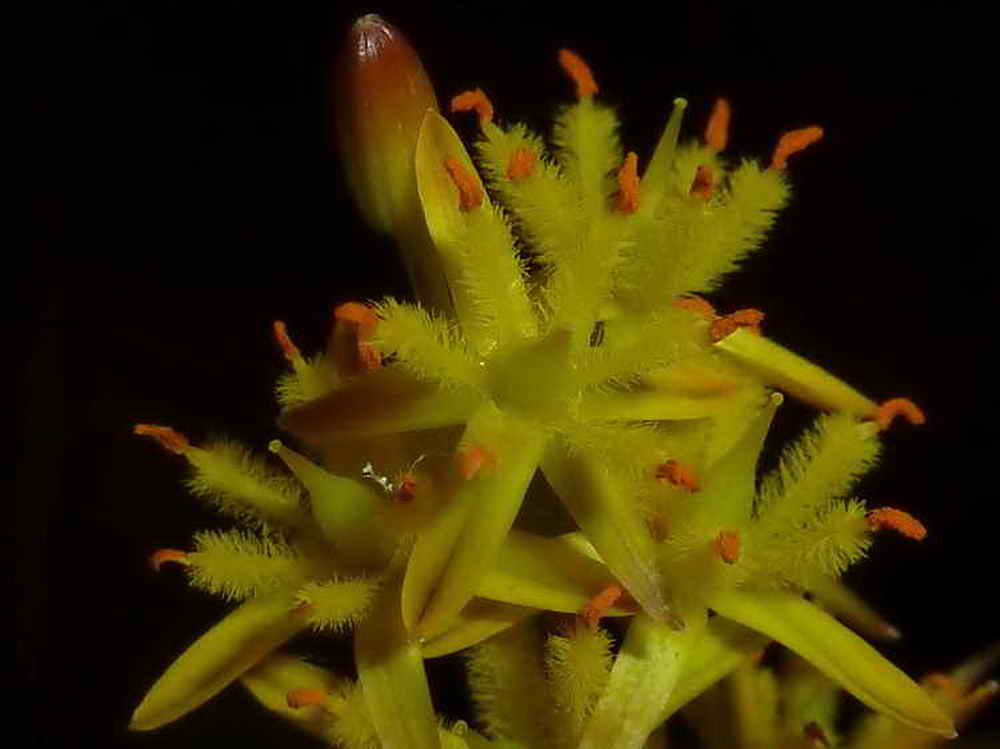 As previous photograph.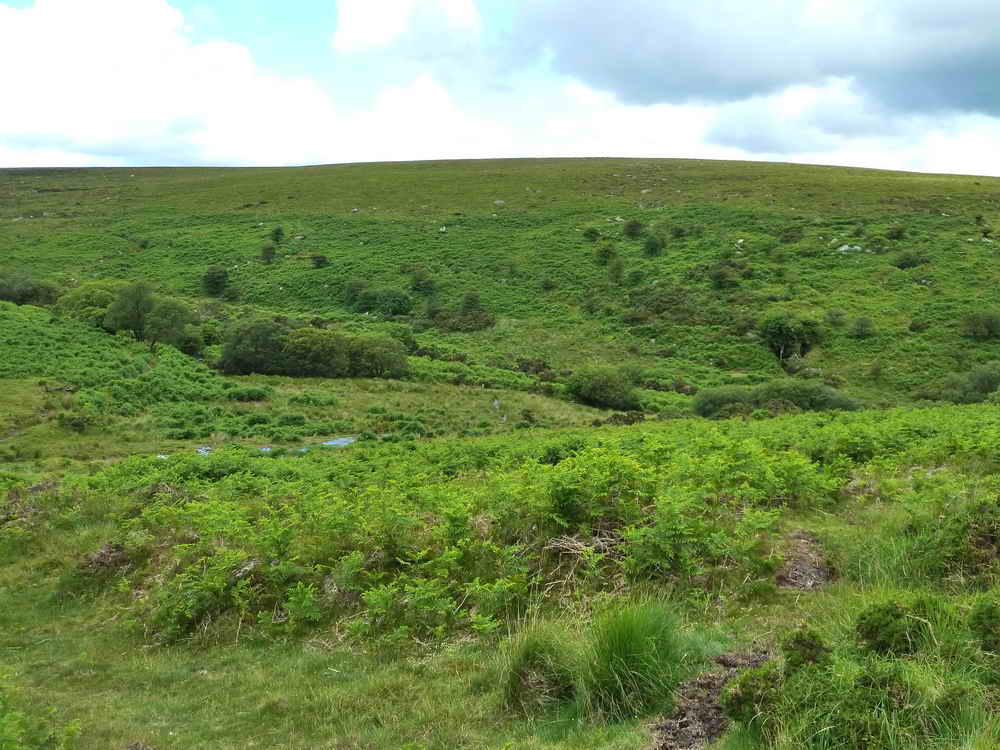 Looking back over the Horse Ford area.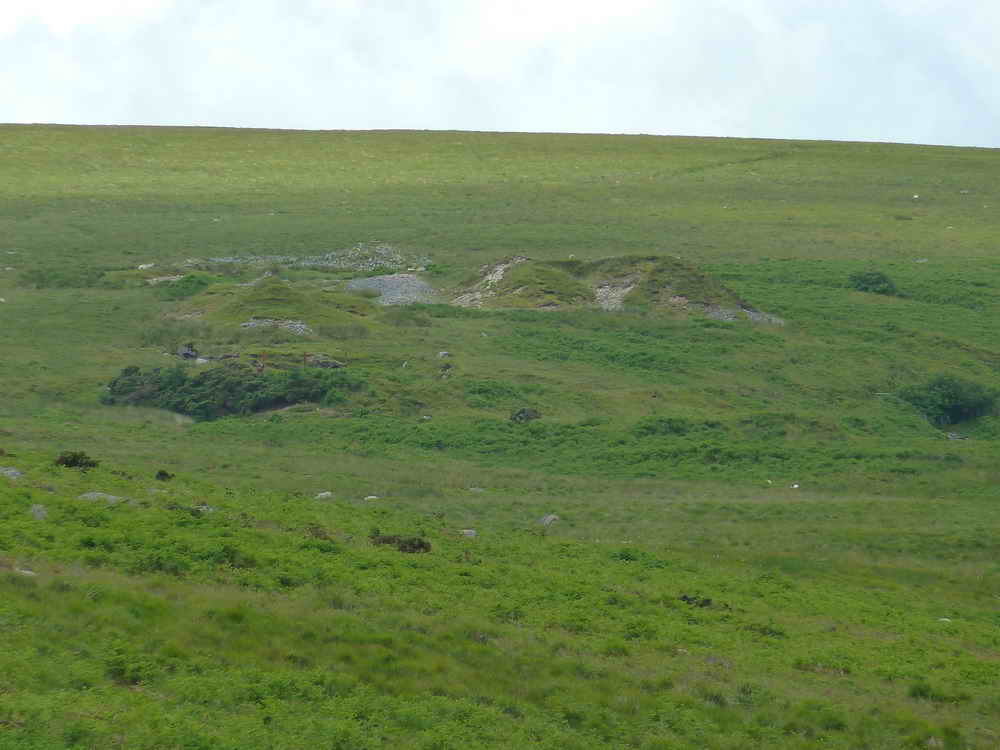 Zoomed view to the waste tips of the Hooten Wheals (disused) tin mine.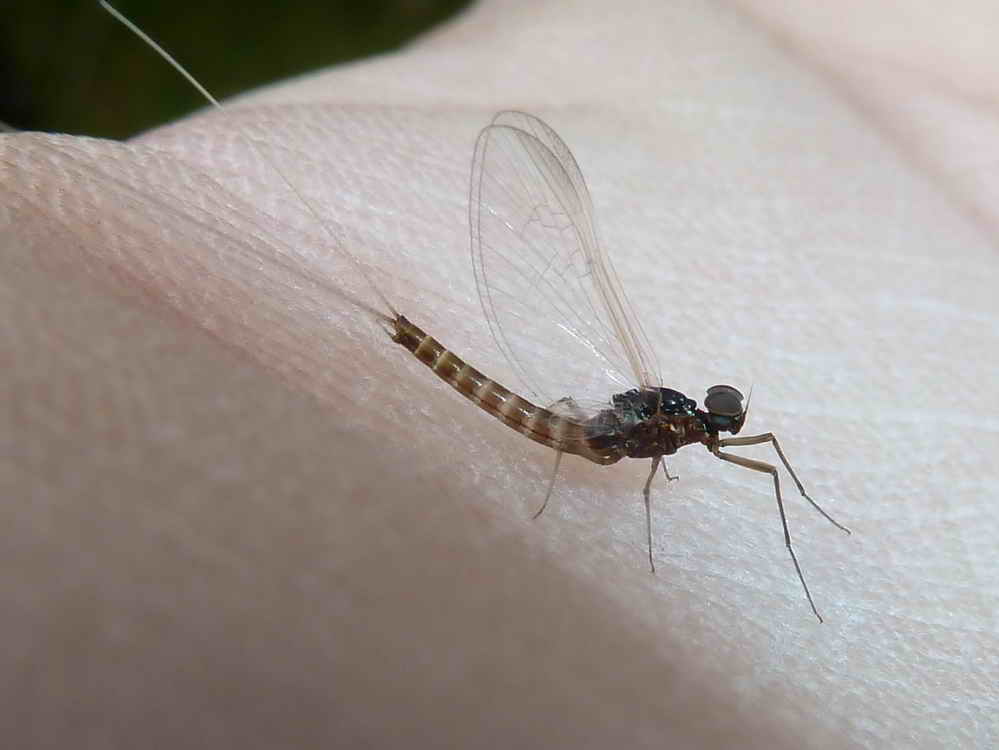 Possibly Order: Ephemeroptera - Mayflies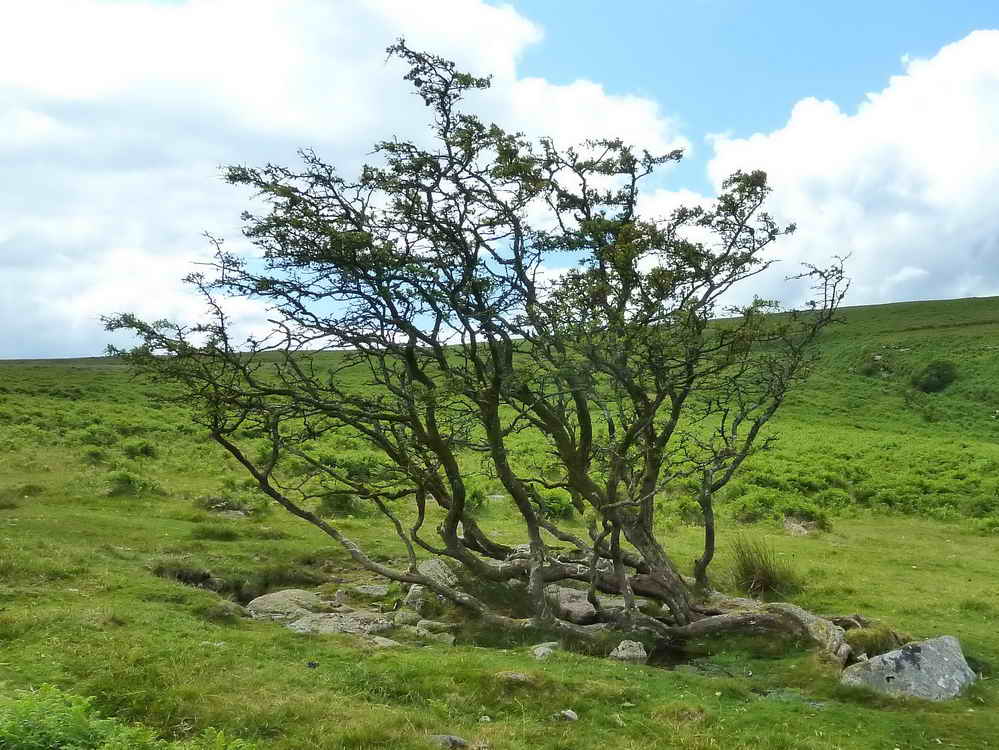 A recumbent tree!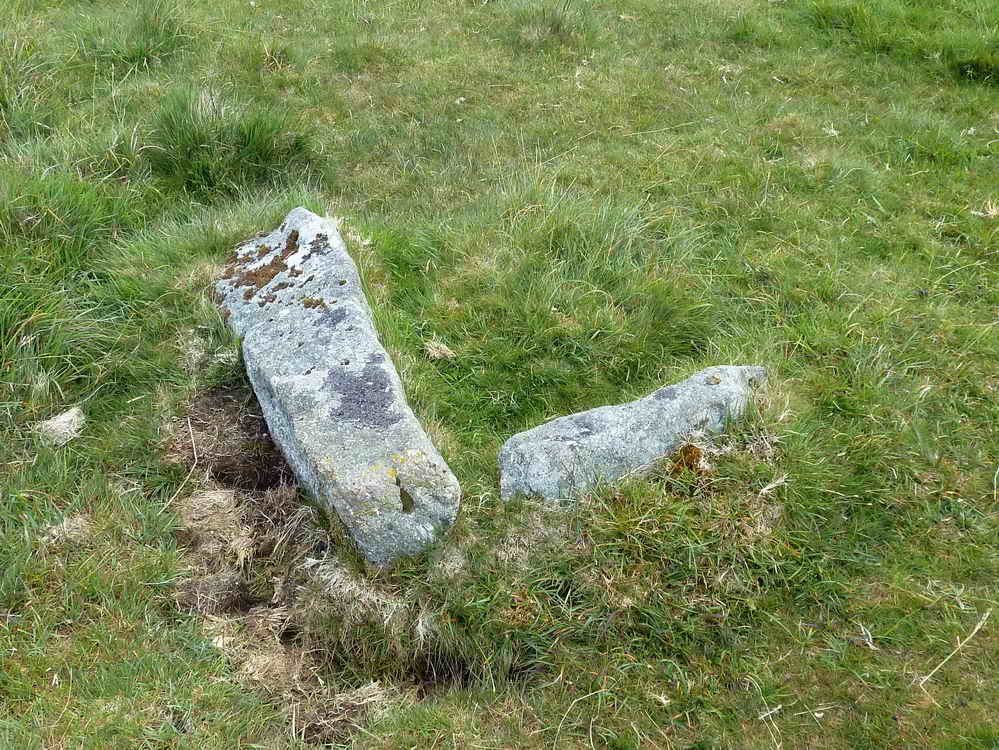 Cist(?) at SX 66726 71083, this does not seem to be mentioned in Jeremy Butler's Dartmoor Atlas of Antiquities, Vol. 4 - The South-East.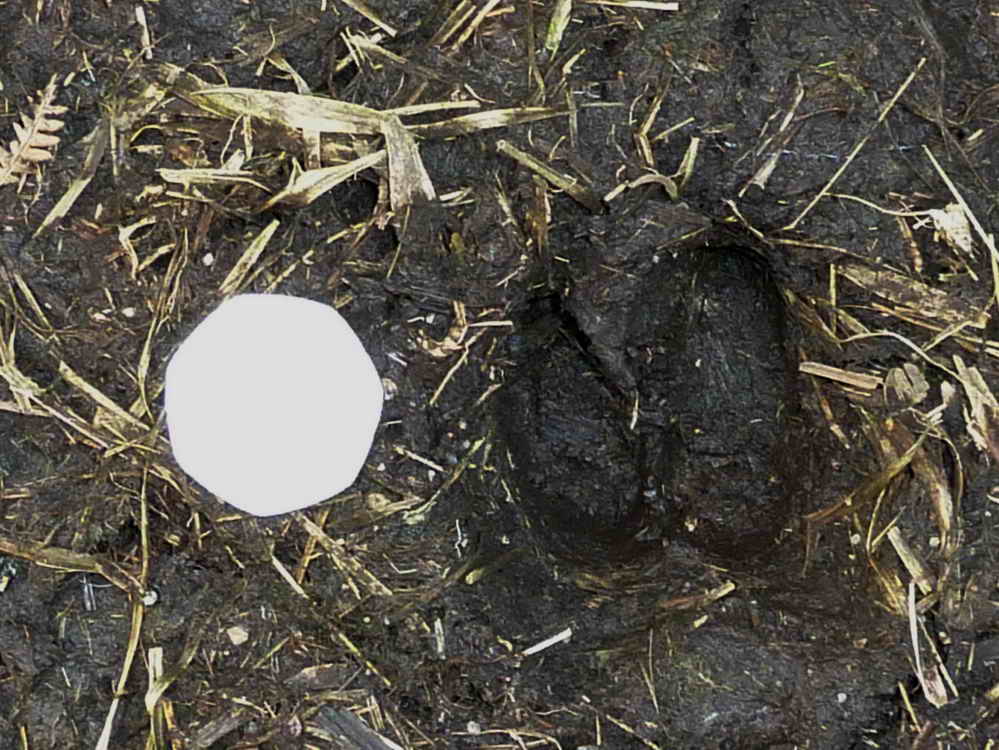 Slotted footprints compared to a 50-pence coin, probably lamb's.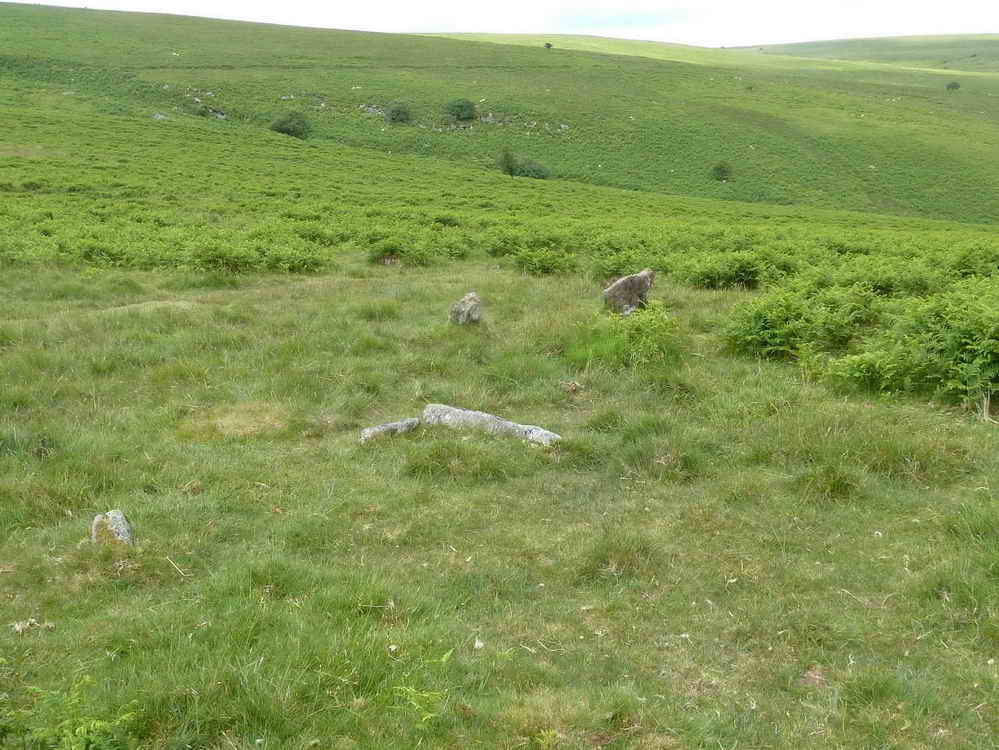 View of the possible cist, in a mound with mostly buried stones surrounding it and two set stones (in a row) nearby that does not seem to align with the cist .....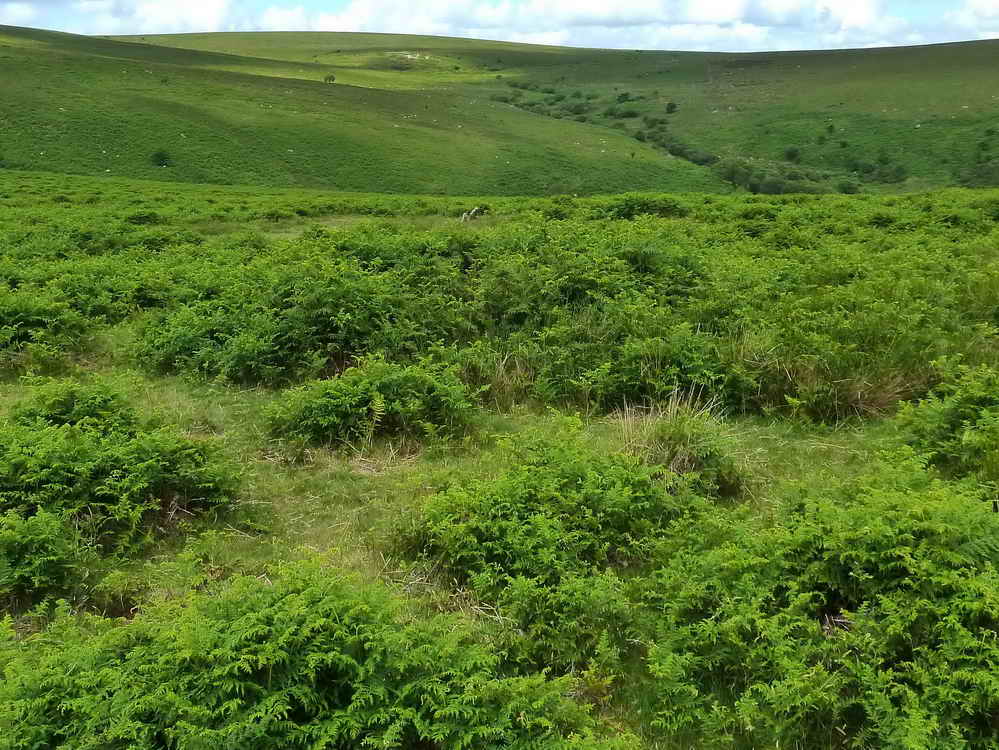 Nearby cairn, looking back to the possible cist with its retaining ring of stones.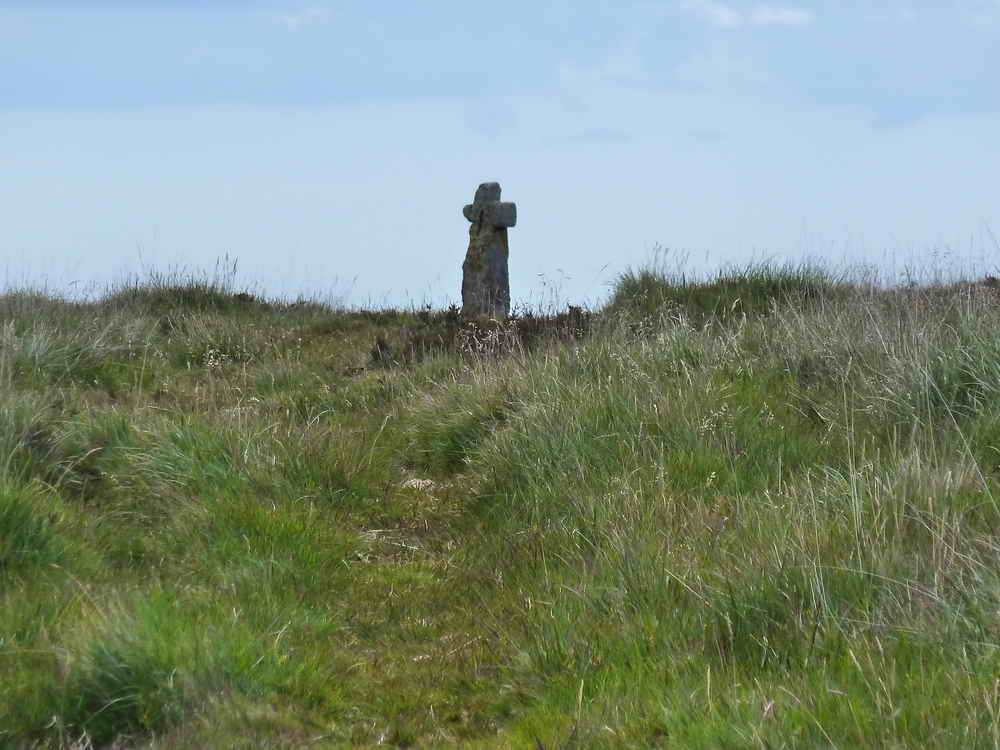 Approaching Horn's Cross, the most easterly cross on the Monk's Path between Buckfastleigh and Tavistock and Buckfast Abbeys. The place is known locally as Stascombe's Telling Place - this comes from a farmer either named Staddiscombe or a farmer from Staddiscombe whose sheep were kept in this area and were gathered here for counting i.e. "telling" (as in bank teller).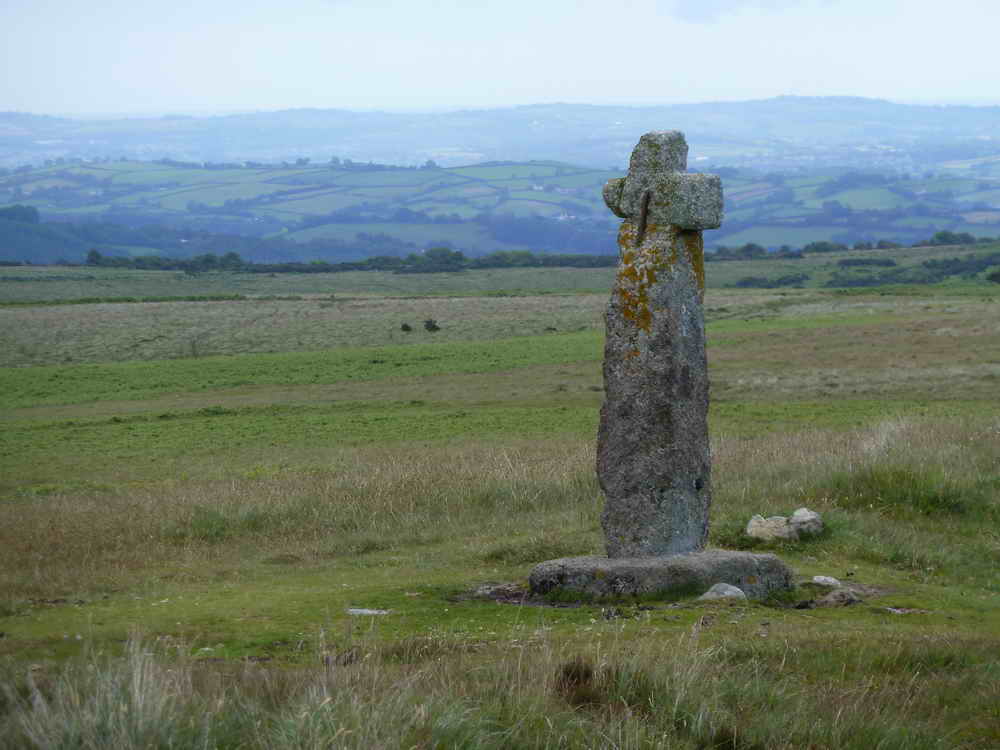 Horn's Cross.
Moor Strollers at Horn's Cross.
Fallen long stones at the end of (near-hidden) triple stone row at SX 67431 71043 ..... 20% of the original 316 stones are showing with the rest hidden below ground.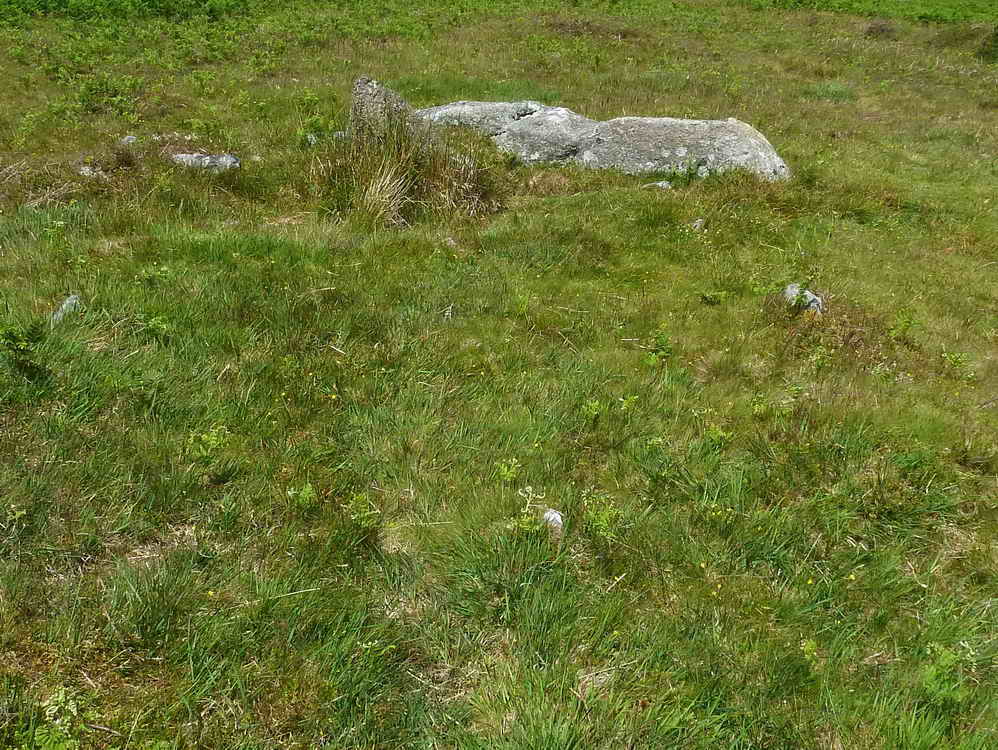 Looking back at the long stones, there are three row of stones in this photograph, left, right and centre! It is described in Butler, Vol. 4. page 193.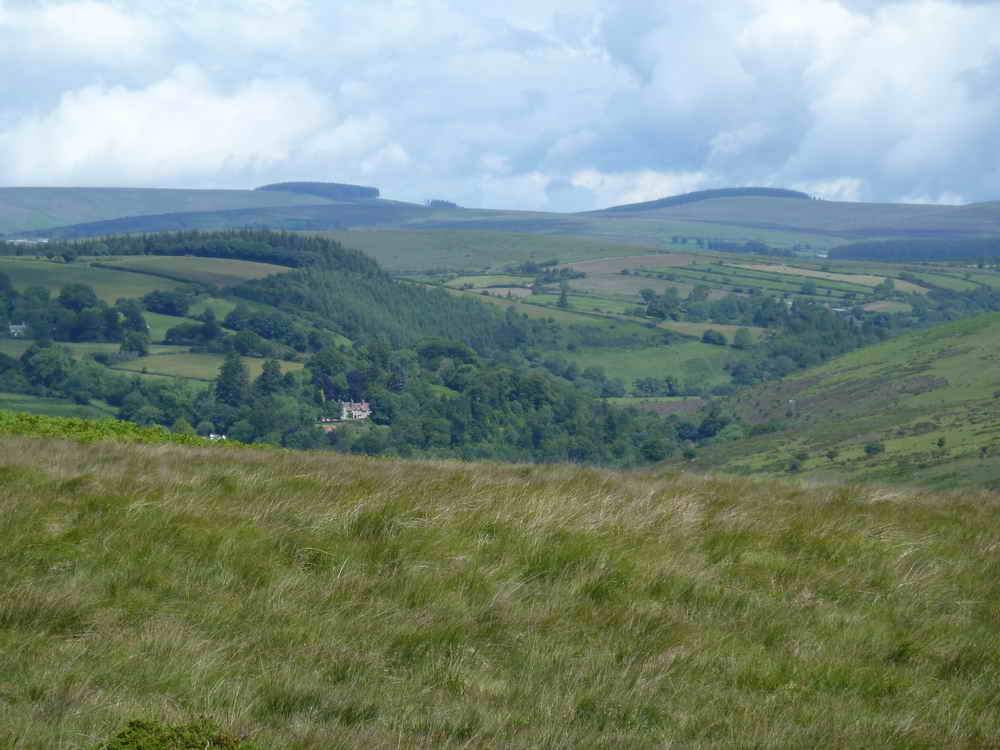 Zoomed view up the Dart Valley to Assycombe Hill Plantation (on left), over six miles away, with Soussons Wood (on right)..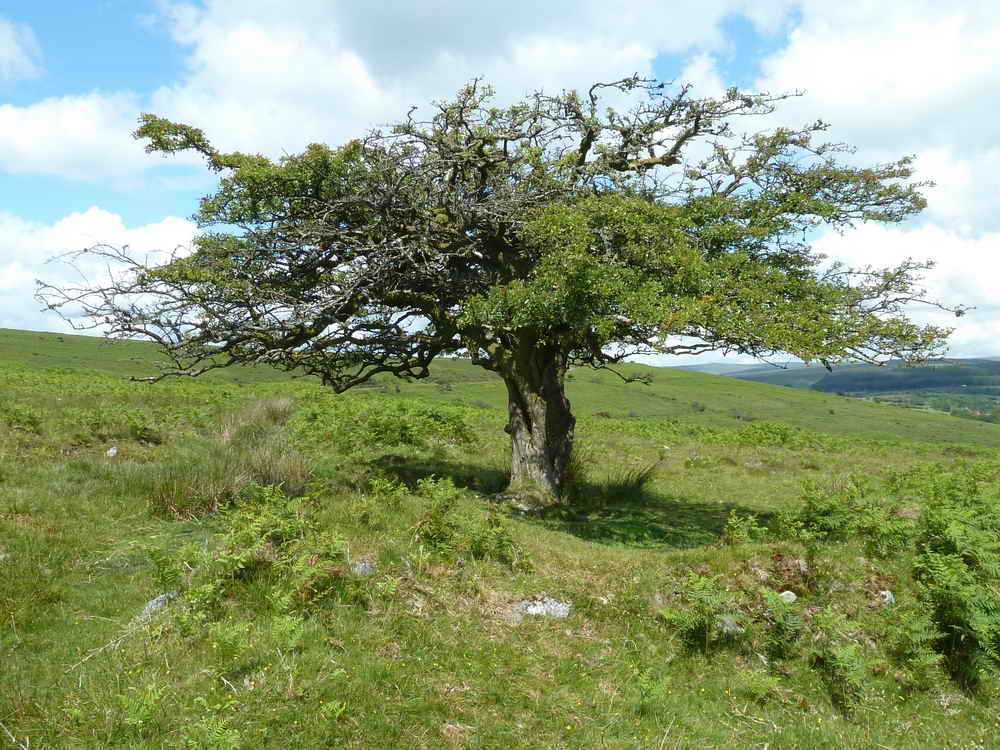 The Umbrella Tree, casting shade.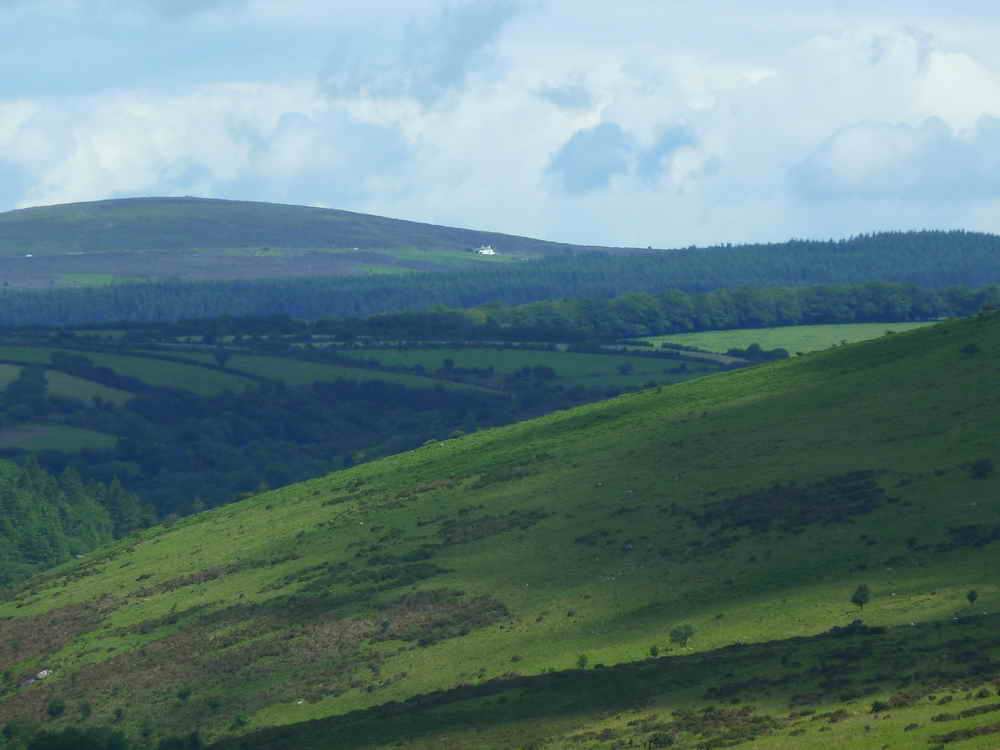 Zoomed view to Warren House Inn.
Back to Hamlyn's (Holne Moor) Leat, across the road.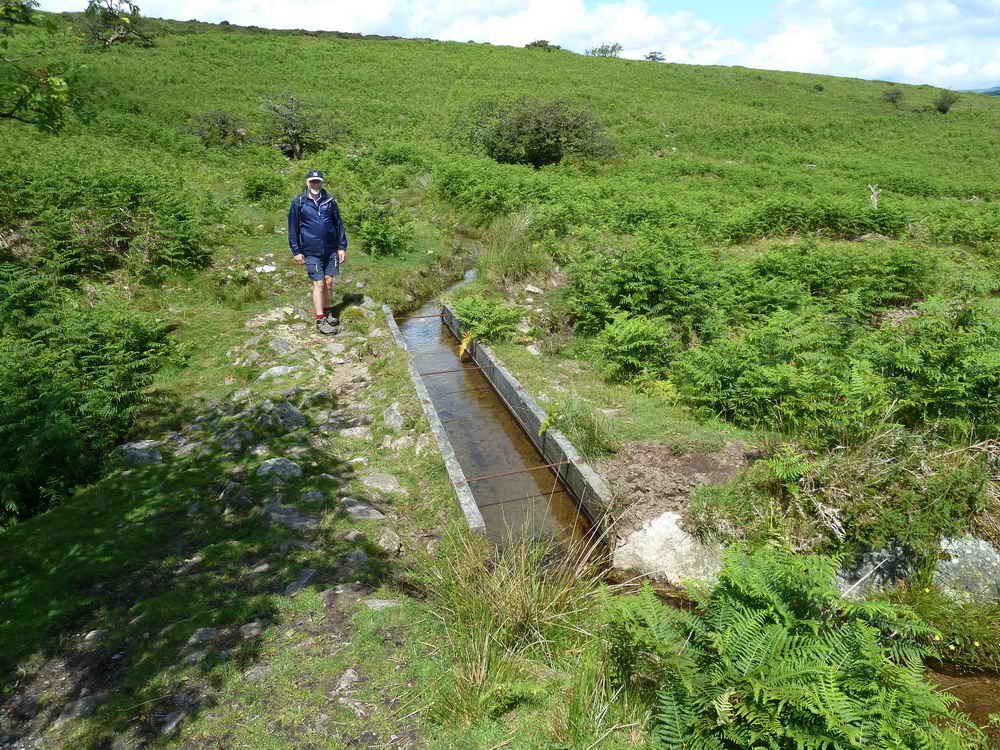 A small aqueduct (or launder) taking the leat across a gully.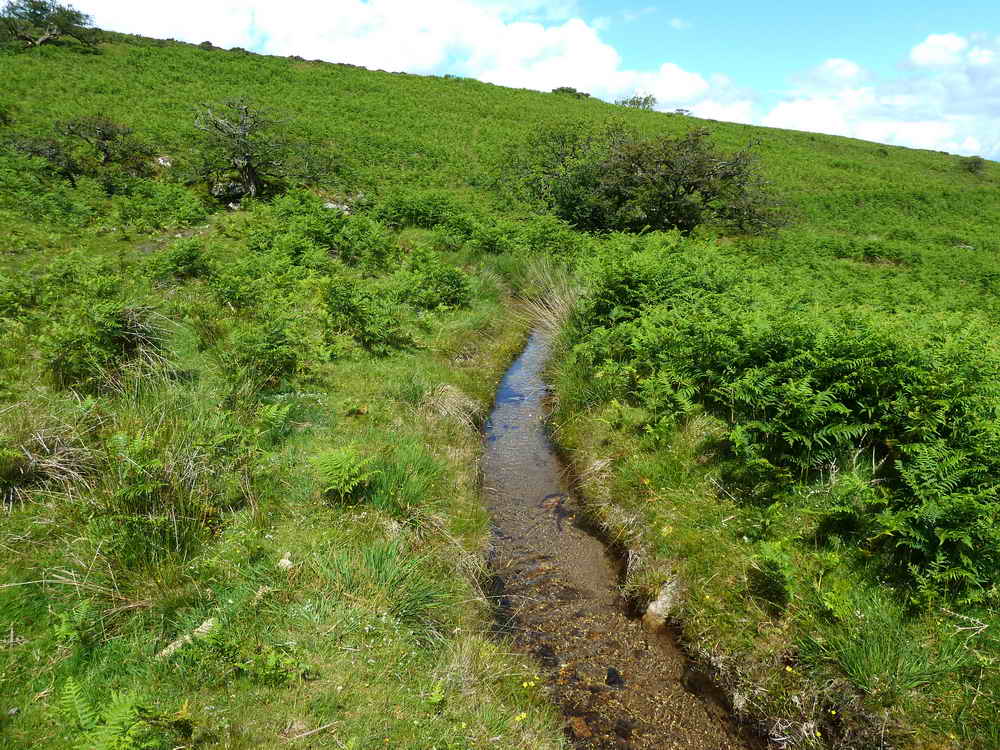 General view of the running leat.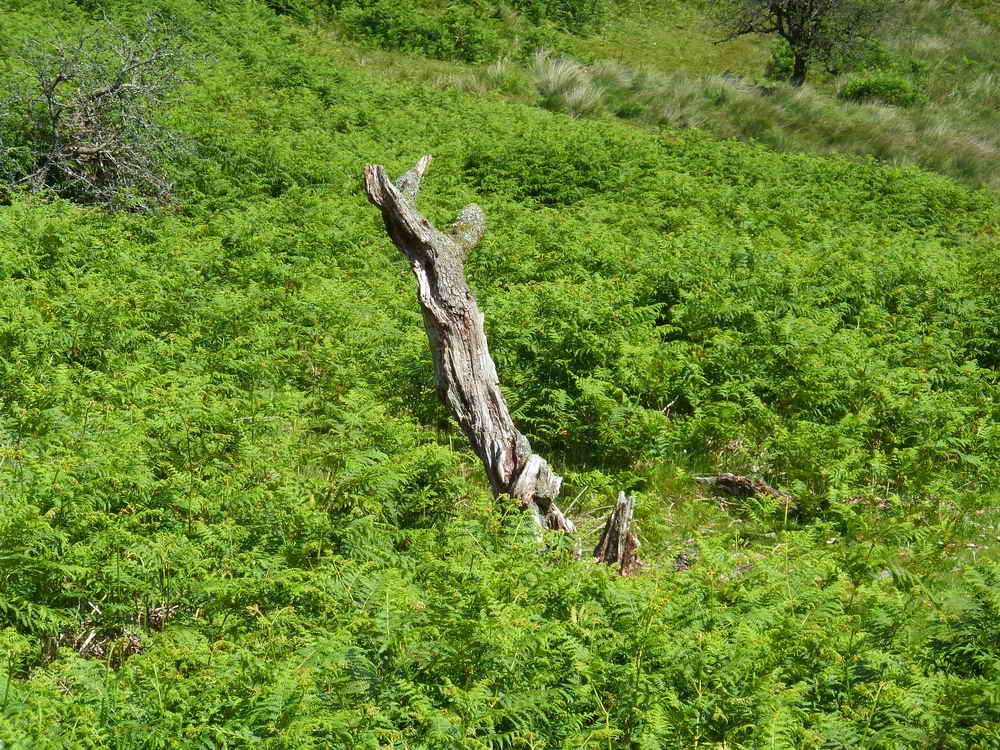 An old, weathered tree trunk in the bracken.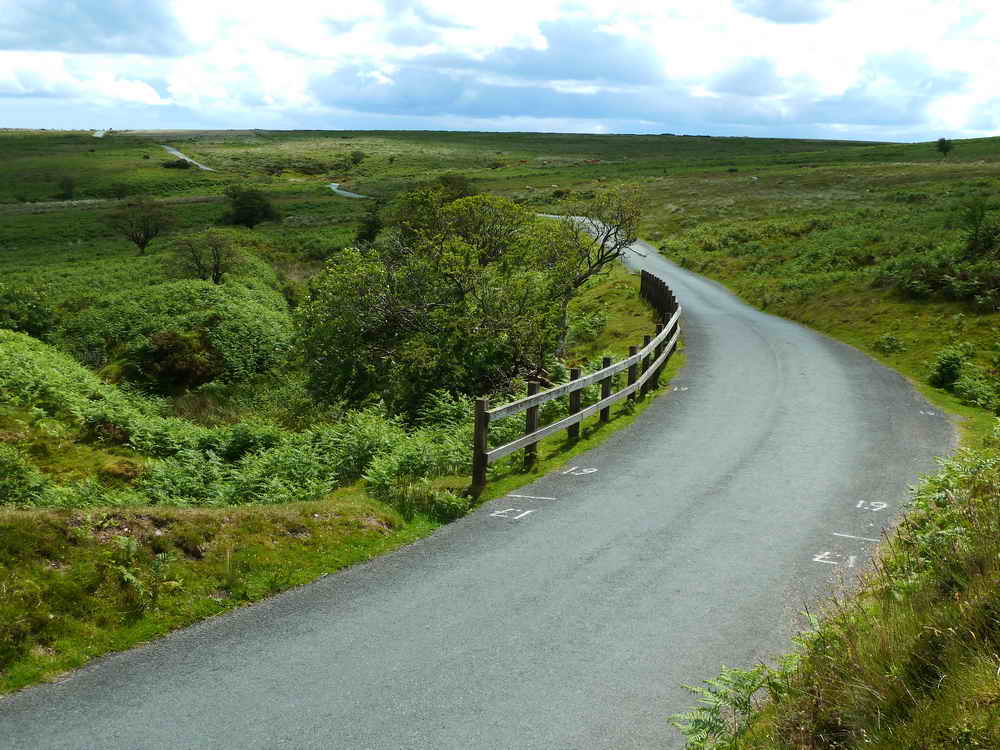 Hangman's Pit - where a farmer, who had spent all his money made at market on a broken-down pony whilst drunk, hanged himself from a rowan tree on the way home from market as the realisation of his foolishness and its impending effect on his family became too much for him to bear.
MAP: Red = GPS satellite track of the walk.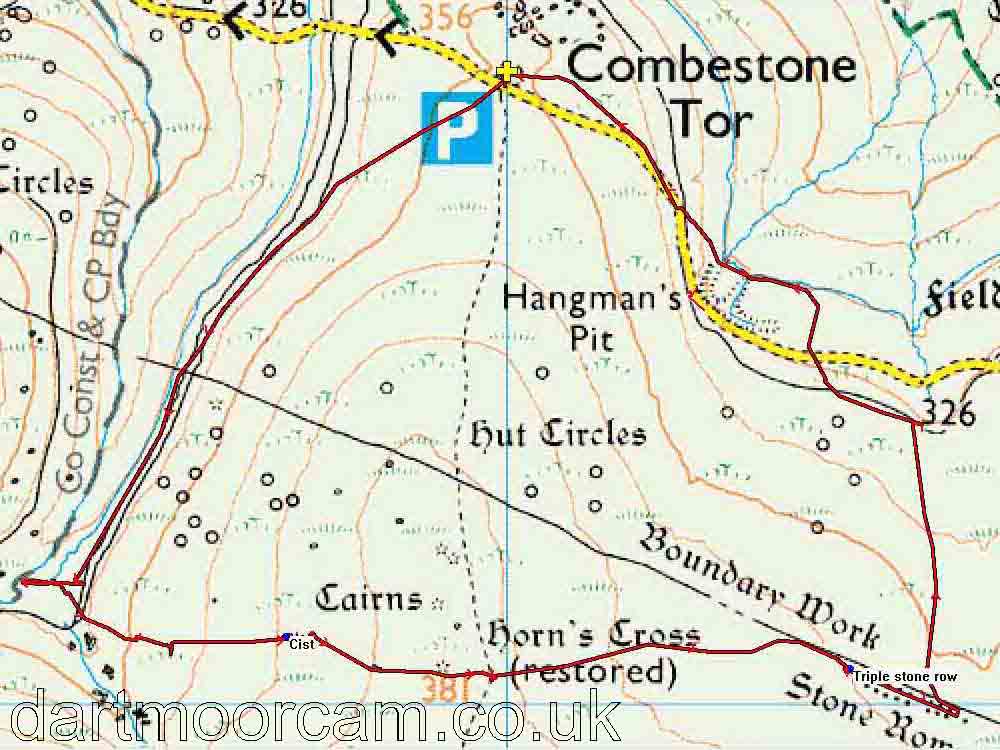 Ordnance Survey © Crown copyright 2005. All rights reserved. Licence number 100047373.
Also, Copyright © 2005, Memory-Map Europe, with permission.
This walk was reached by turning off the Two bridges - Ashburton Road for Hexworthy and driving past The Forest Inn to park at Combestone Tor, at the yellow cross symbol on the map.
Statistics
Distance - 4.18 km / 2.60 miles

All photographs on this web site are copyright ©2007-2016 Keith Ryan.
All rights reserved - please email for permissions