This walk: 2009-8-6. East Dart waterfall. The best views are from the north bank although we thought the easiest route was to the south bank. The waterfall can be crossed at its top, providing there has not been heavy rain. A rope might be advisable as a safety precaution.
Walk details below - Information about the route etc.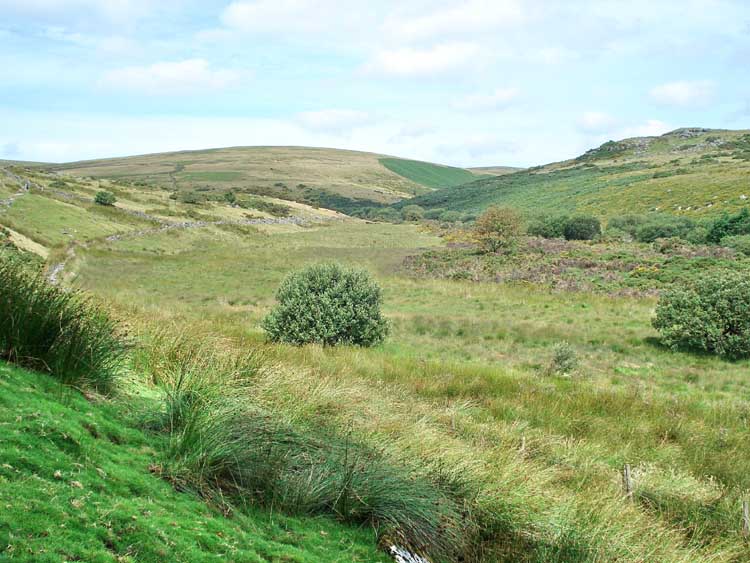 View up the Dart valley from just above Postbridge.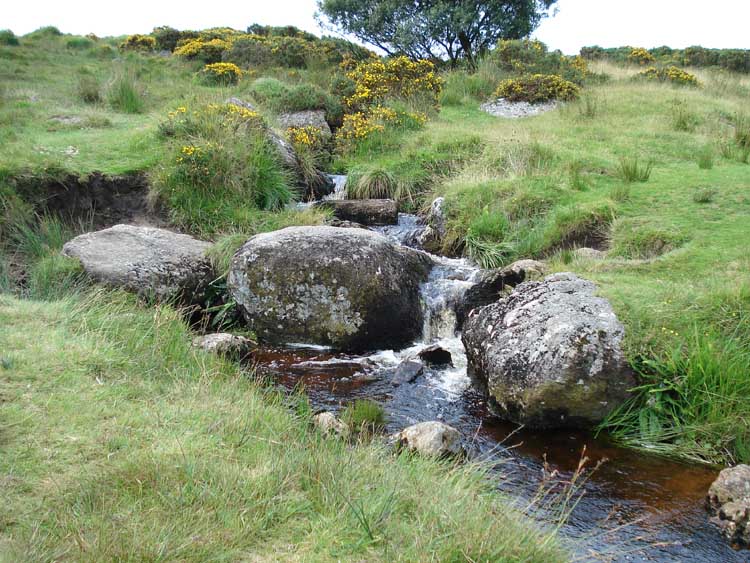 A small waterfall in Braddon Lake, at approx. SX 6361 7971.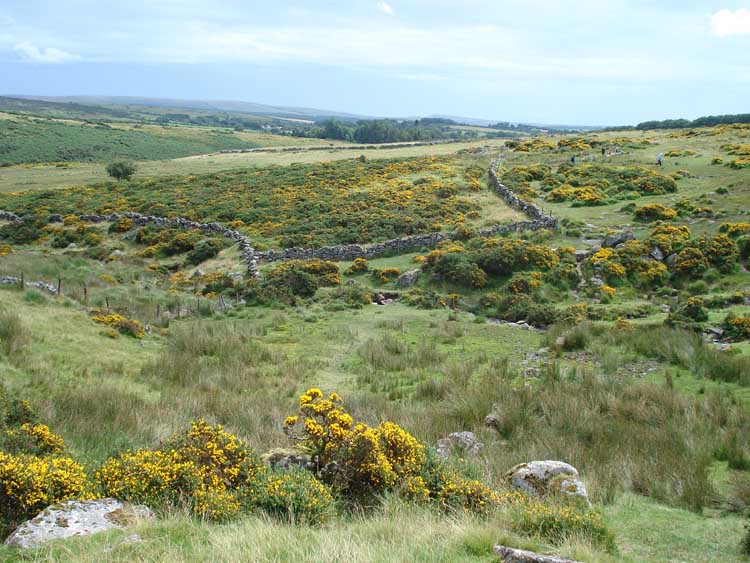 View of walls from a coffee break spot, the walls are at SX 63648 79723.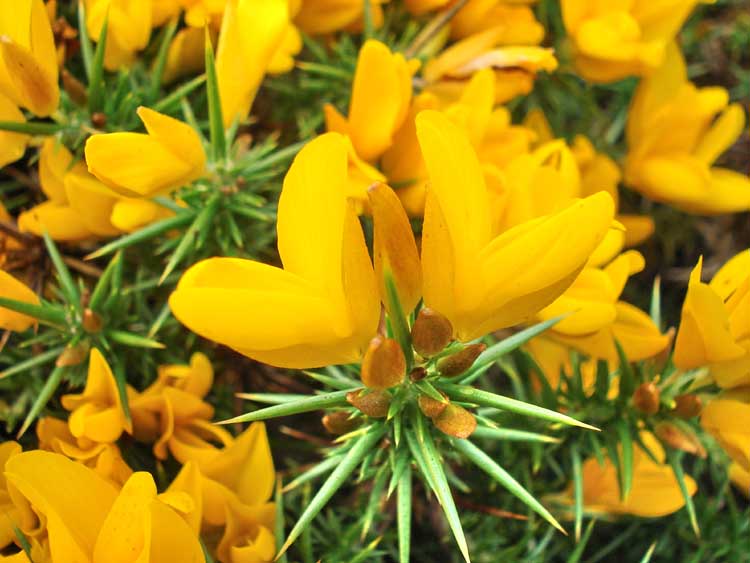 Western gorse (Ulex gallii).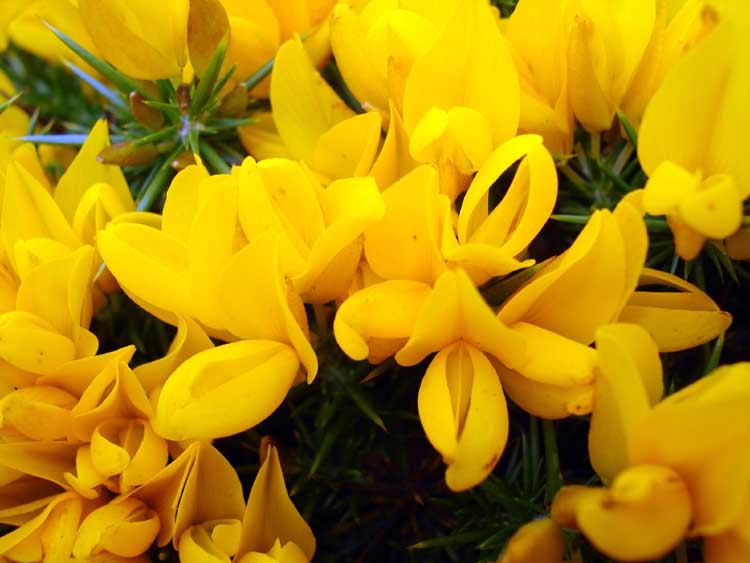 ..... and again .....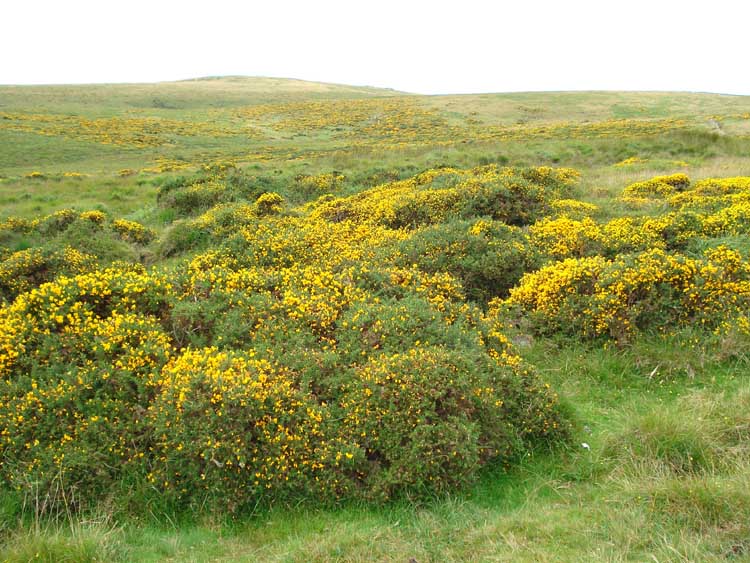 ..... and again. This is the low growing gorse compared to the Common gorse.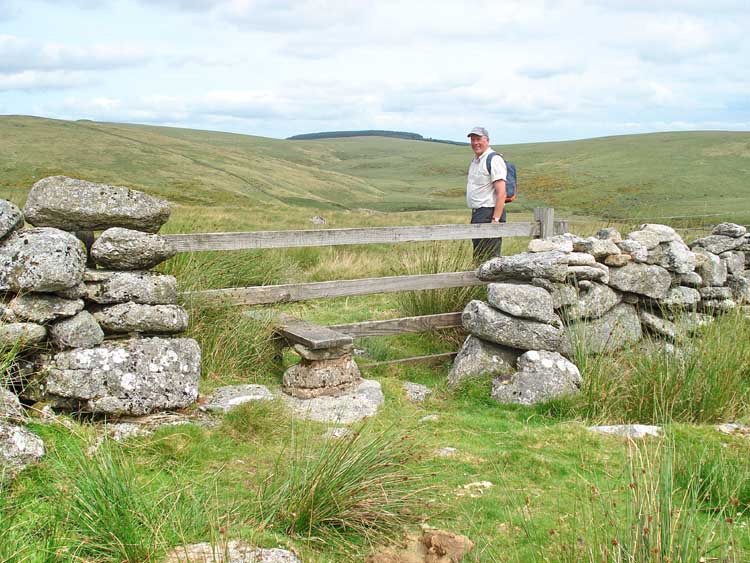 What appeared to be a gate from a distance, a stile, at approx. SX 63458 80566, near the top of a hump of Broad Hill.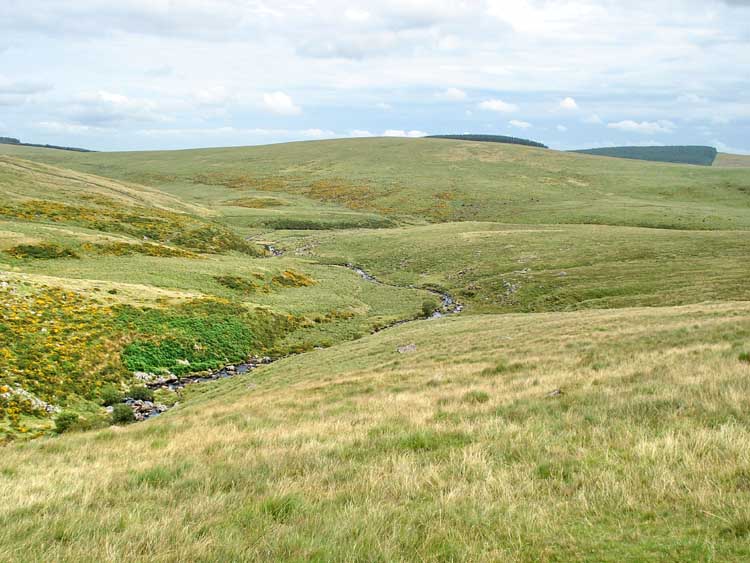 Looking down the valley.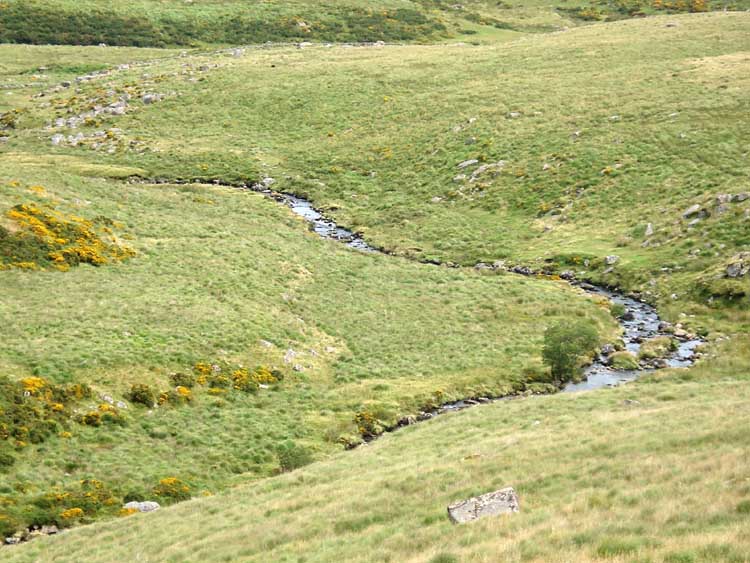 Zoomed view of the previous photo.
Path on the other side of the river, not on the map.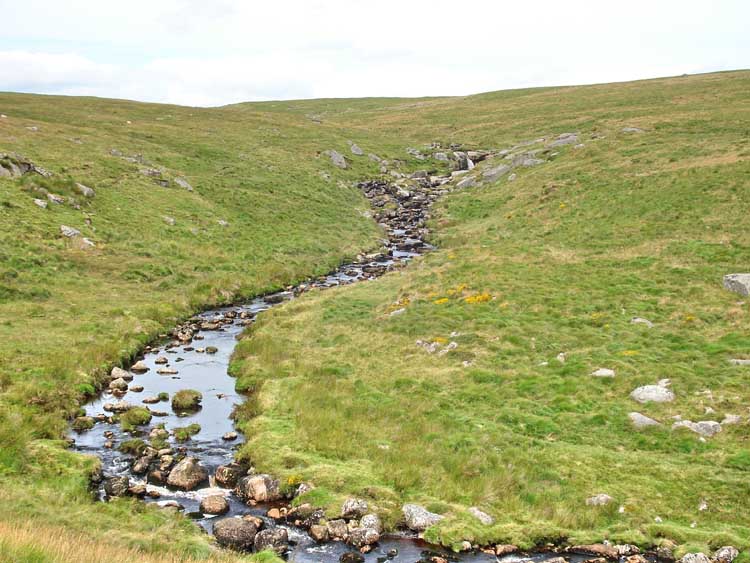 First view of the waterfall.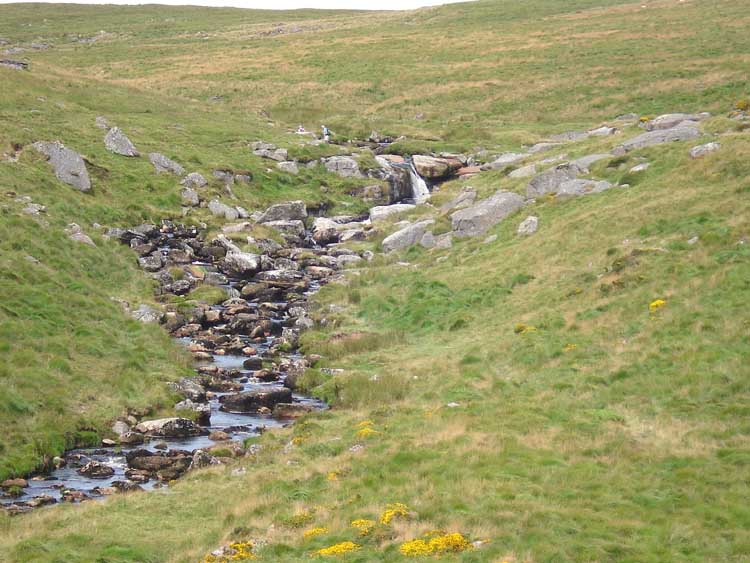 Zoomed view of the waterfall.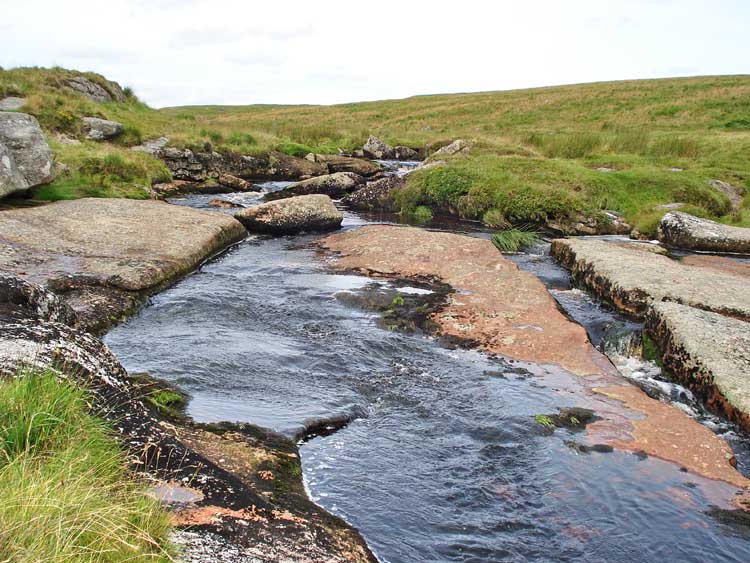 View at the top of the waterfall, looking upstream.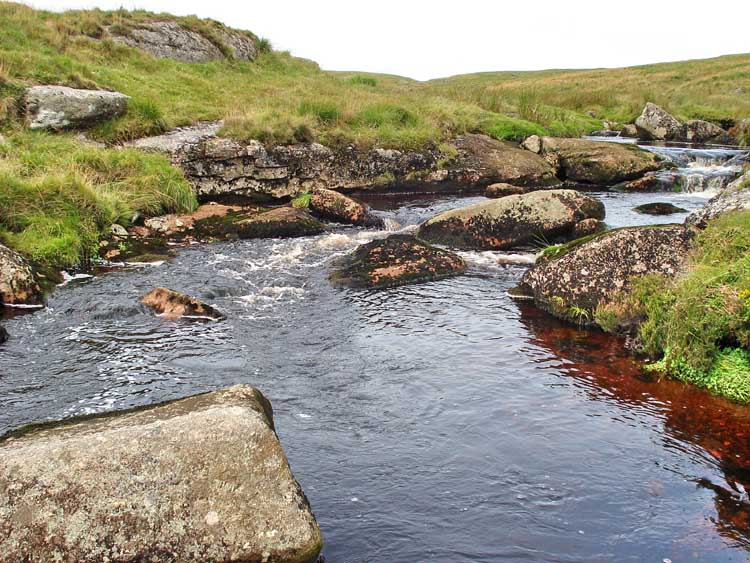 Similar view to previous.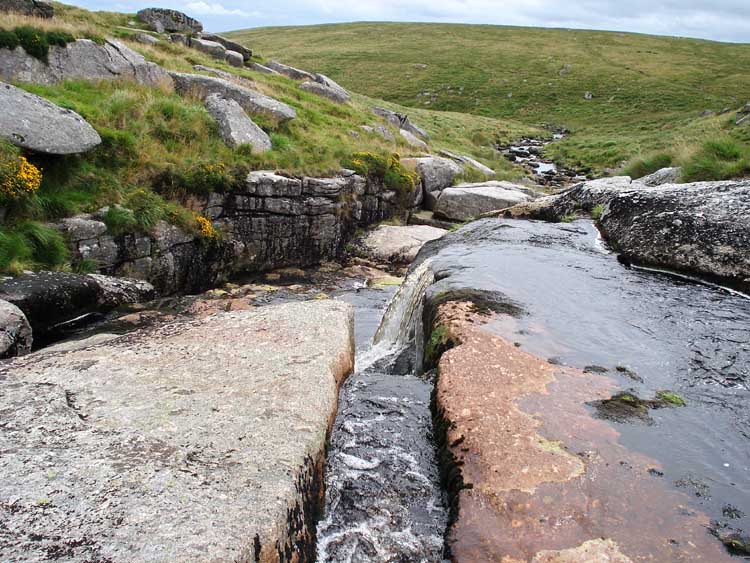 A small fall of water .....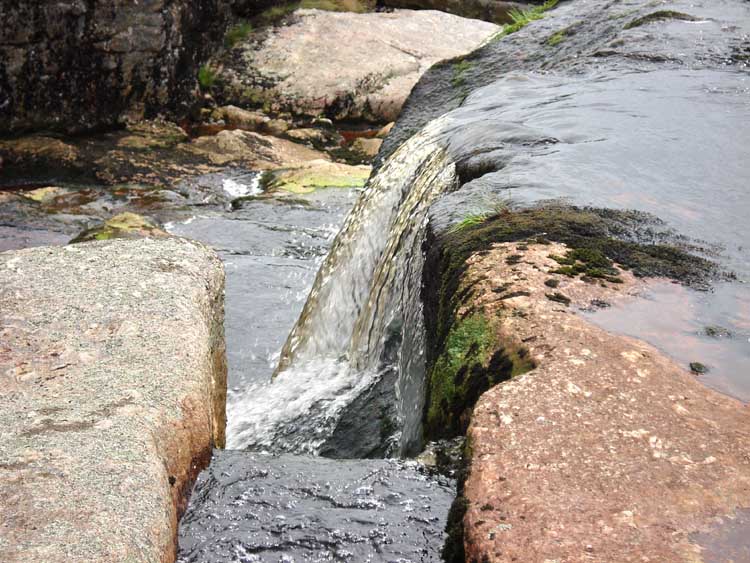 ..... closer view.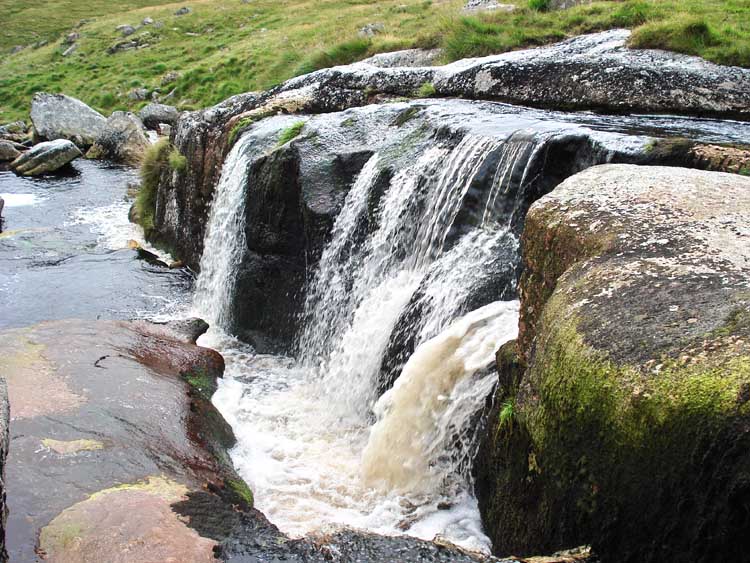 The waterfall, as best seen from the south bank.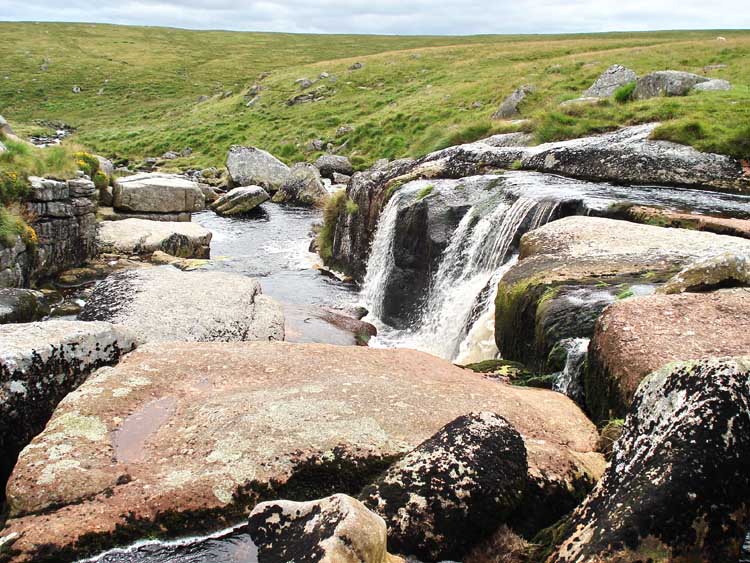 As previous.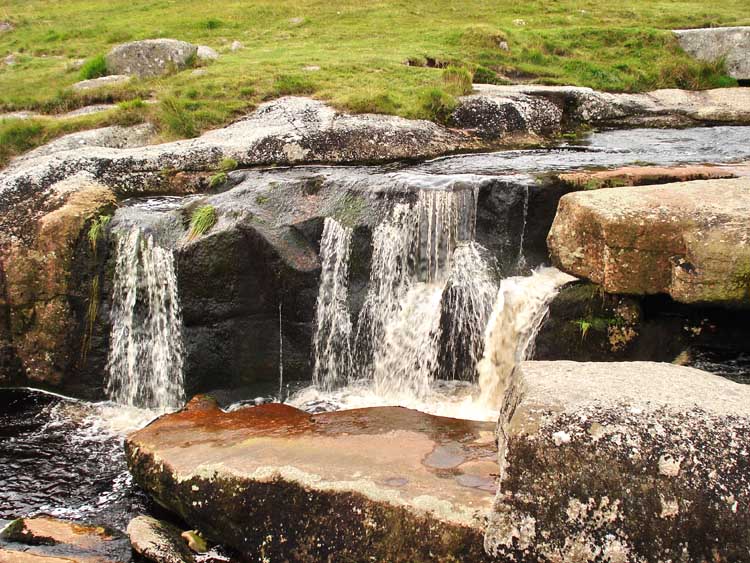 View from the north bank.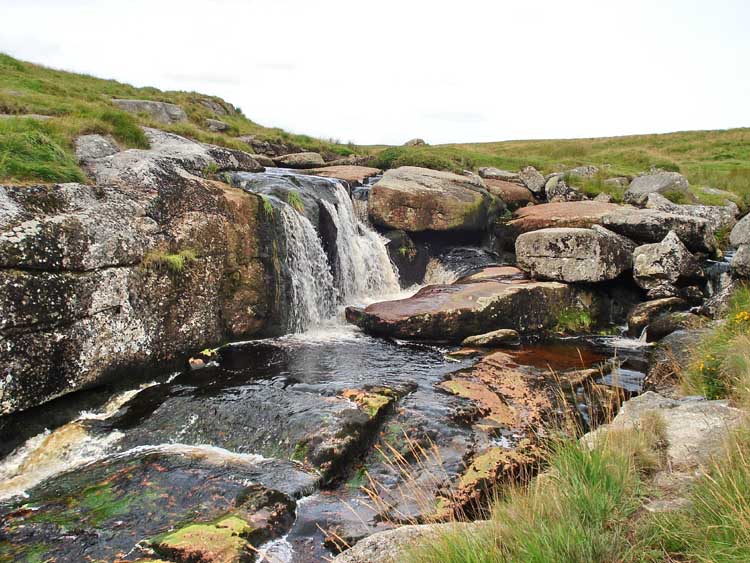 View from further down the north bank.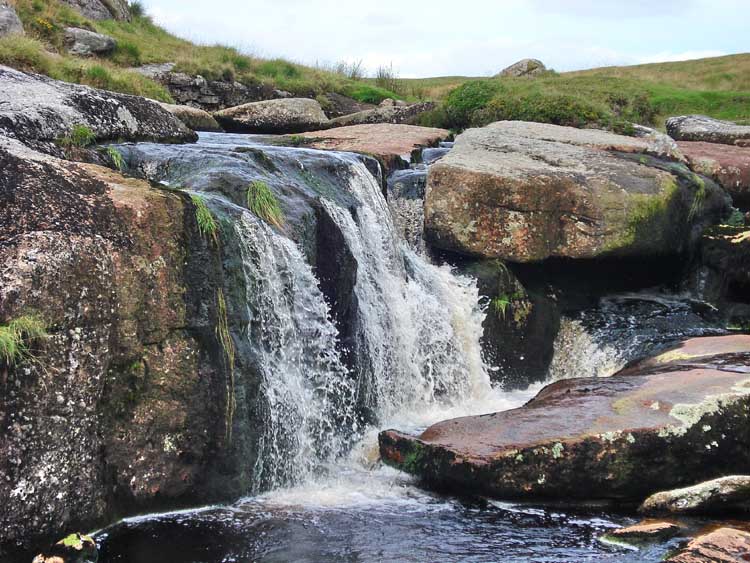 Another view .....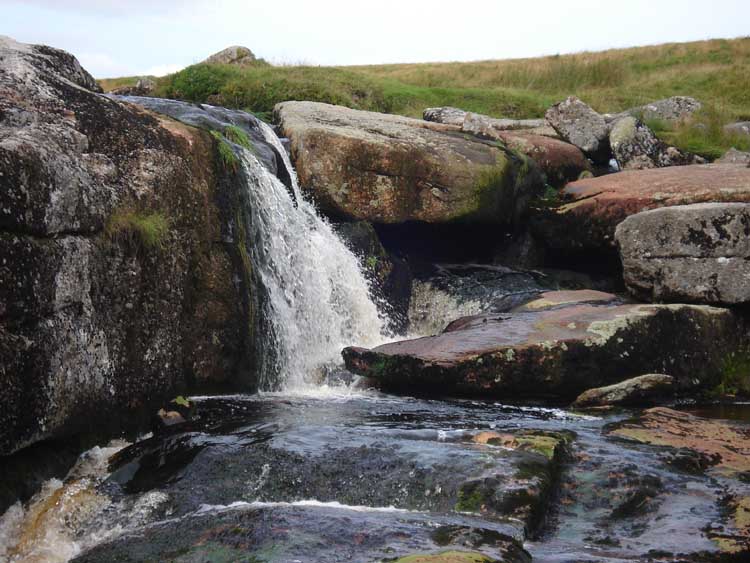 ..... ditto .....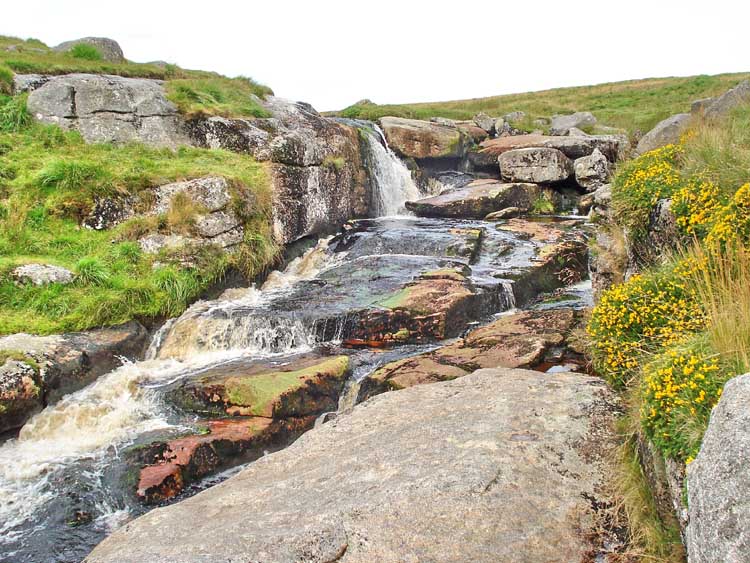 View from somewhat further down the north bank.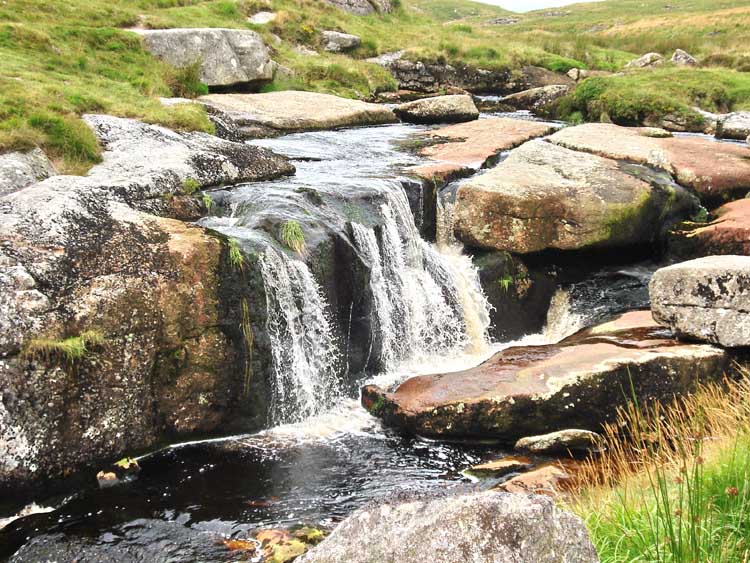 Last view.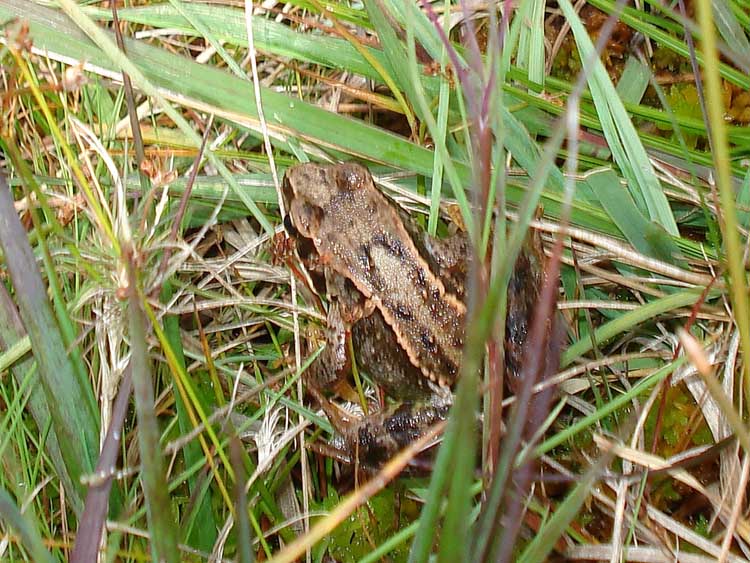 Common frog, hiding from nearby .....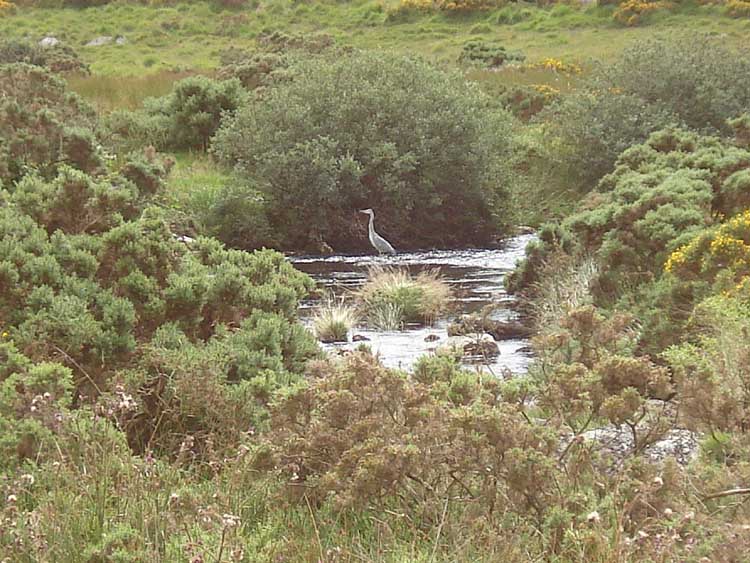 ..... heron.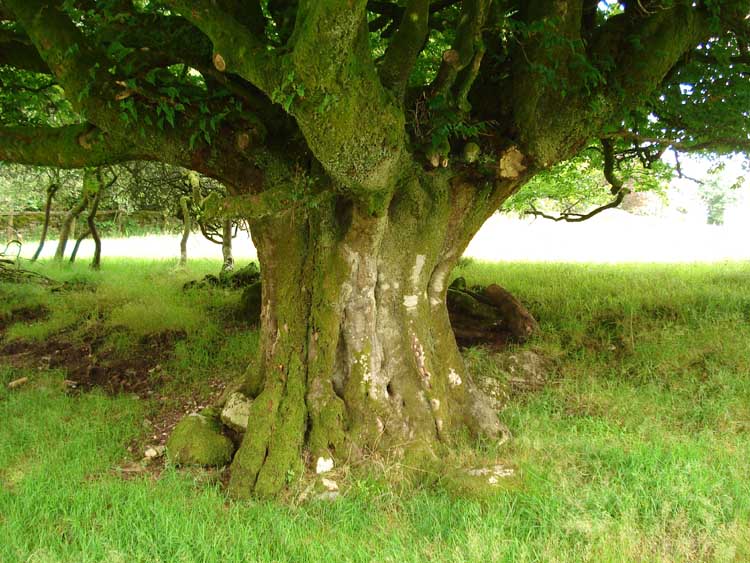 A quite ancient tree passed almost back at the road in Postbridge.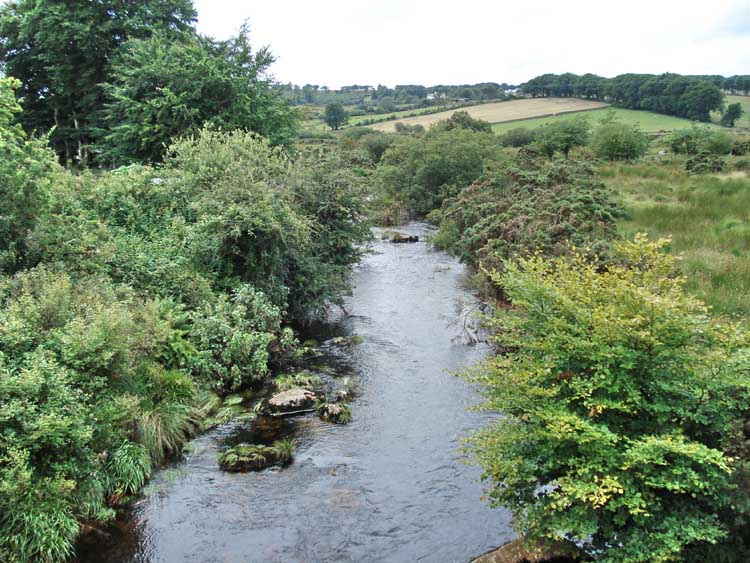 View up the river from the road bridge in Postbridge .....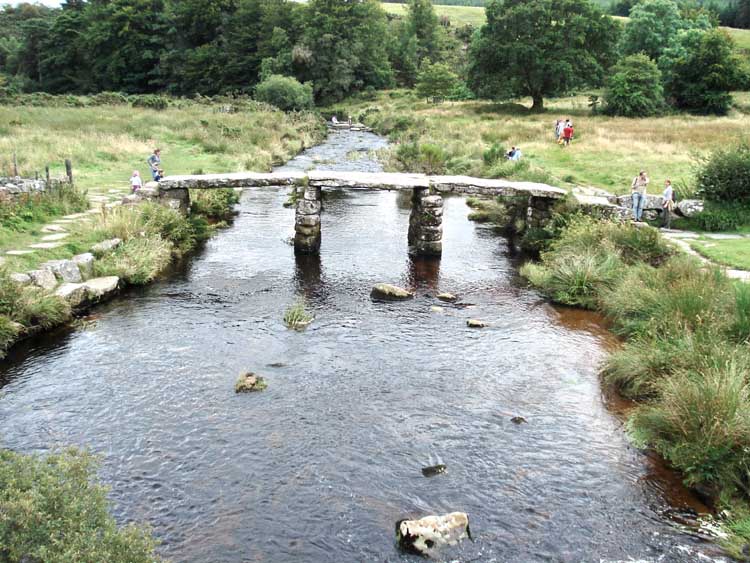 ...... and looking down the river, showing the old clapper bridge.
MOVIES ...........
Dartmoor CAM Movies
Click the small image to see a short movie

Tip - press F11 (at top of keyboard) to see Full Screen view.

Quicktime movie player: you may also need to press F11 to see the Play icon u at the bottom of the movie image if it comes up in the "Quicktime" movie player.

Windows Media Player: F11 also gives a Full Screen view of the movie. Press again to cancel.

Press F11 again to return to Normal View to get back to the "Back" button t on the browser to continue browsing.

Turn up the sound - hear the wind!



Panning from the falls
down the valley



Panning from above the falls


Just watching the falls - make this
Full Screen and choose Continuous loop
- don't be surprised if your
feet feel wet!
MAP: The red line is the GPS satellite-tracked route walked.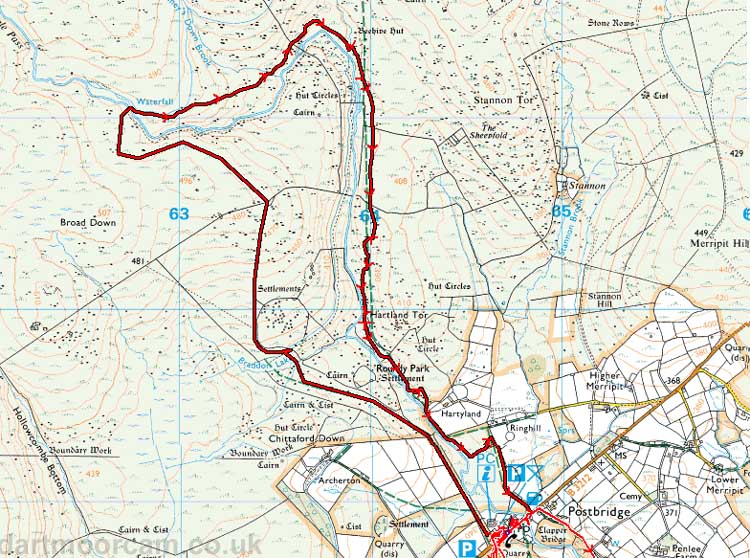 Ordnance Survey © Crown copyright 2005. All rights reserved. Licence number 100047373.
Also, Copyright © 2005, Memory-Map Europe, with permission.
Access to this walk was simple - from the car park with the Information Centre in Postbridge, on the B3312, at the upper P symbol on the map.
Statistics
Distance - 8.61 km / 5.35 miles.

All photographs on this web site are copyright ©2007-2016 Keith Ryan.
All rights reserved - please email for permissions
Sister web sites
Dartmoor Tick Watch
The Cornish Pasty - The Compleat Pastypaedia