This walk: 2009-5-27. From Long Ash Garden Centre, Yelverton, wet moorland, wet grass, wet bracken, wet paths, wet trees, wet sheep, wet cows, wet walkers, wet bluebells, whitebells, Iron Age settlement, fort or pound with surrounding ditch ("Castle Field"), Berra Tor / Burra Tor / Beara Tor, badgers sett.
Walk details below - Information about the route etc.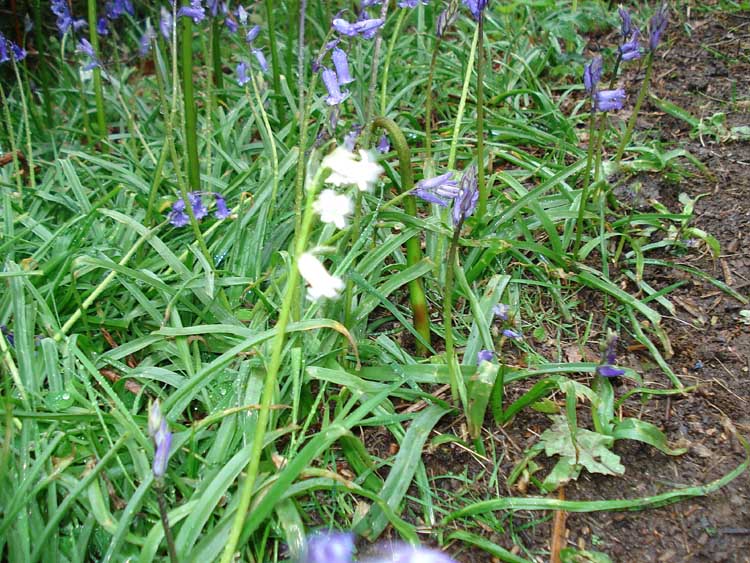 An example of the rare Dartmoor whitebell (Hyacinthoides alba?) in among the bluebells.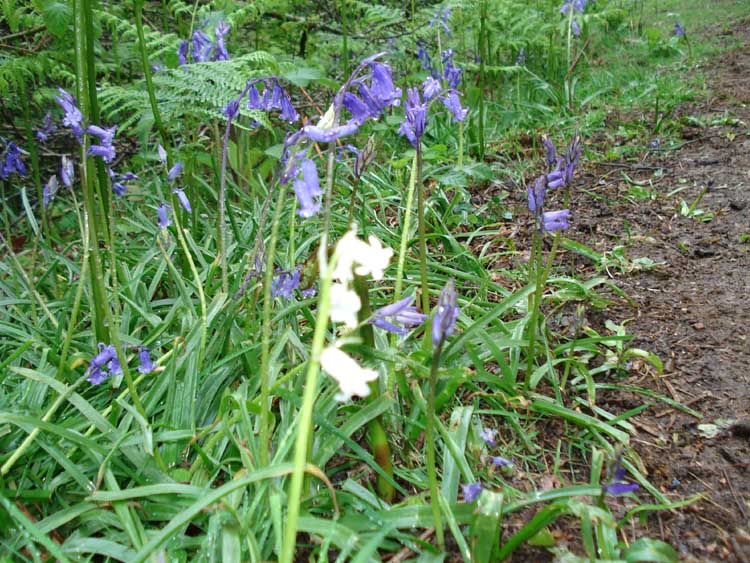 The same whitebells, again, with white buds in the background - unfortunately the auto-focus camera concentrated on the mass of the image and not the foreground whitebell. Also, the camera flash has "whited-out" any detail in the flowers.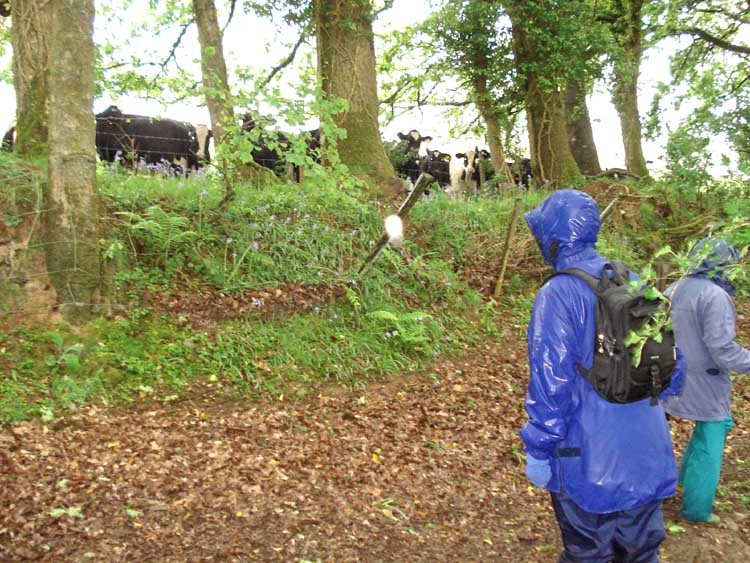 "We're being watched"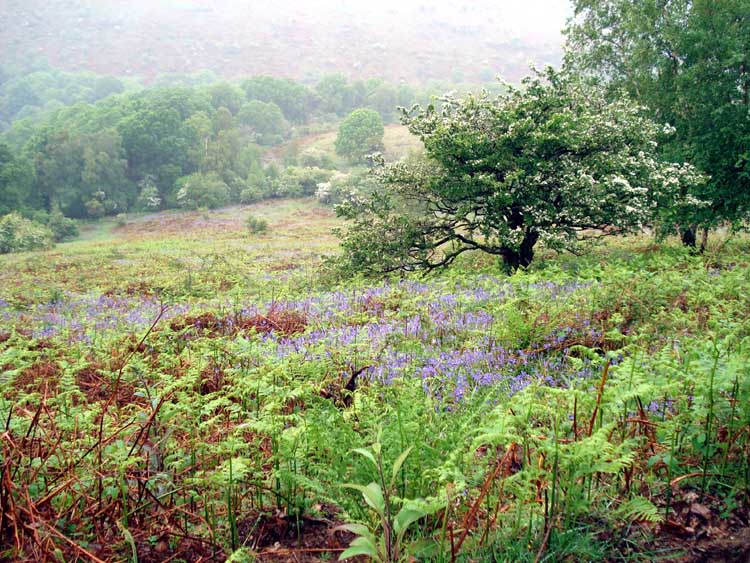 A bit of a sea of bluebells.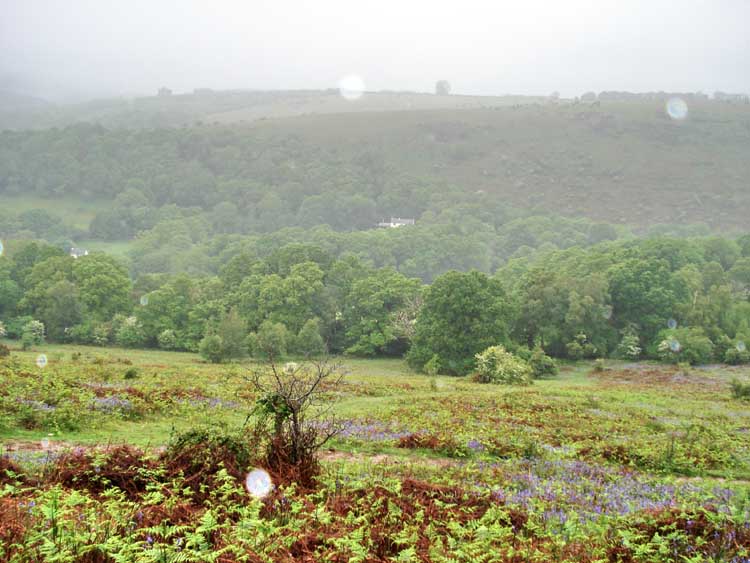 View across the Walkham valley, in the rain - white spots on the camera lens.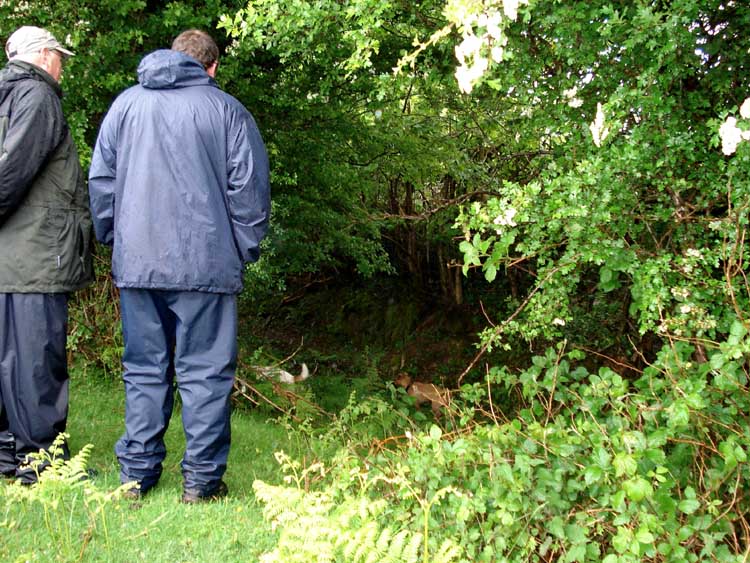 It looks like a hole to me ........ the last remains of the ditch in the fortifications around the approx. 100-meter wide Iron Age pound (see "Settlement" at left edge of the map below). This feature is known locally as Castle Field. It is a scheduled ancient monument.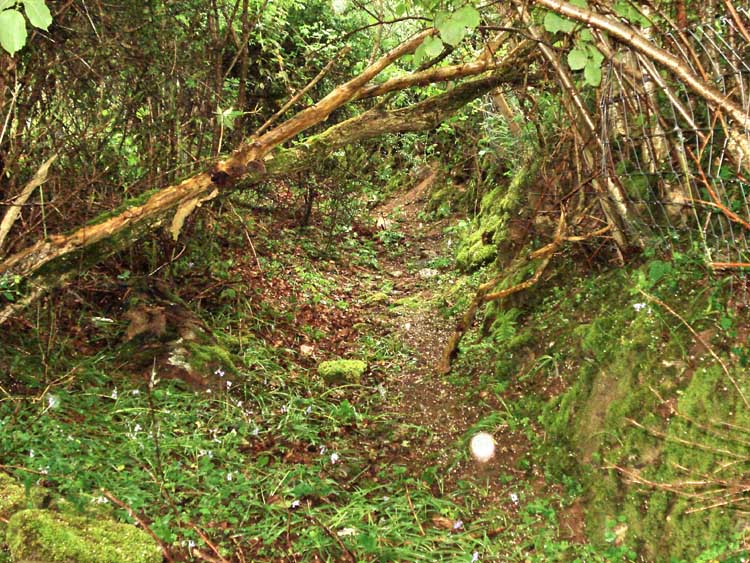 A view inside, up the ditch .....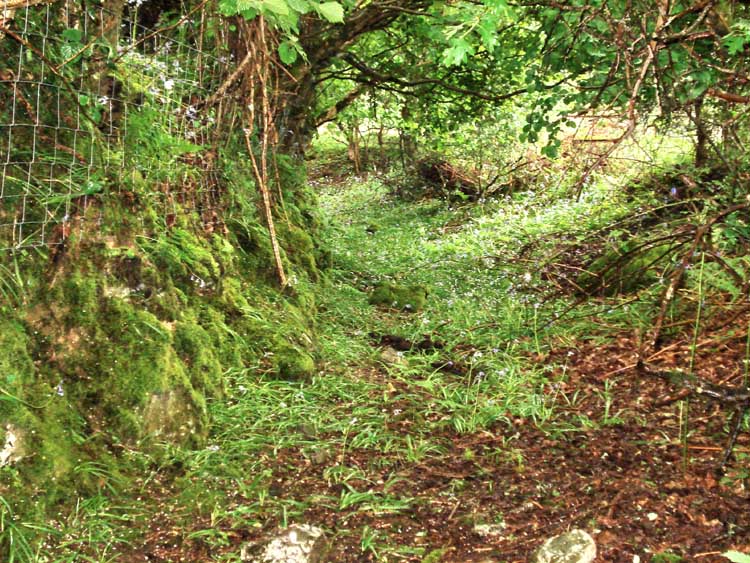 A view down the ditch .......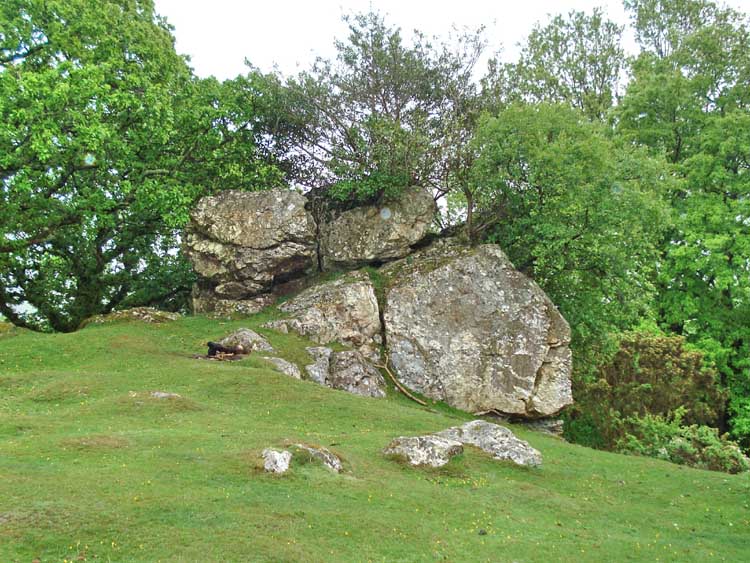 Beara Tor (aka Burra Tor, Berra Tor) at SX 553 679, elevation 128 meters (420 feet).
Another view of the tor, this tor is rich in quartz to such an extent that is is believed to have featured in Rock and Gem magazine.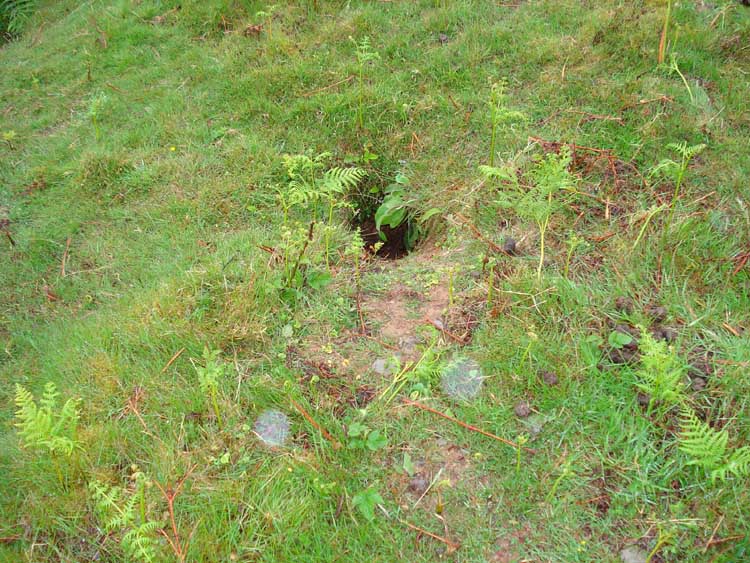 A badgers sett, with rain on the lens.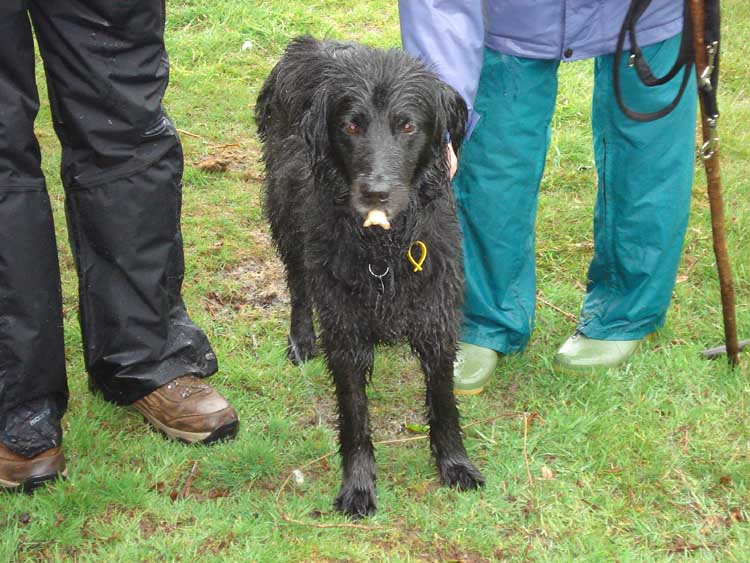 Daisy, the remarkable cigar-smoking dog.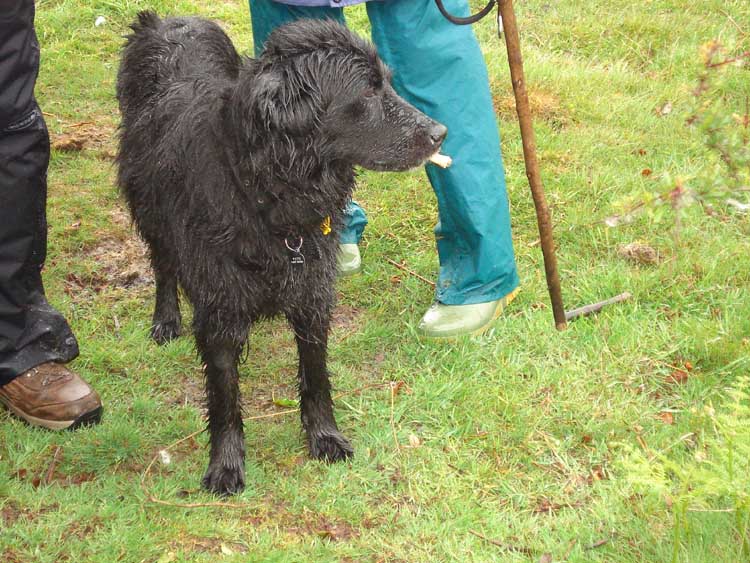 "Give me a light?"
The red line is the route walked.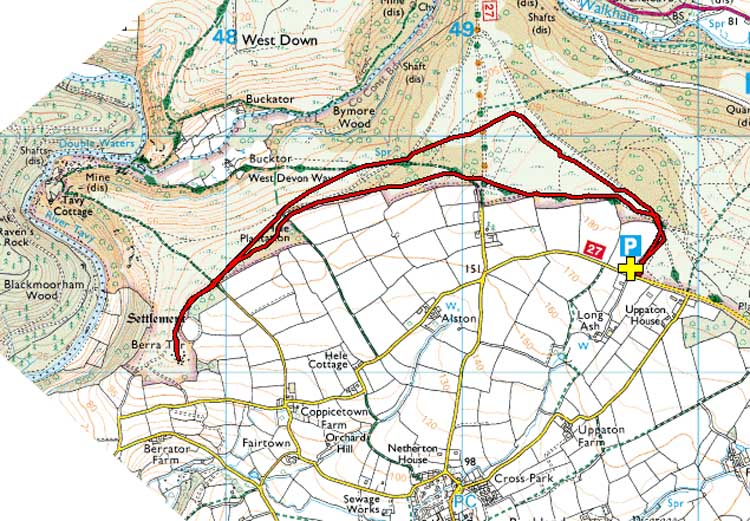 Reproduced from Dartmoor OS Explorer map 1:25 000 scale by permission of Ordnance Survey
on behalf of The Controller of Her Majesty's Stationery Office.
© Crown copyright. All rights reserved. Licence number 100047373.
Also, Copyright © 2005, Memory-Map Europe, with permission
Access to this walk was along good roads from Yelverton to the car park opposite Long Ash Garden Centre, at the park with the yellow cross and the P symbol on the map.
Statistics
Distance - 5.8 km / 3.6 miles.

All photographs on this web site are copyright ©2007-2016 Keith Ryan.
All rights reserved - please email for permissions
Sister web sites
Dartmoor Tick Watch
The Cornish Pasty - The Compleat Pastypaedia