This walk: 2009-10-8. Crockern Tor, Stannary Parliament, table rocks, Judge's Seat, bench, Littaford Tors, West Dart River, Beardown Tors, Longaford Tor, Devonport Leat, Higher White Tor, stone row, Wistman's Wood, Wentworth Buller stone.
Walk details below - Information about the route etc.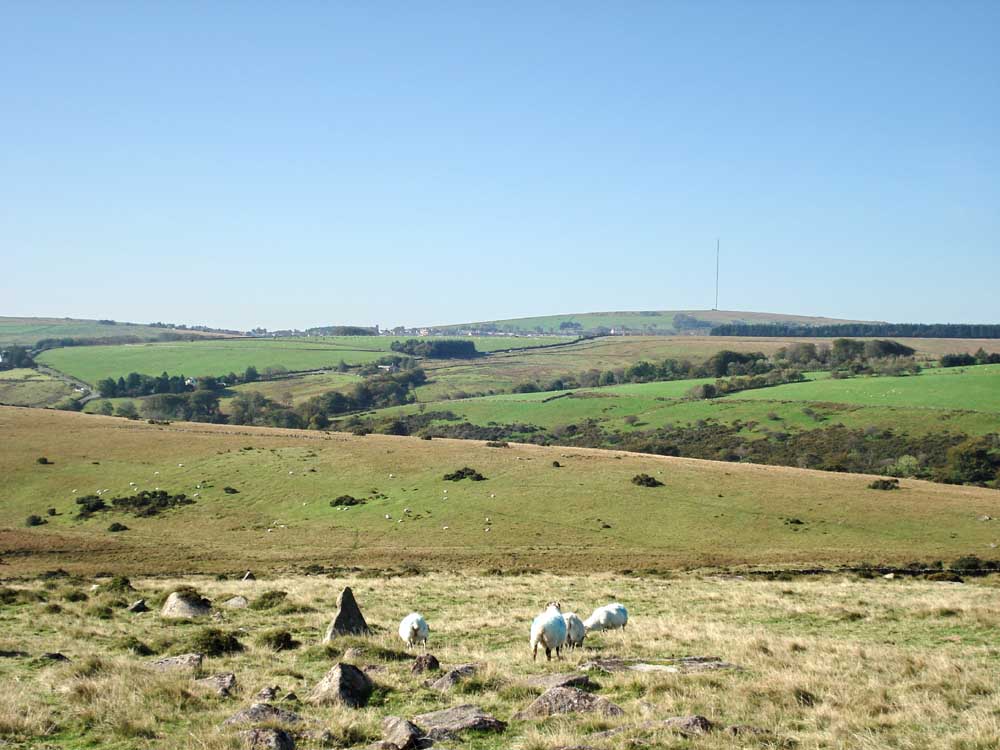 Princetown and the TV transmitter on North Hessary Tor (the panorama movie below starts with this view and ends with it).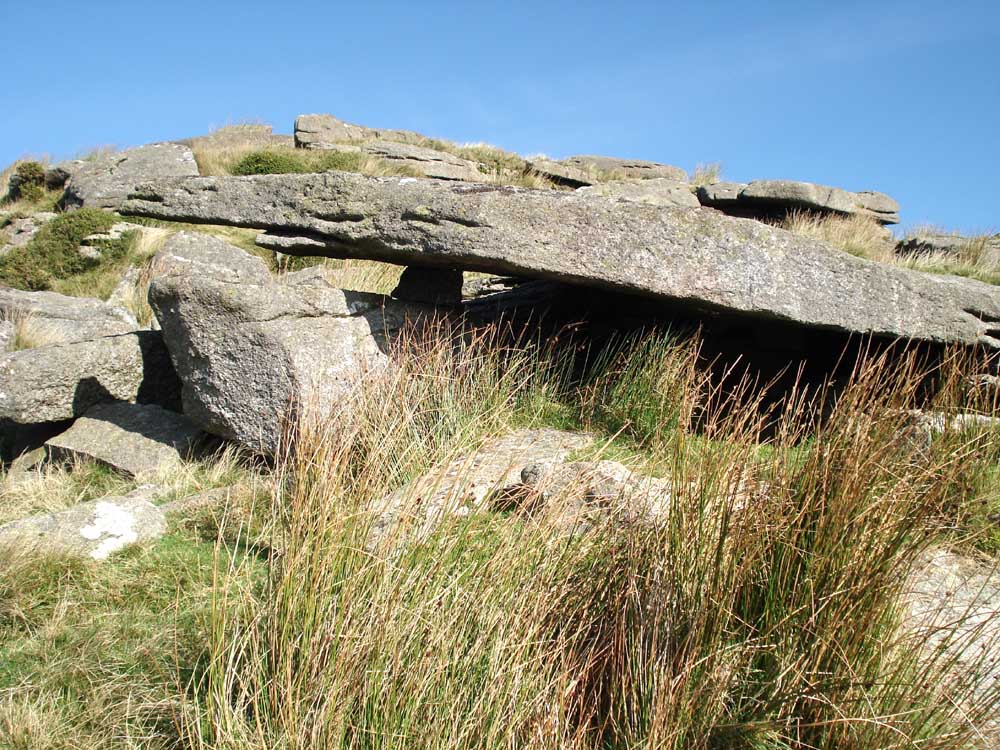 A propped up "table" at Crockern Tor (Legendary Dartmoor web site), site of the Stannary Parliament (Wikipedia).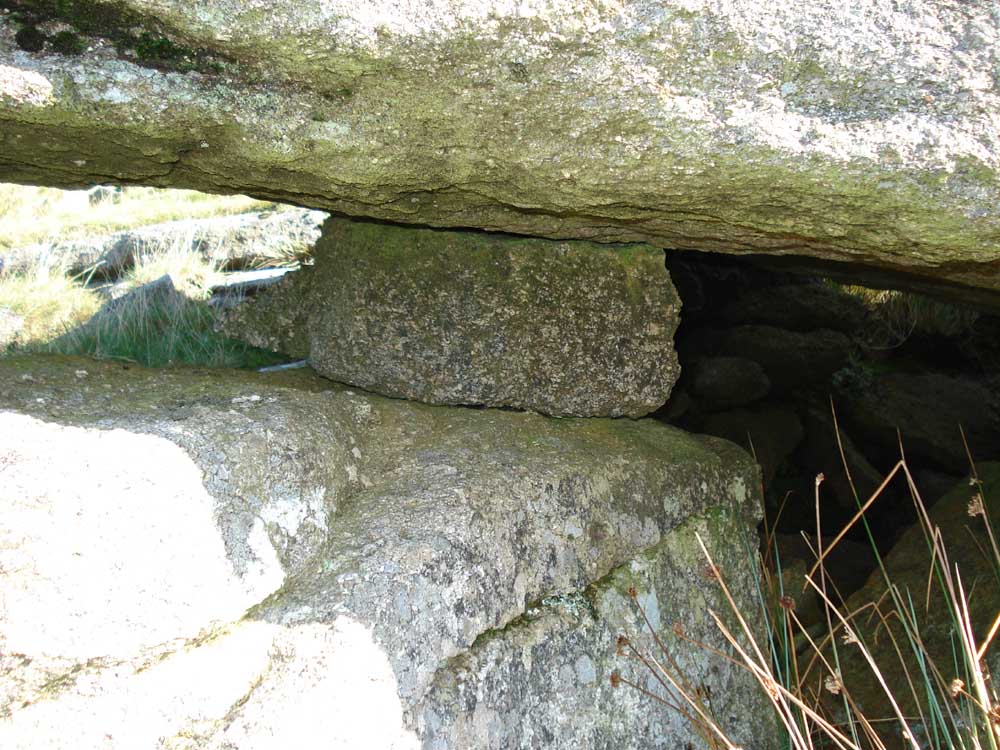 A rock inserted to level the "table".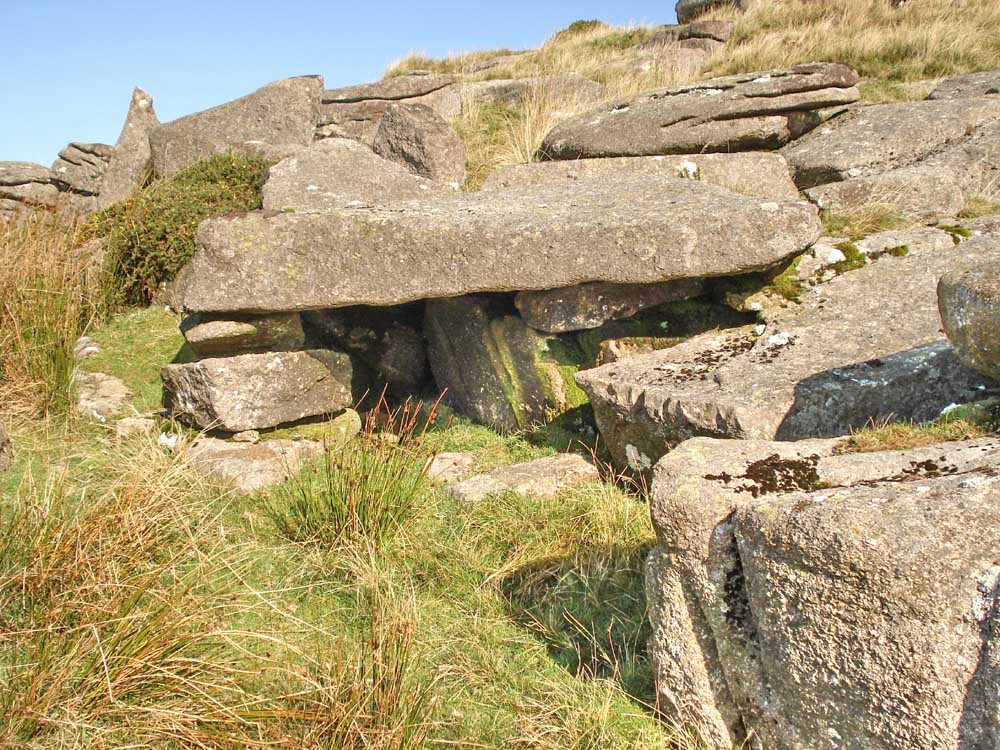 Another levelled table.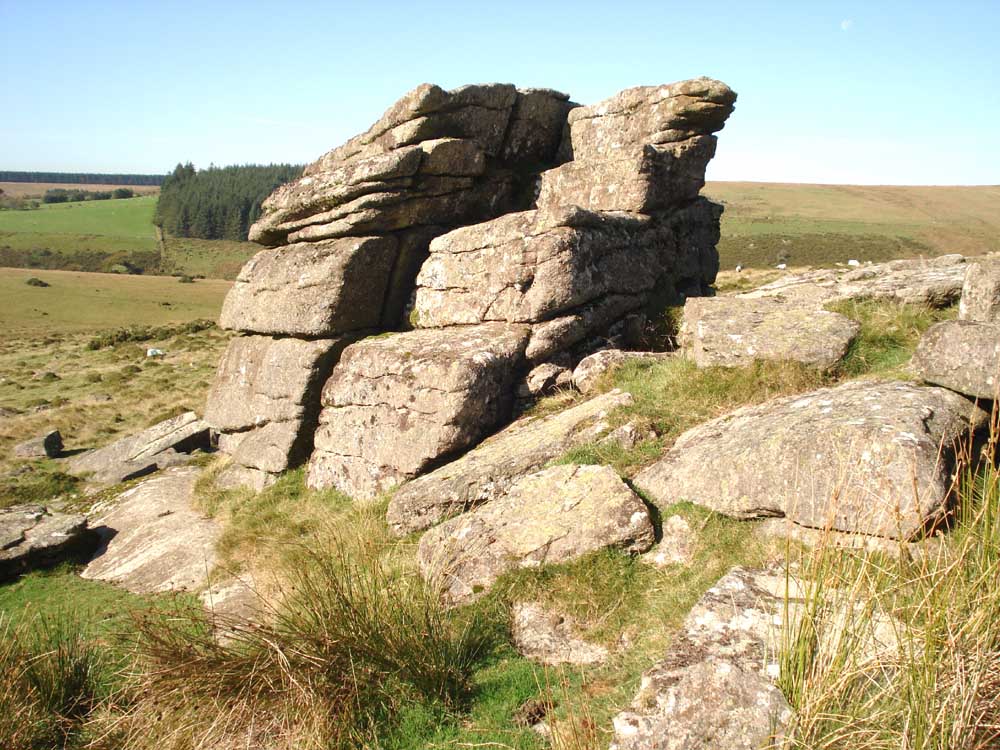 The Judge's Seat at Crockern Tor.
The bench at Crockern Tor.
Stile at SX 61600 76709 ± 5 metres, marked on the map below, with Littaford Tors behind.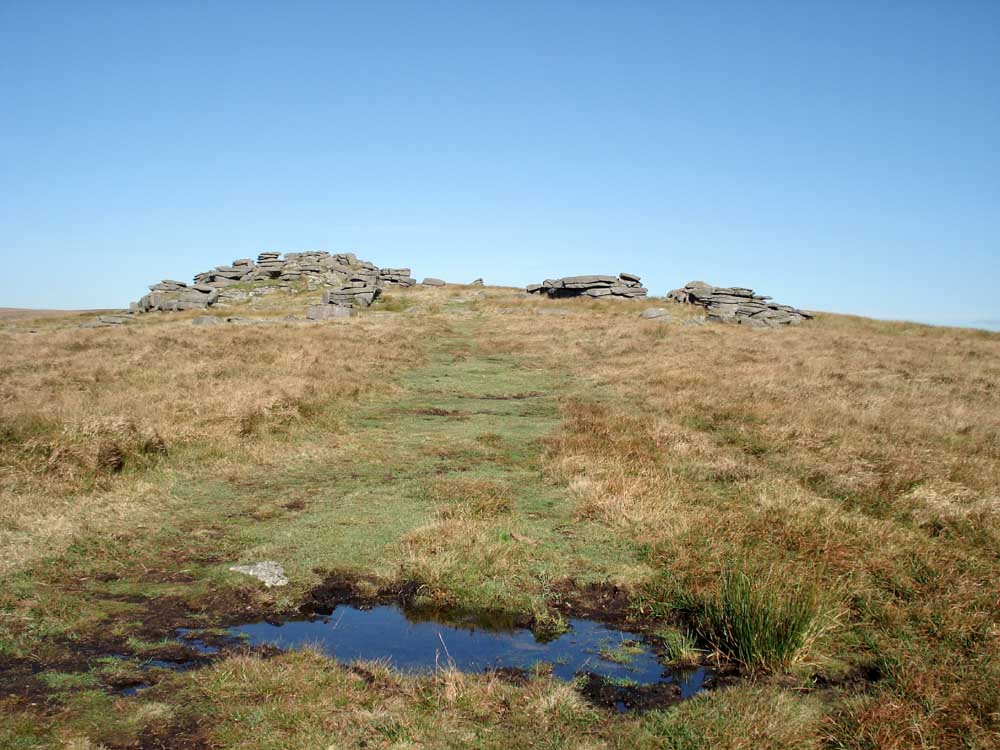 Littaford Tors, SX 61620 76916, elevation 444 metres (1456 feet).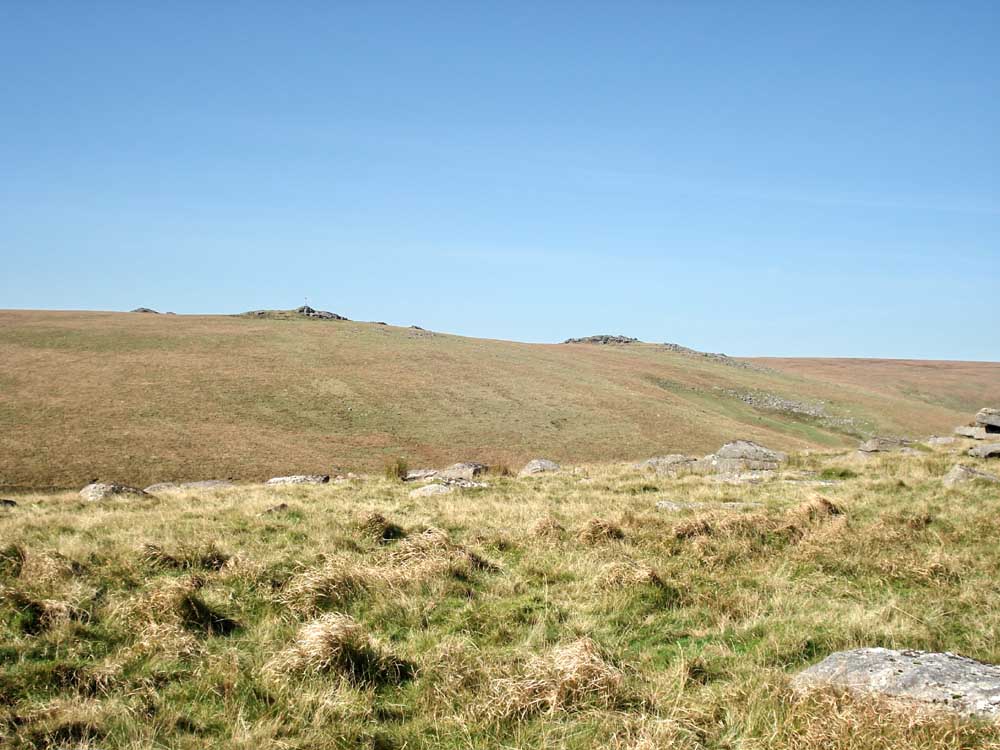 Looking across the West Dart River to the Beardown Tors, with a red range flag flying o n the firing range.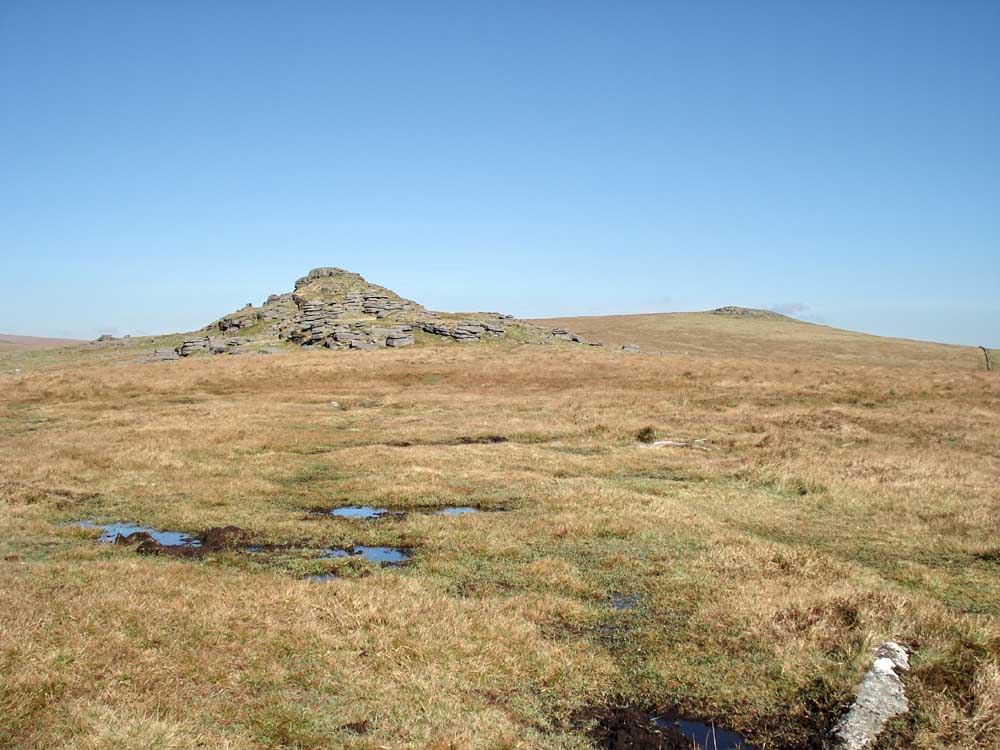 Longaford Tor ("Dartmoor Walks" web site), SX 61565 77931, elevation 507 metres (1663 feet), with Higher White Tor in the distance.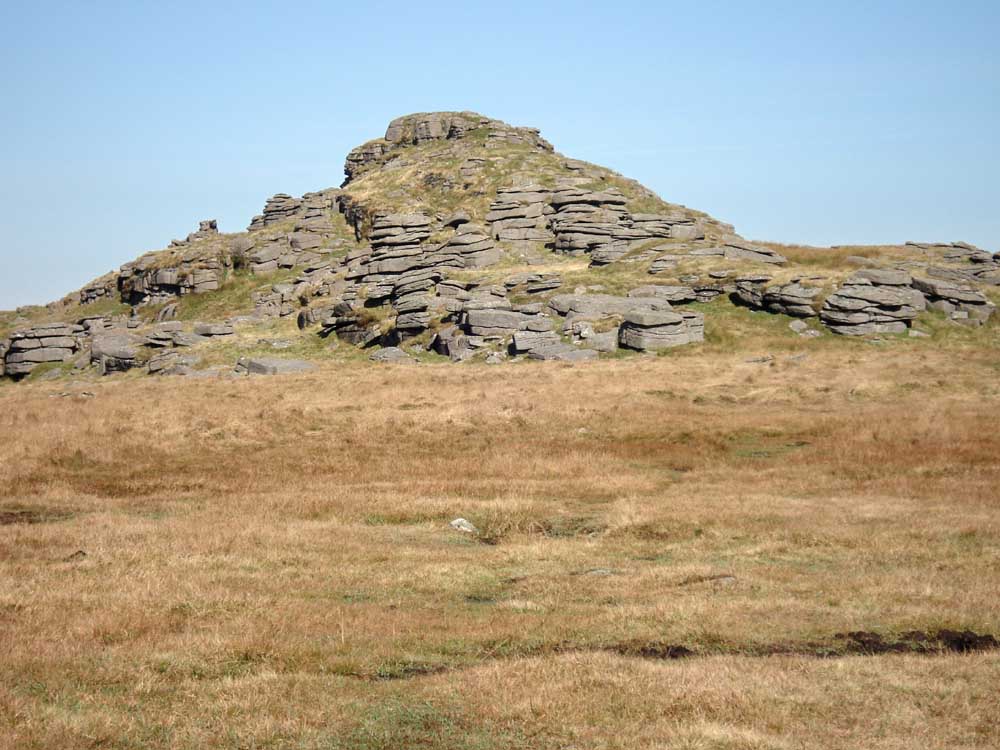 Longaford Tor "Legendary Dartmoor" web site).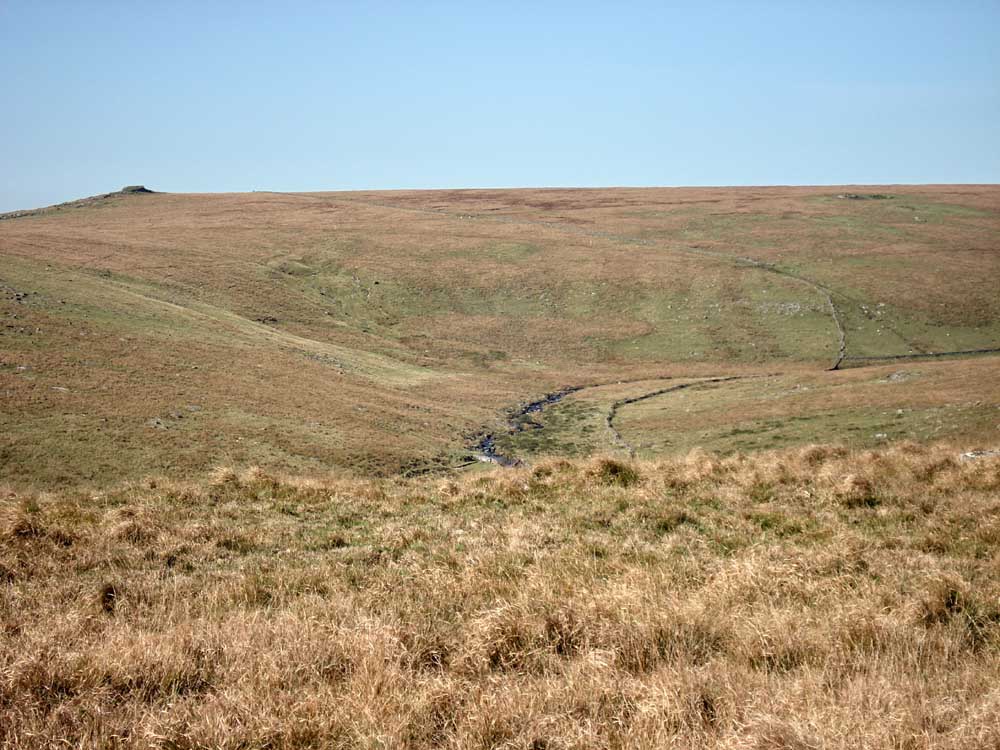 Looking from Longaford Tor, across the bend in the river to Lydford Tor.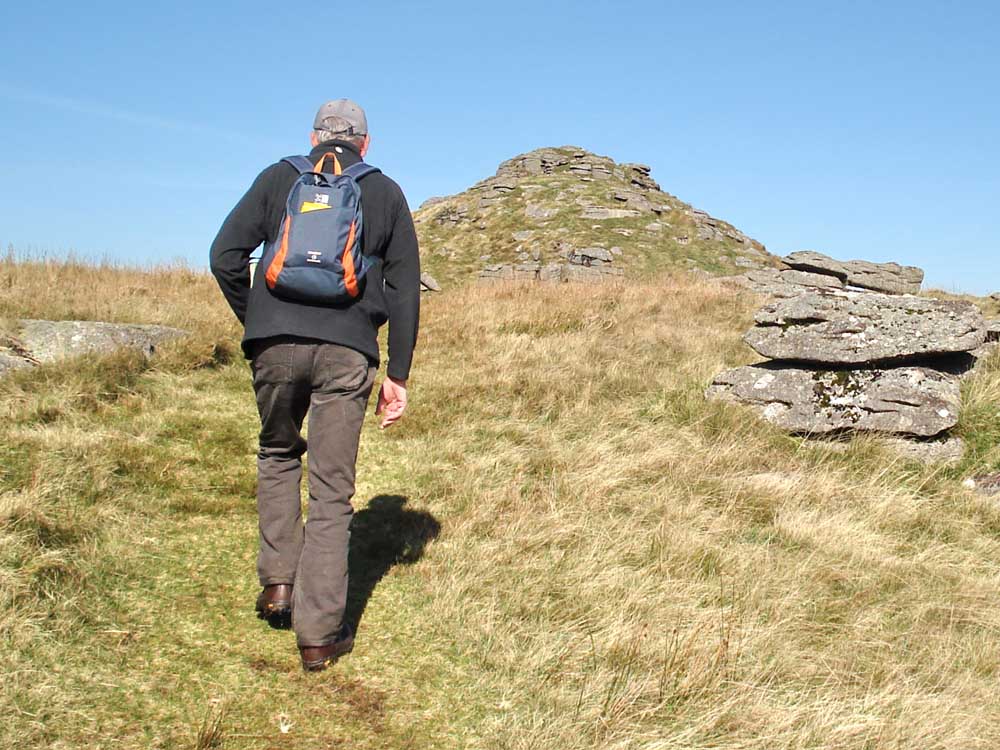 Approaching Longaford Tor.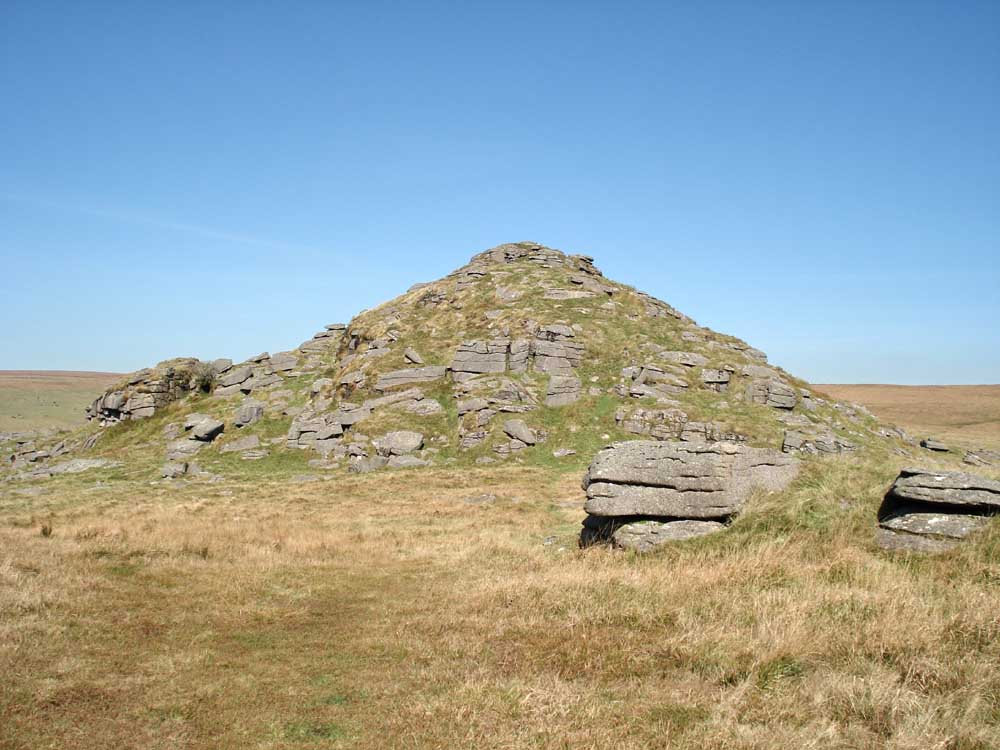 Longaford Tor.
Dartmoor CAM movie. TIPS .....

once viewing, make movie viewer "Full Screen"

click the loop or "continuous play" icon (if there is one)

press F11 to make more "Full Screen", remembering to press it again to regain Normal Screen.

Complete panorama from the top of Longaford Tor starting at Princetown and the TV mast, panning up the West Dart valley.



File size: 3 MB
Approx. 12 secs download on BT Broadband.
Plays for 39 secs. - beware of wind noise.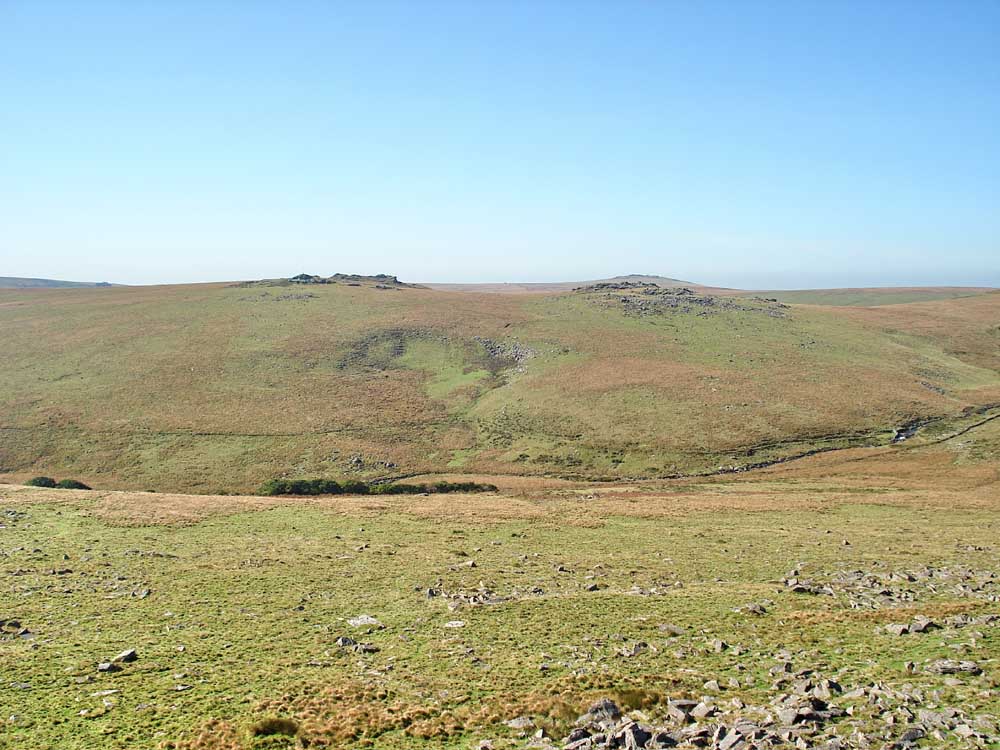 Beardown Tors with the trees of Wistman's Wood in the valley. Devonport Leat can be seen above the wood, across the valley, following the contour of the hill.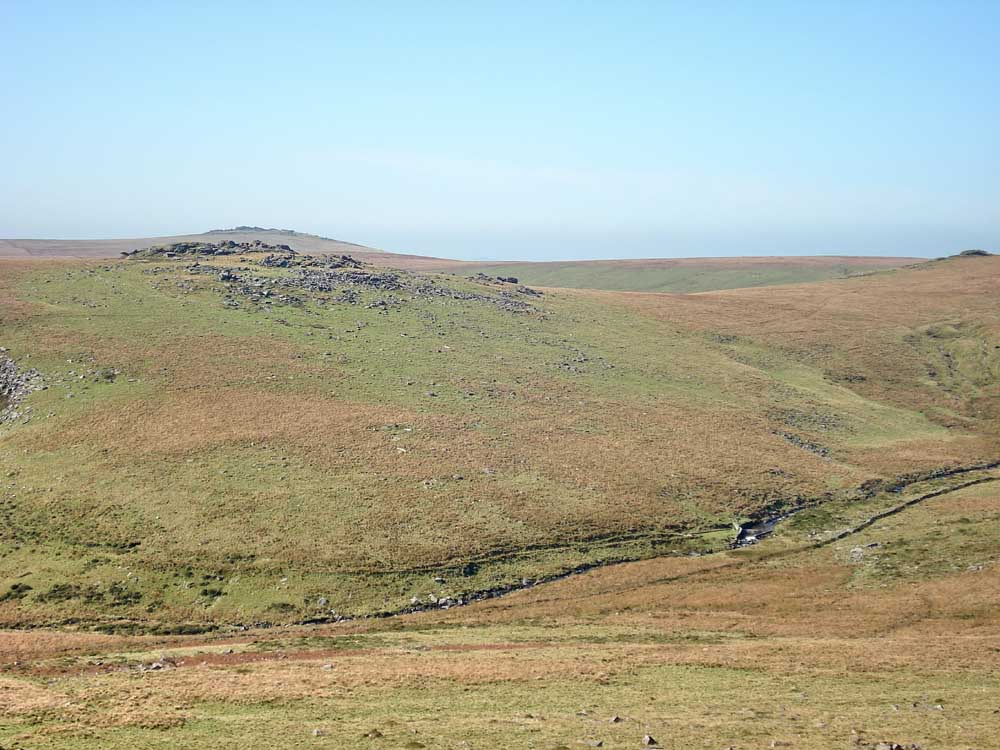 Zoomed view of Beardown Tor, with Great Mis Tor behind.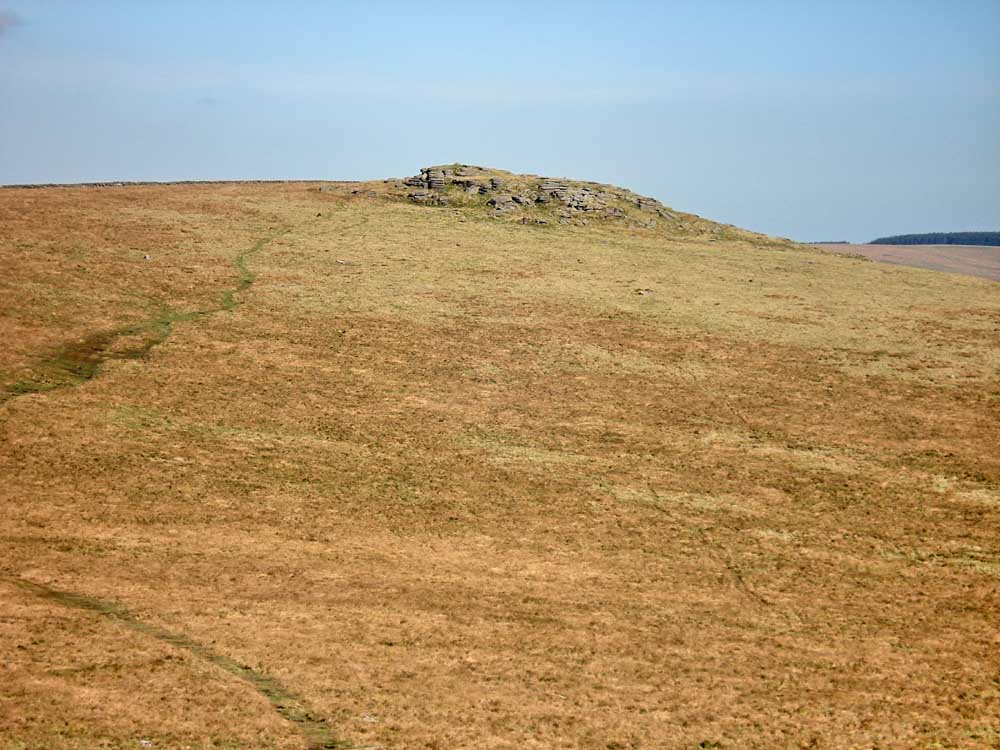 Zoomed view to Higher White Tor, SX 61985 78571, elevation 527 metres (1728 feet).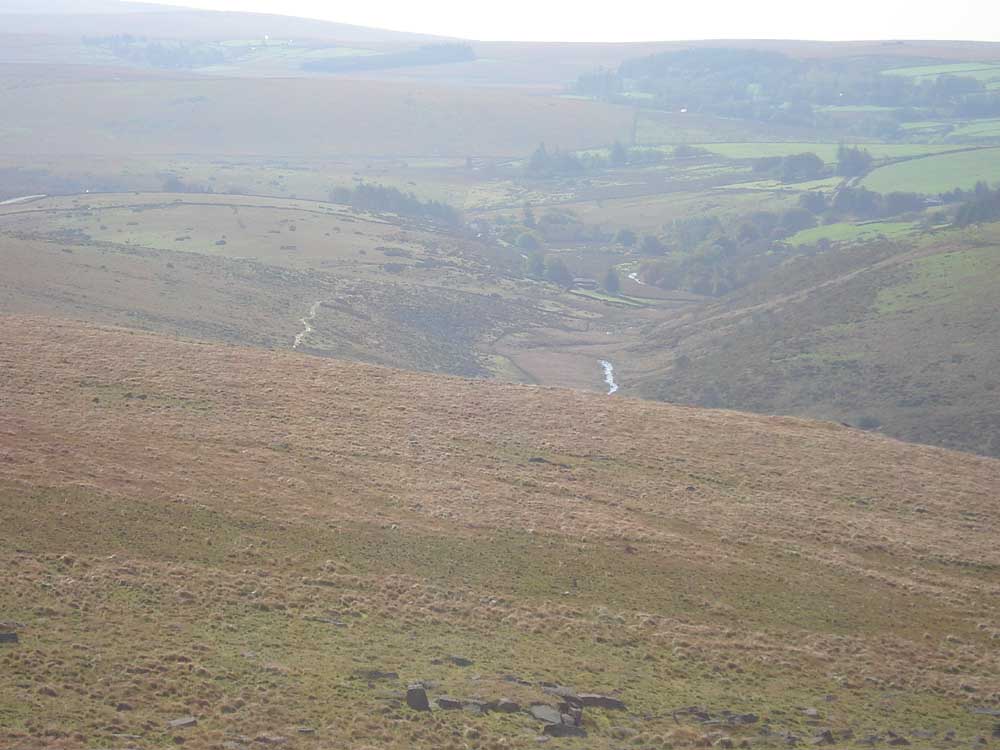 Zoomed view looking down the valley to Two Bridges, with the West Dart River glinting in the sunlight.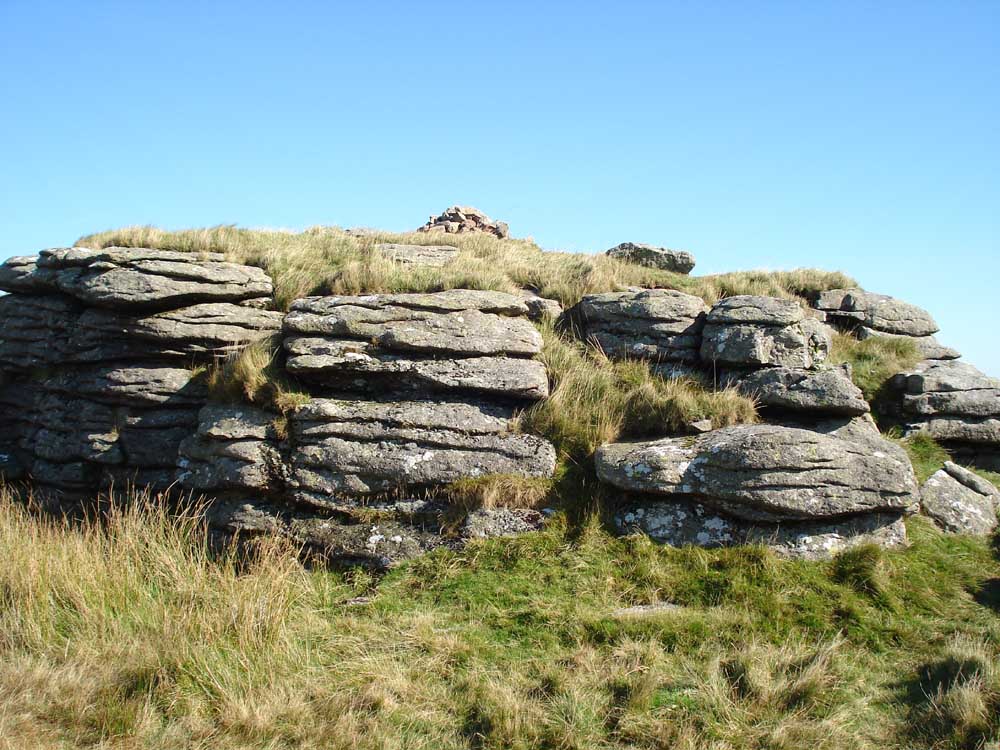 The cairn at Higher White Tor .....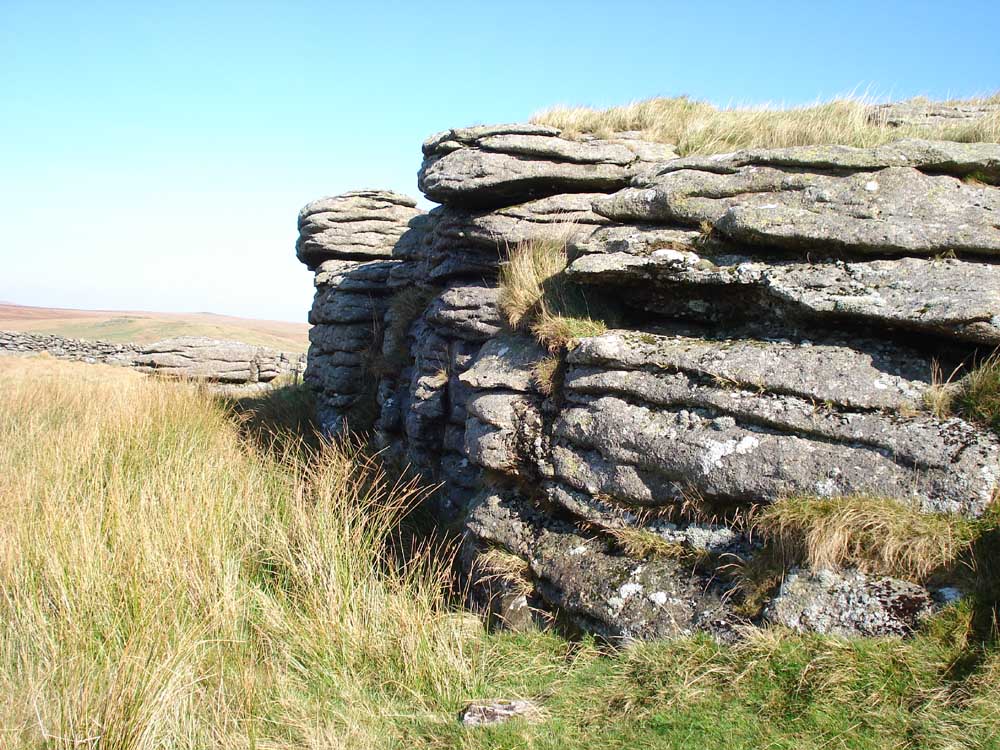 .... as previous photo.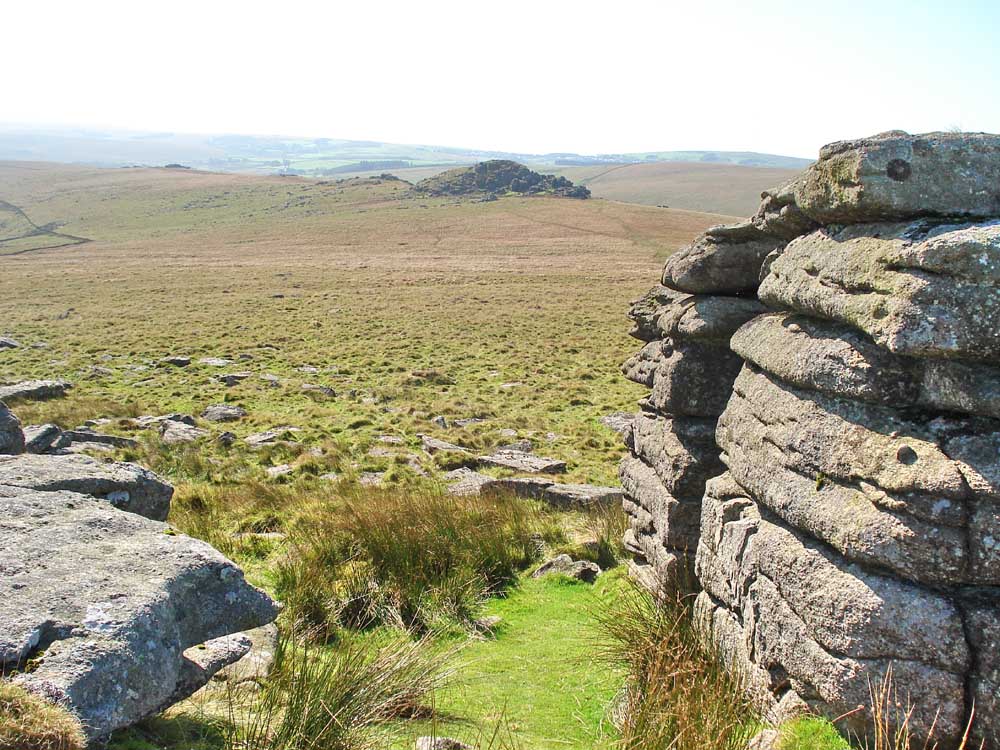 Looking back at Longaford Tor and Littaford Tors from Higher White Tor.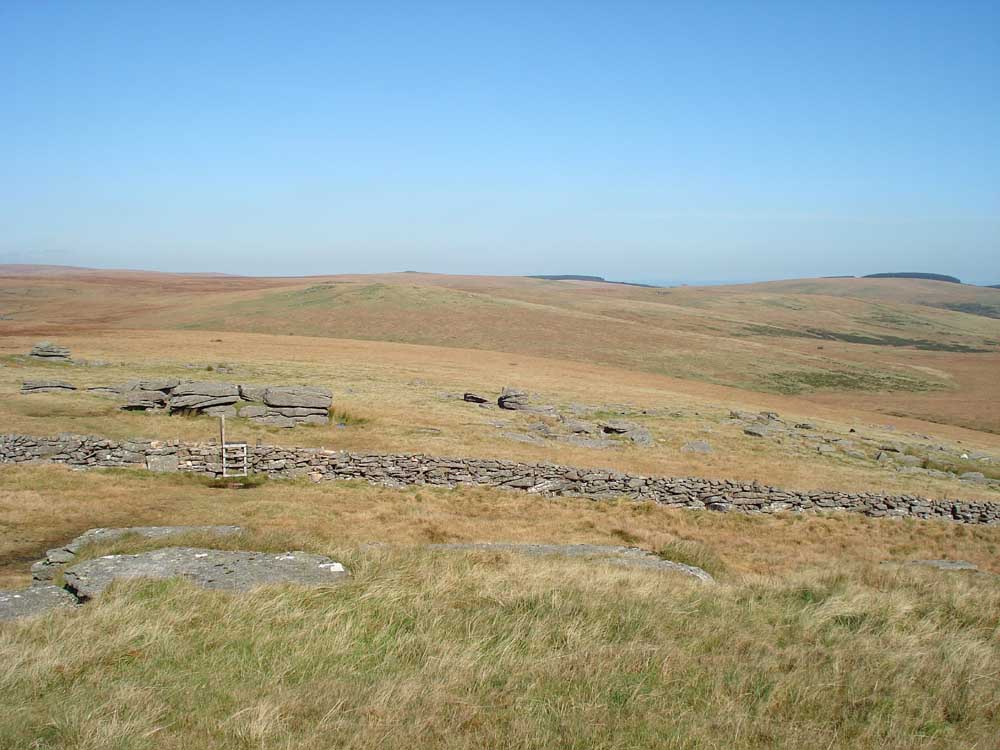 Looking towards Fernworthy Forest and .....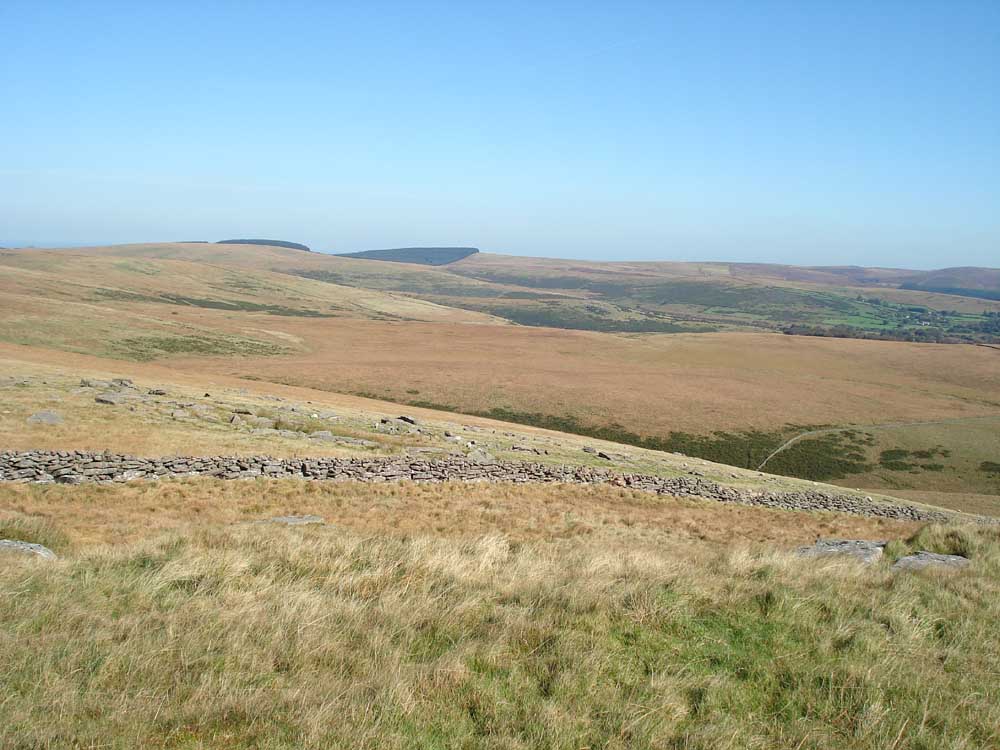 .... as previous photo, moving slightly to the right (these two photos could be joined together).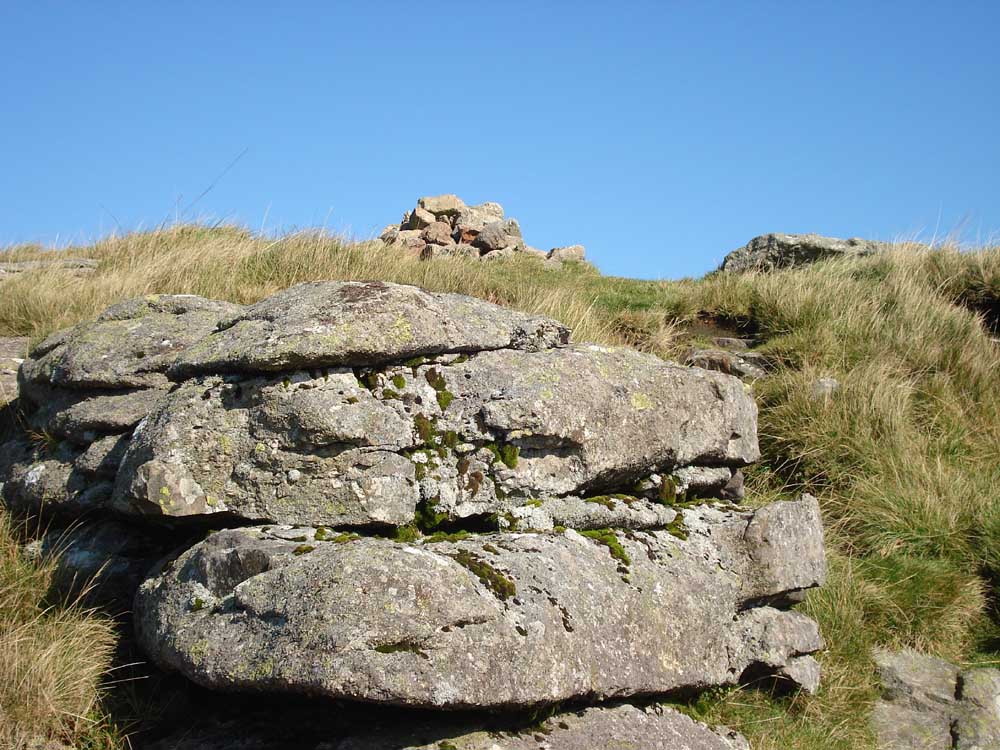 The cairn at Higher White Tor.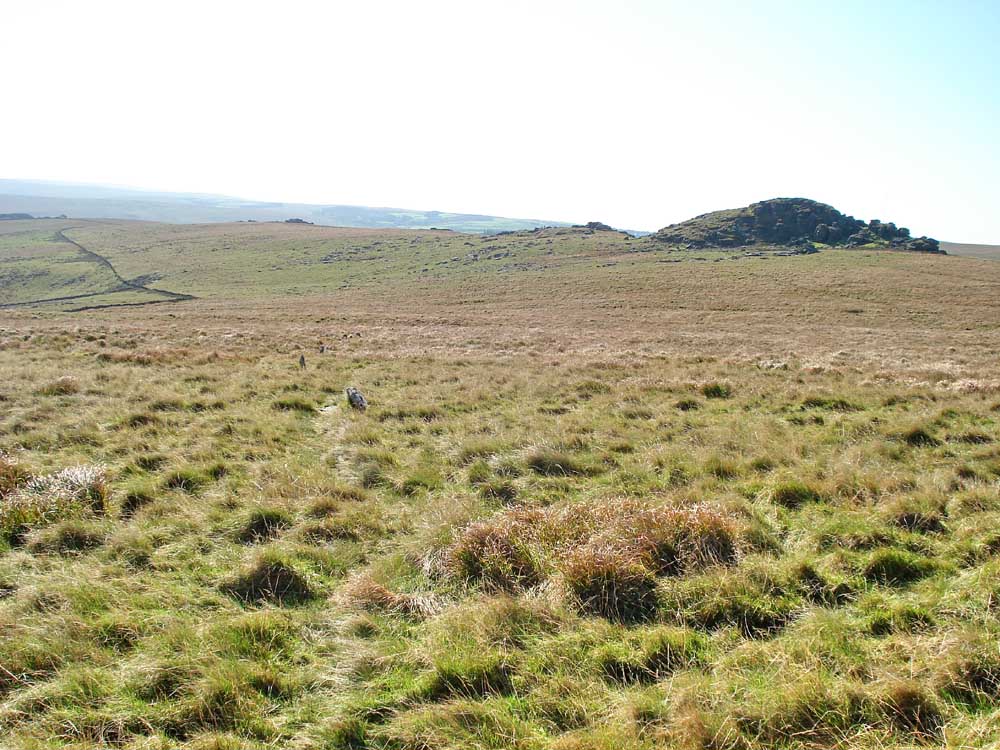 Stone row, at SX 61900 78300, looking "south" .....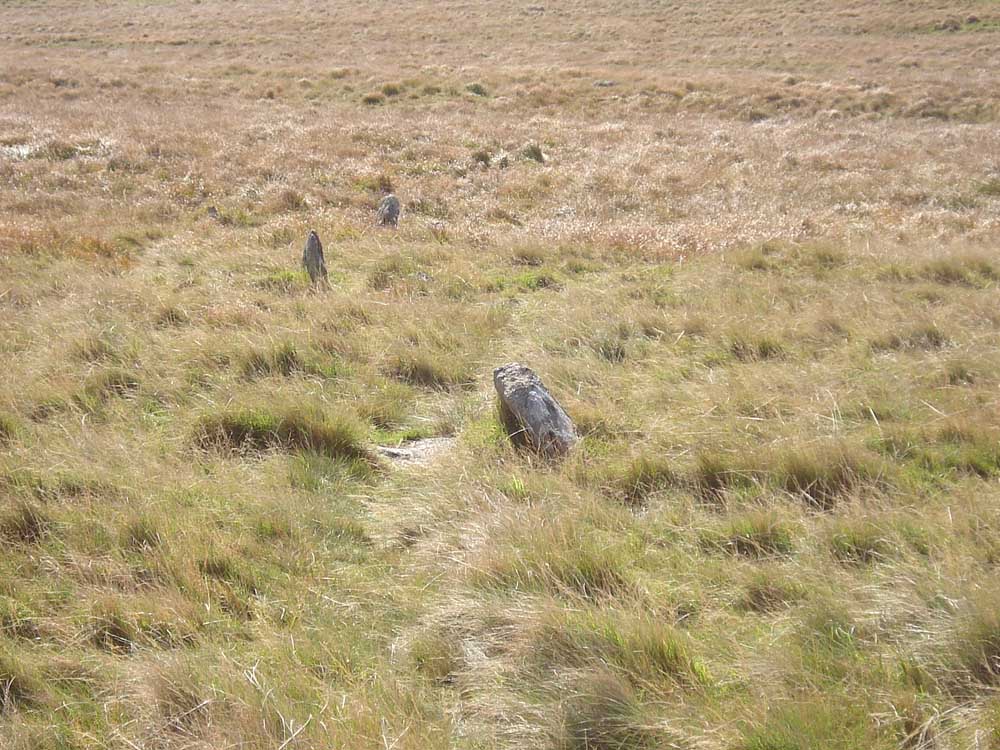 ..... zoomed view .....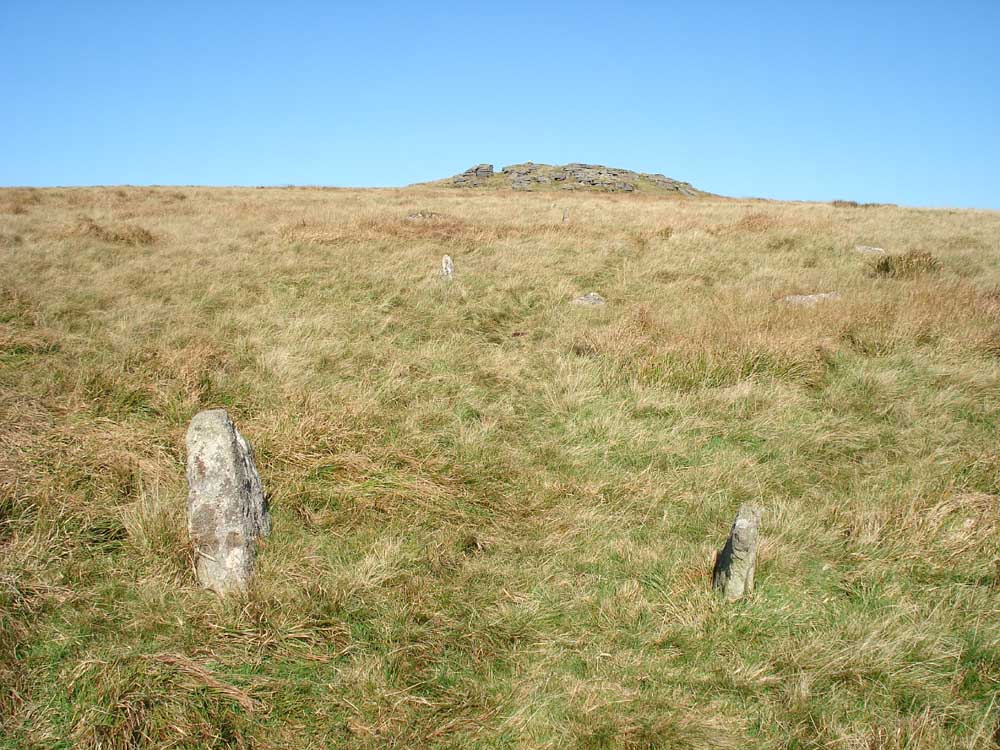 ..... and looking "north".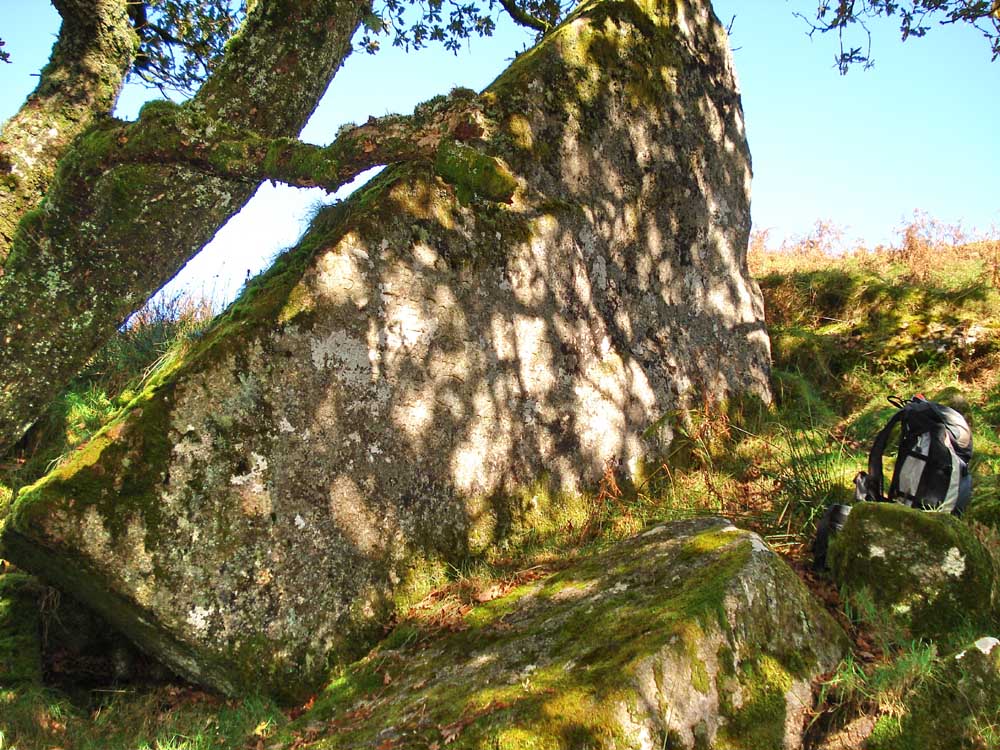 The Wentworth Buller stone in Wistman's Wood (Legendary Dartmoor), see previous walk on 3rd June 2009. It is inscribed: "By permission of H.R.H. the Prince of Wales, Wentworth Buller on Sept 16th 1866 cut down a tree near this spot. It measured 9in. in diameter and appeared to be 168 years old."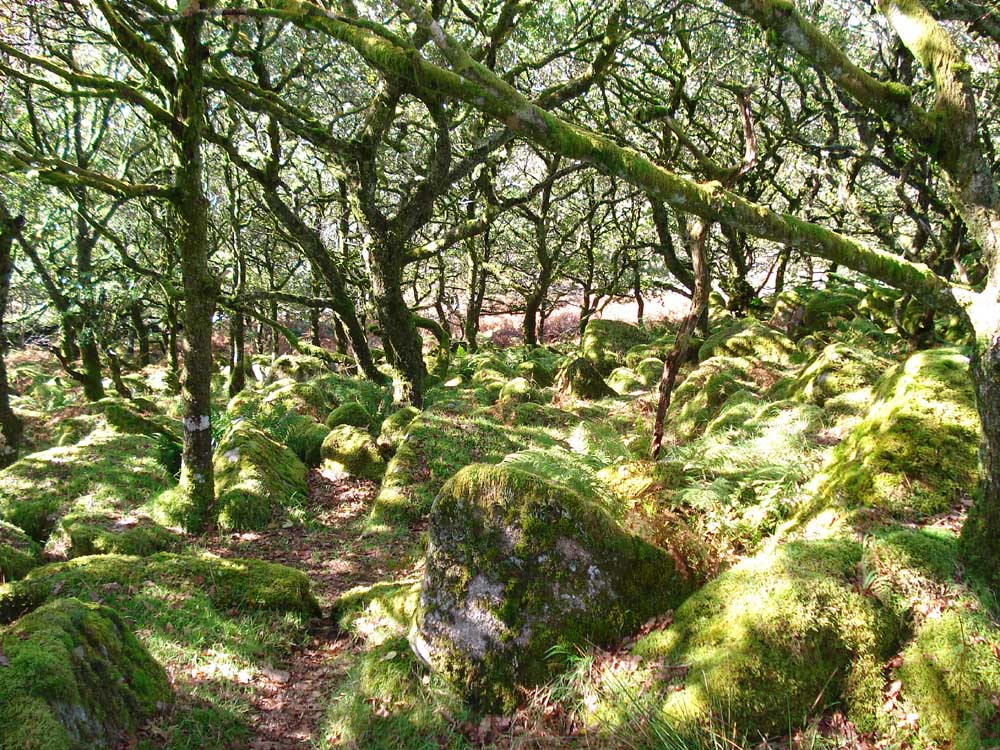 A general view inside Wistman's Wood National Nature Reserve (Dartmoor National Park web site) .....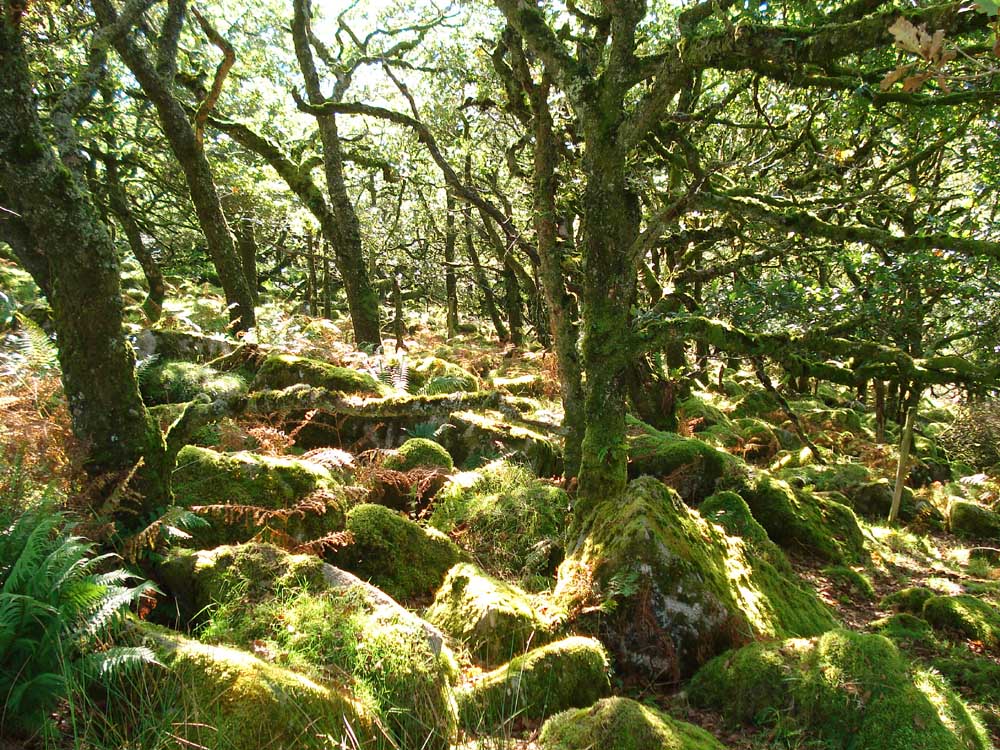 ..... as previous photo.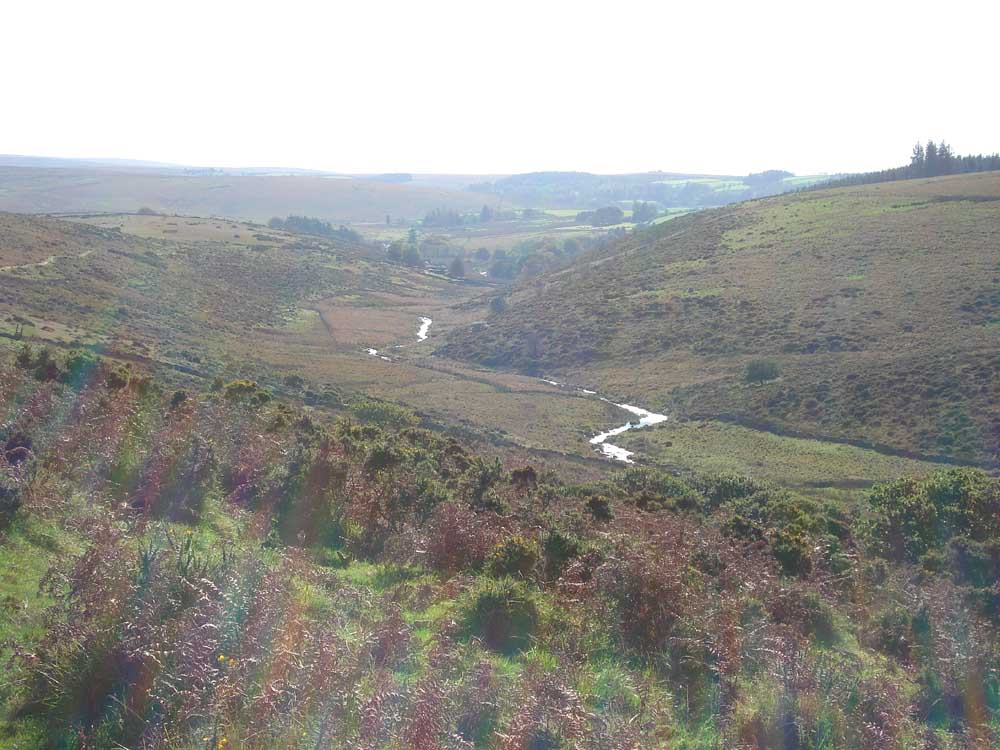 Another zoomed view down the valley, into the sun.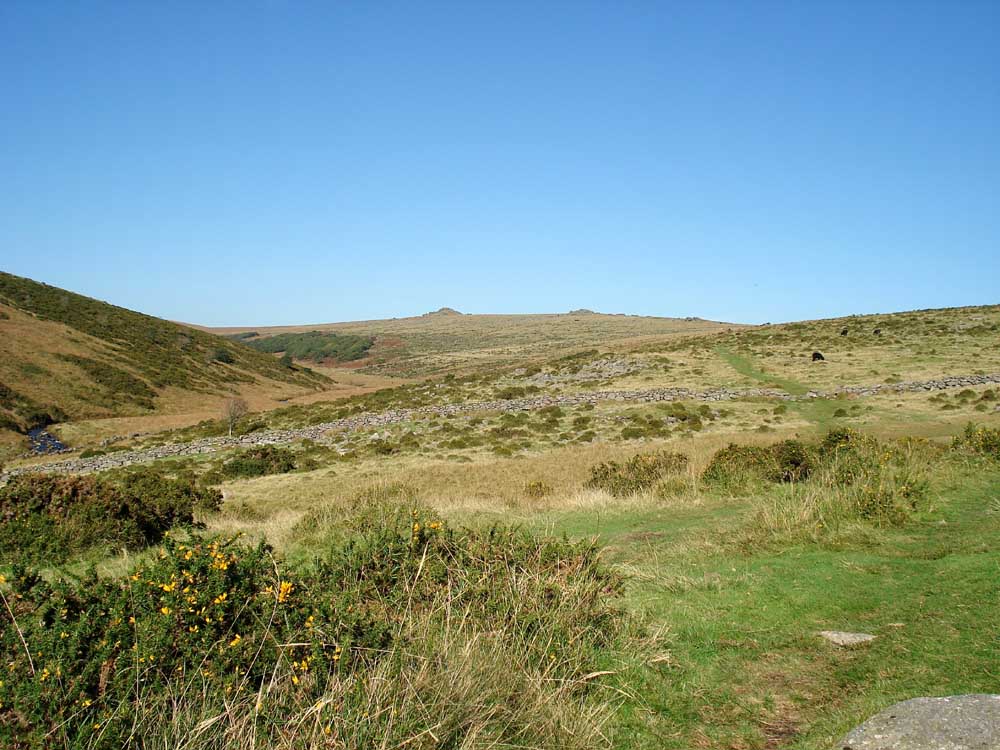 Looking back up the valley towards Wistman's Wood and Longaford Tor.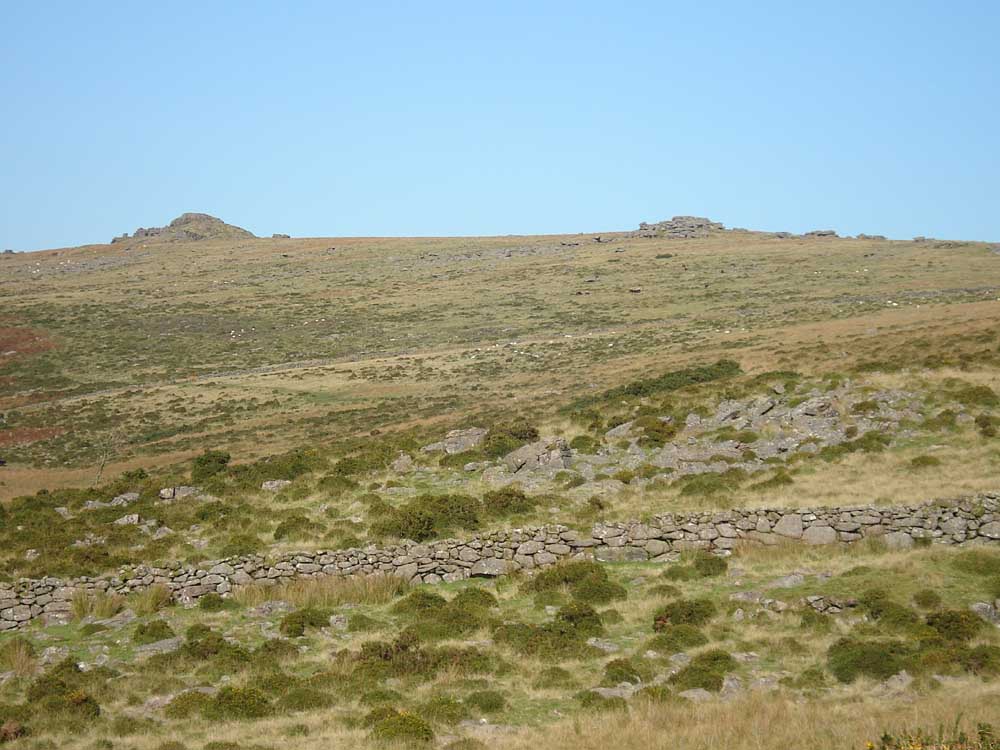 Longaford Tor (left) and Littaford Tors (right).
MAP: Red = GPS satellite track of the walk: this is the route walked.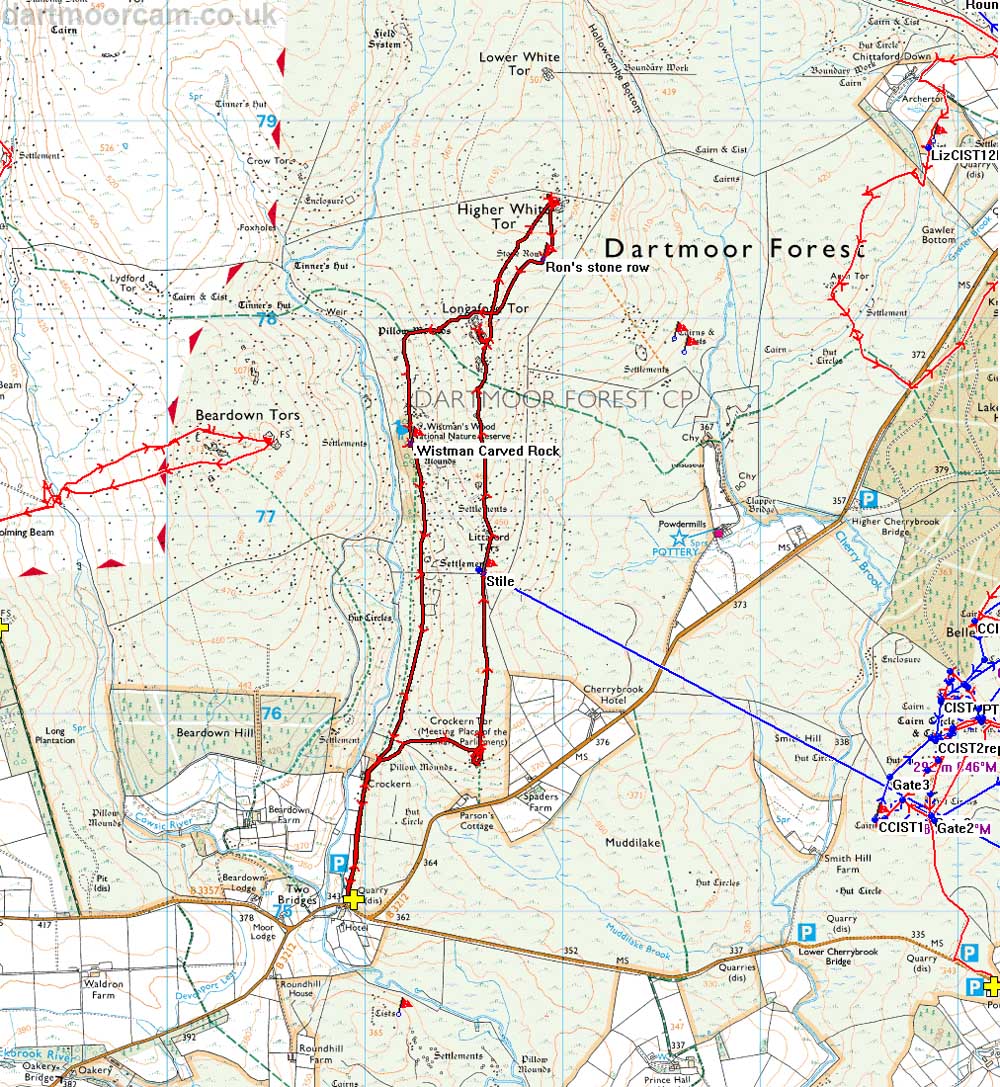 Ordnance Survey © Crown copyright 2005. All rights reserved. Licence number 100047373.
Also, Copyright © 2005, Memory-Map Europe, with permission.
The walk is easily accessed via the B3212 road at Two Bridges, with parking at the yellow cross / P symbol on the map.
Statistics
Distance - 9.2 km / 5.7 miles.
Start 10.45 am, Finish 2.50 pm, Duration 4 hr 5 min.
Moving average 3.6 kph / 2.24 mph; Overall average 2.5 kph / 1.55 mph.
All photographs on this web site are copyright ©2007-2016 Keith Ryan.
All rights reserved - please email for permissions
Sister web sites
Dartmoor Tick Watch
The Cornish Pasty - The Compleat Pastypaedia