This walk: 2010-5-27. Hemsworthy Gate, three-sided parish boundary stone, old gate post, Dartmoor ponies, Top Tor, Hound Tor, bluebells, Hollow Tor, Tunhill Rocks, backlit sheep, Pil Tor, plane, St Pancras Church (Widecombe), Blackslade cist, medieval longhouse, Rippon Tor, Blackslade Brook, ford and stepping stones, boundary stones, speedwell, Newhouse (old inn), slotted gatepost, recumbent hawthorn tree, A 1793 boundary stone, Rippon Tor features, trig. point, views, whortleberry, Dartmoor ponies, Stittlefords (Stentiford's) Cross.
Walk details below - Information about the route etc.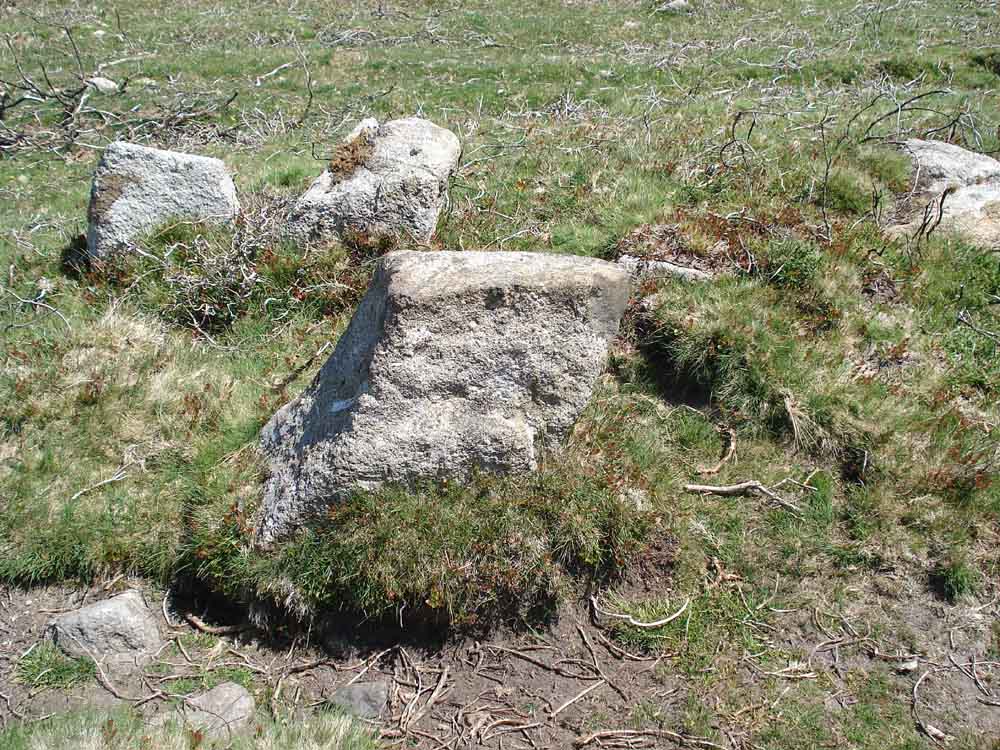 Strange rock beside the old road from Blackslade ford to the "main" road, SX 73497 75435 ± 2 metres. This is described in "Exploring Dartmoor" by by FH (Harry) Starkey, 1988 edition, page 19.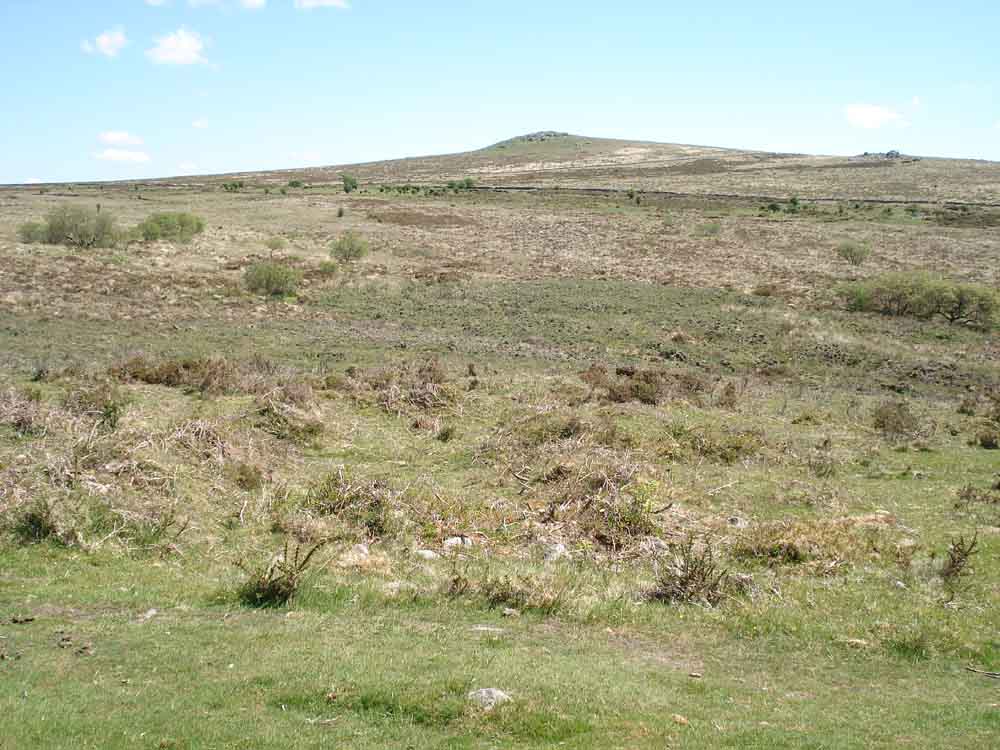 Medieval longhouse ruins, SX 73571 75375 ± 2 metres, beside the old road with Rippon Tor behind (SX 746 755, elevation 473 metres / 1551 feet). This is not mentioned in Harry Starkey's book.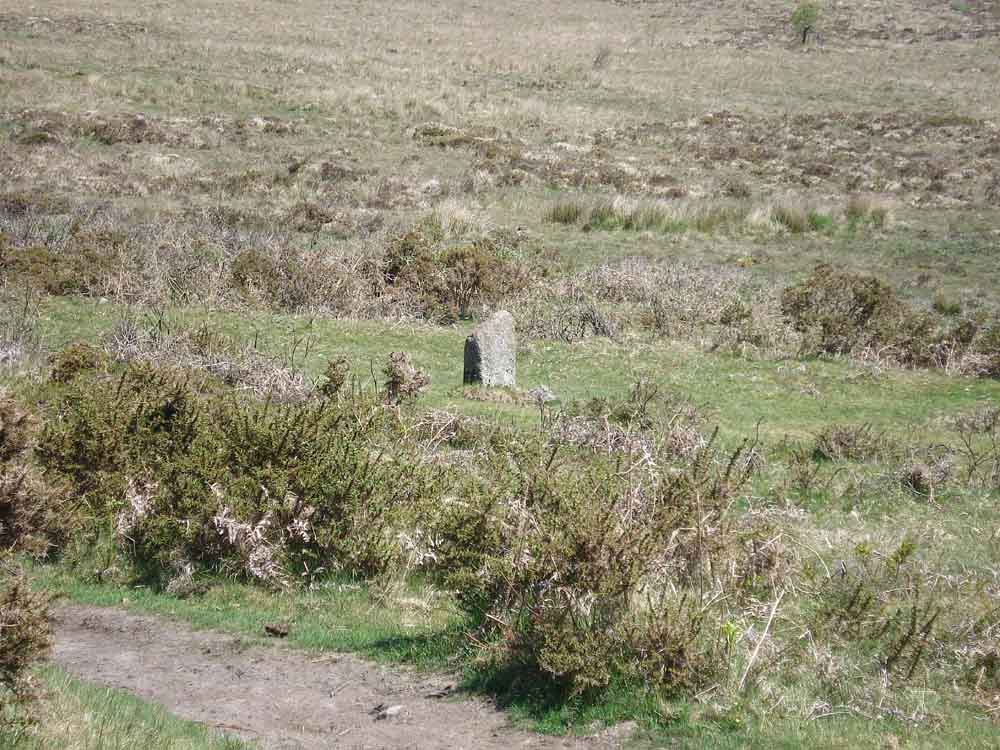 Marker stone beside the longhouse .....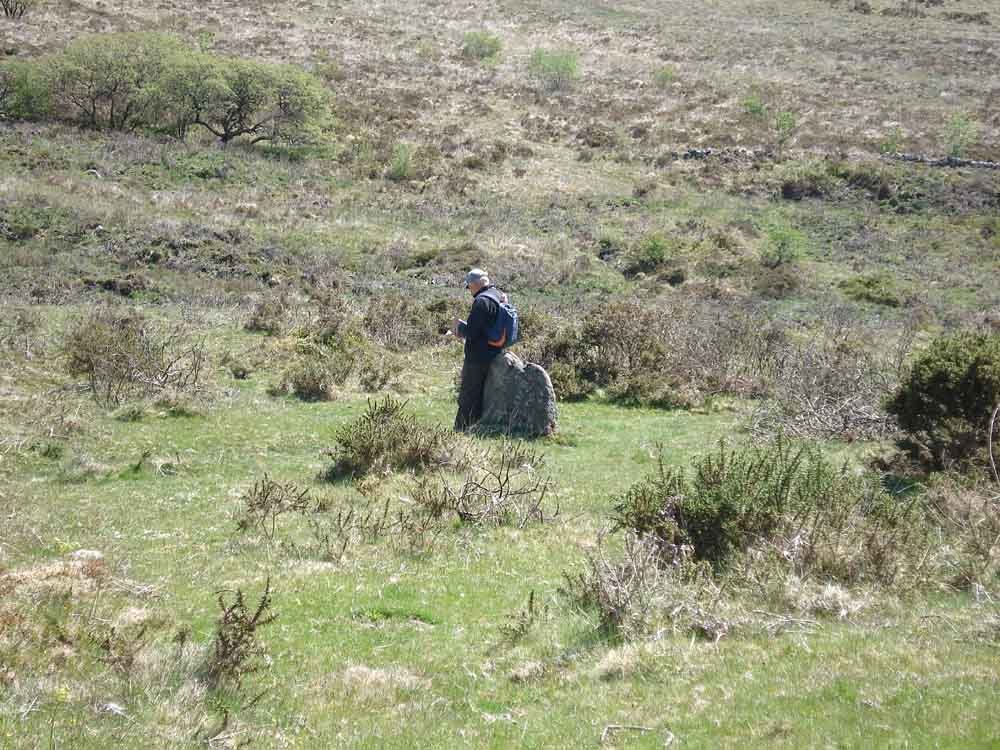 Second marker stone, used as a signpost beside the longhouse.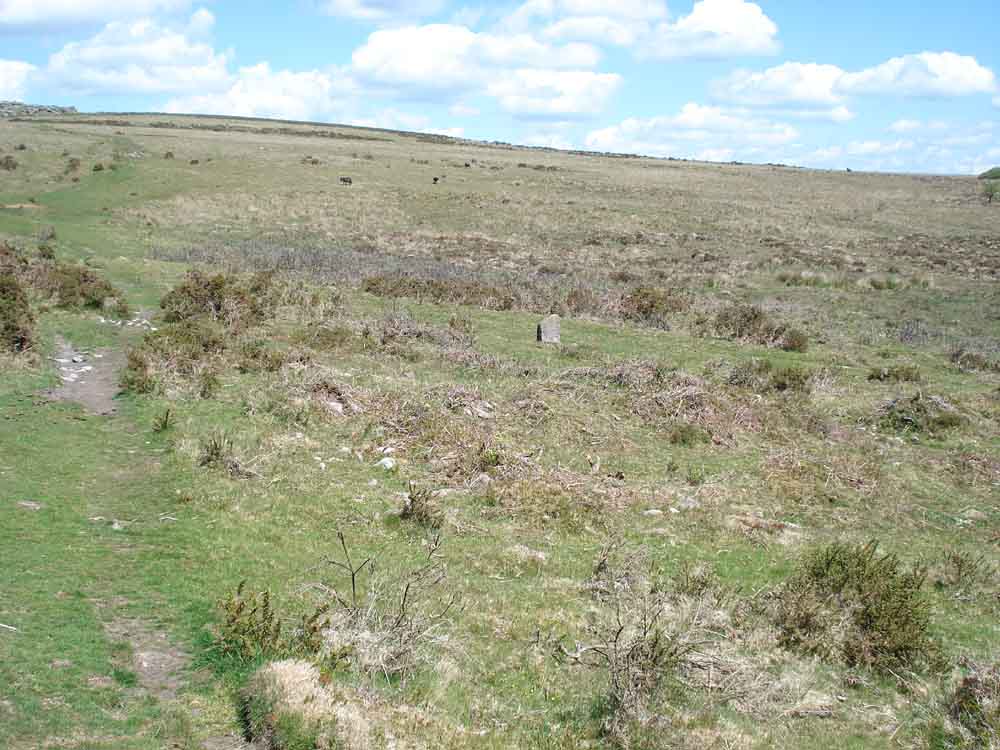 Looking across the longhouse remains to the first marker stone, with the old road at bottom left.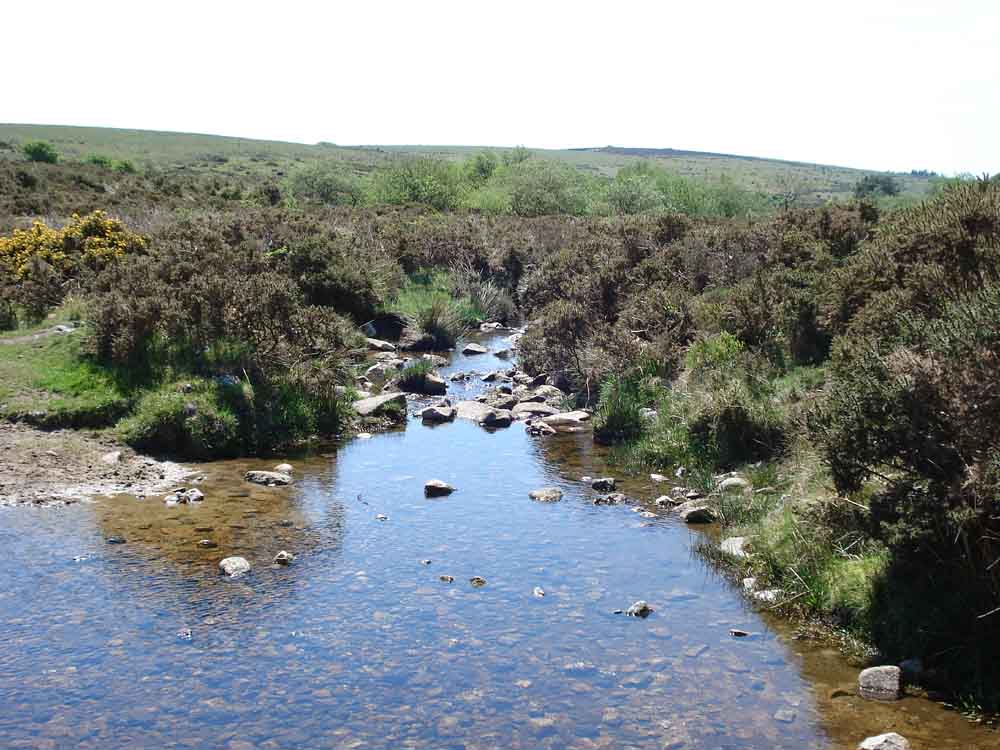 Blackslade Brook and stepping stones (downstream).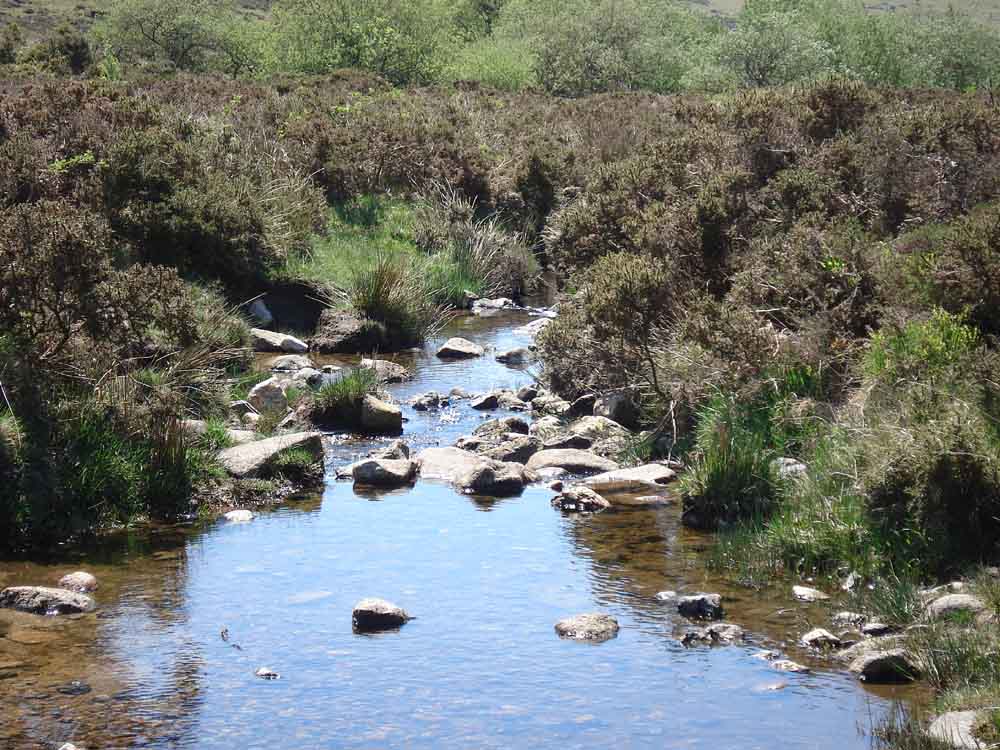 Blackslade Brook stepping stones.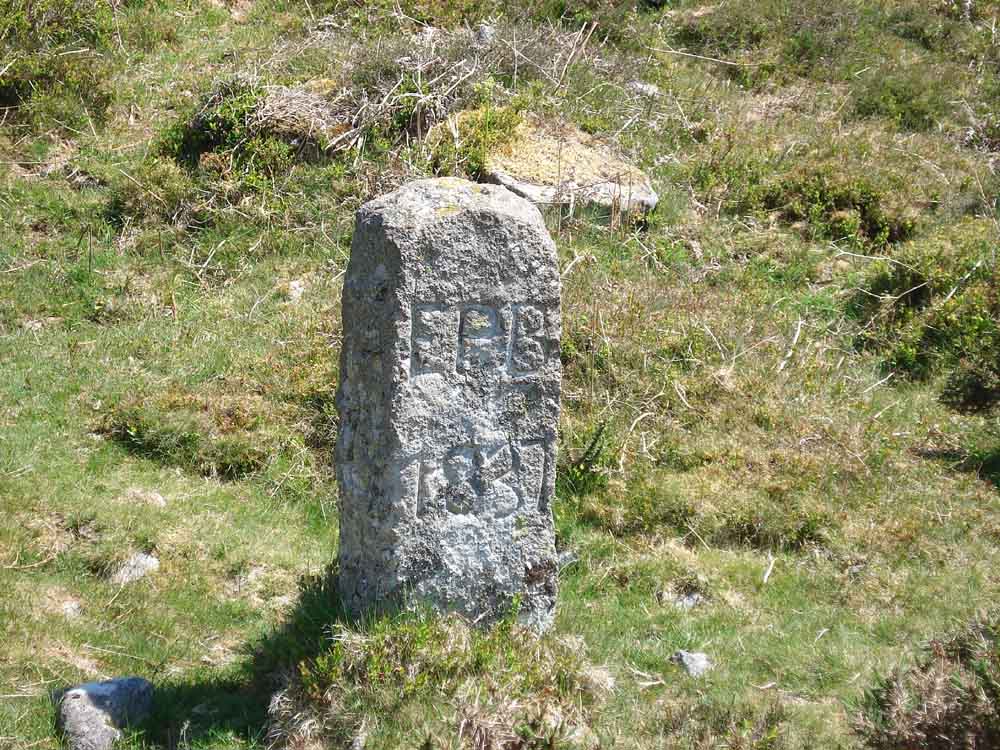 "EFB 1837" - on the first boundary stone encountered after the ford, SX 73695 75121. Edmund Pollexfen Bastard, Lord of the Manor of Buckland in the Moor, 1837.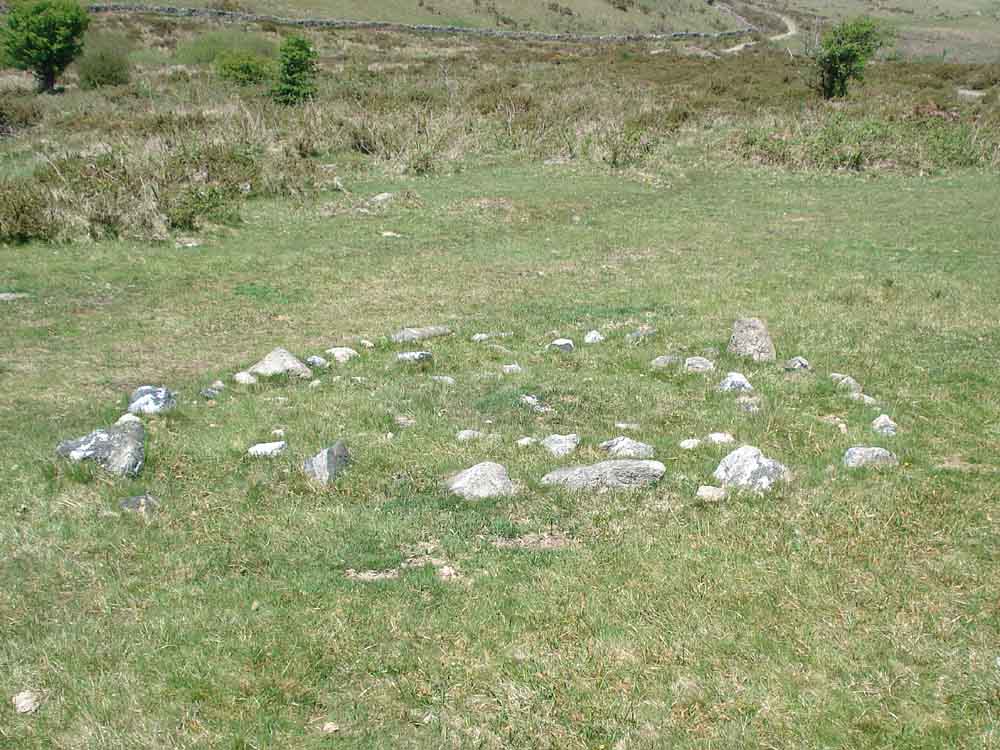 A spiral "maze" seen at SX 73732 75016 ± 2 metres - must be for the pixies, you get to the middle and become pixilated!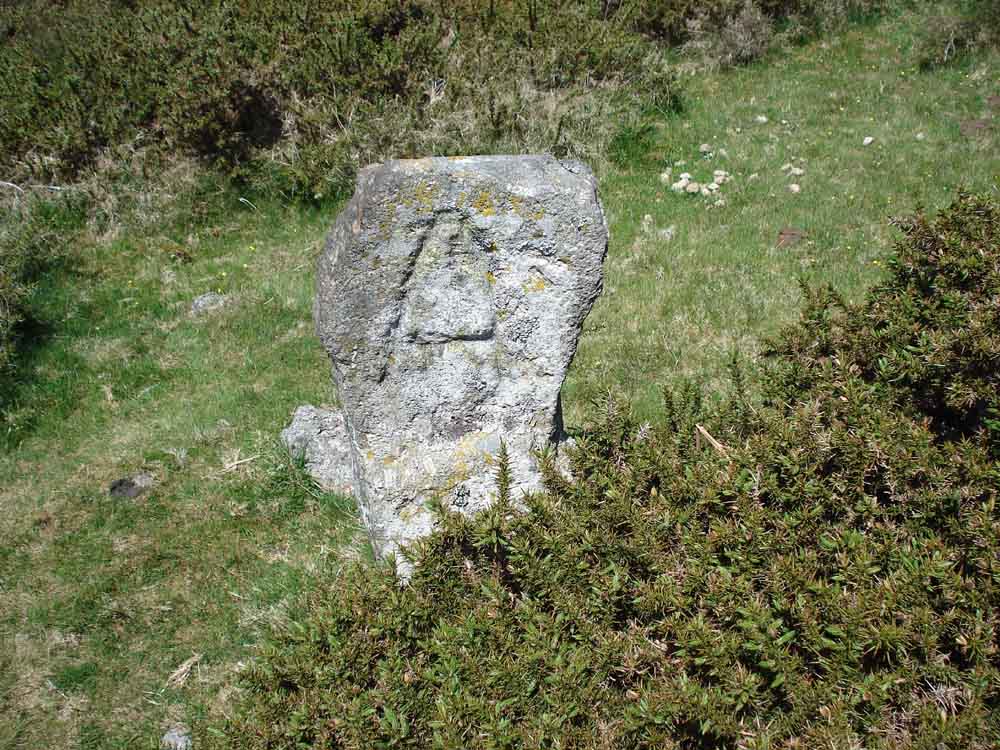 Second boundary stone at SX 73793 749731.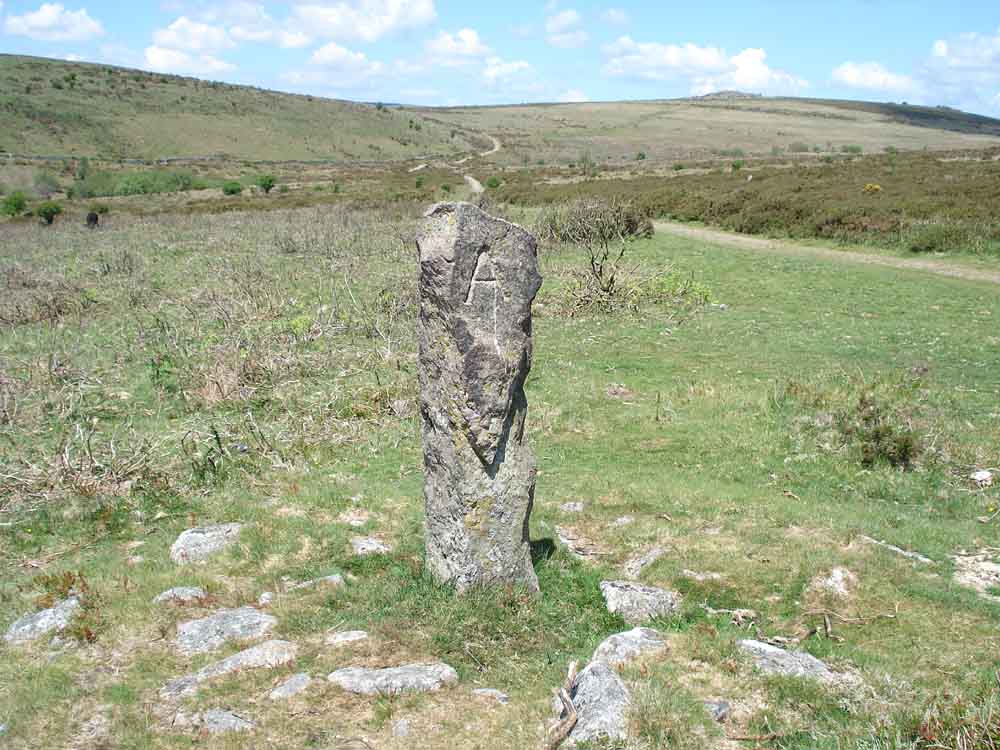 Third boundary stone at SX 7318 74871.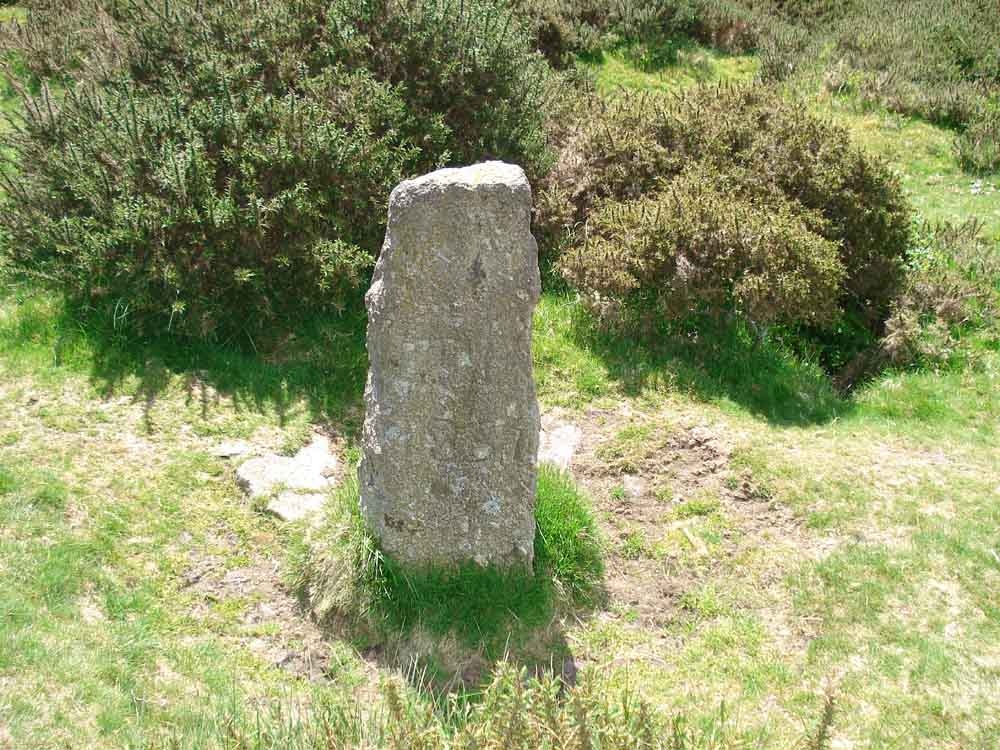 Fourth boundary stone, at SX 73890 74738, with "EPB 1837" and ...........
| | |
| --- | --- |
| | |
| A - Ashburton | B - Buckland |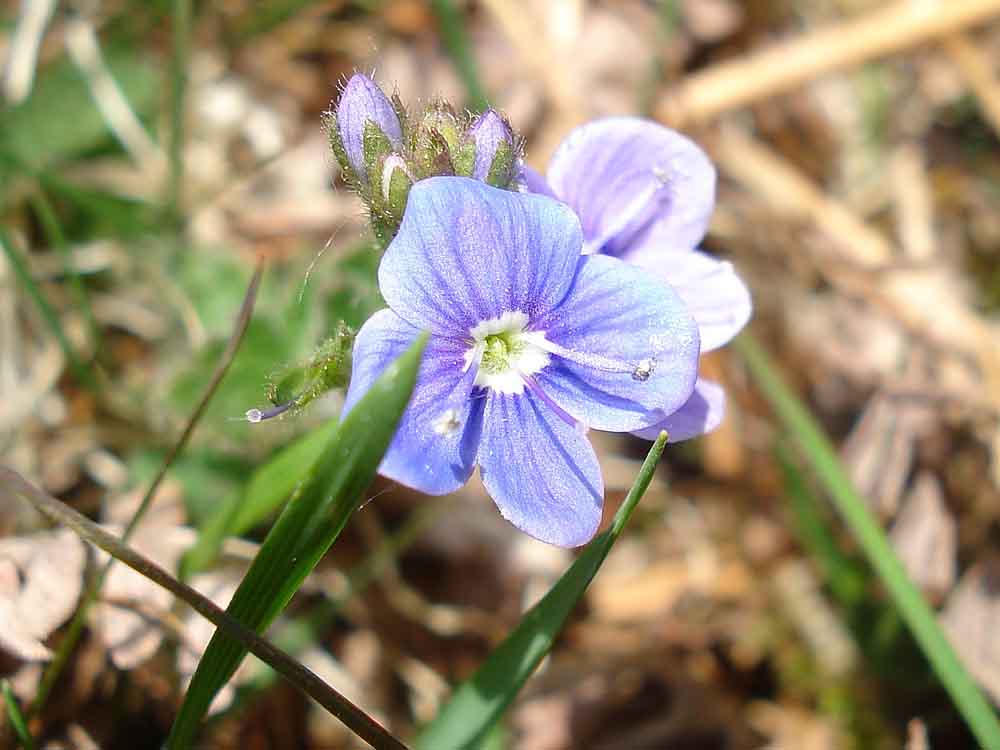 A Speedwell.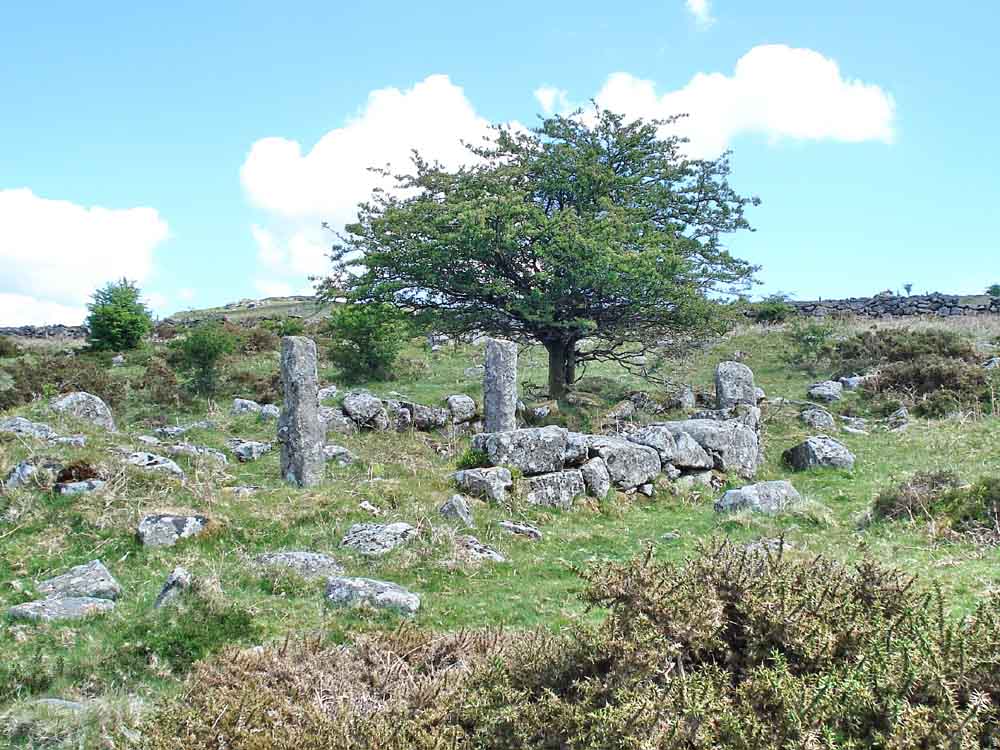 Old building remains at approx. SX 73960 75303 ..... a good spot for lunch.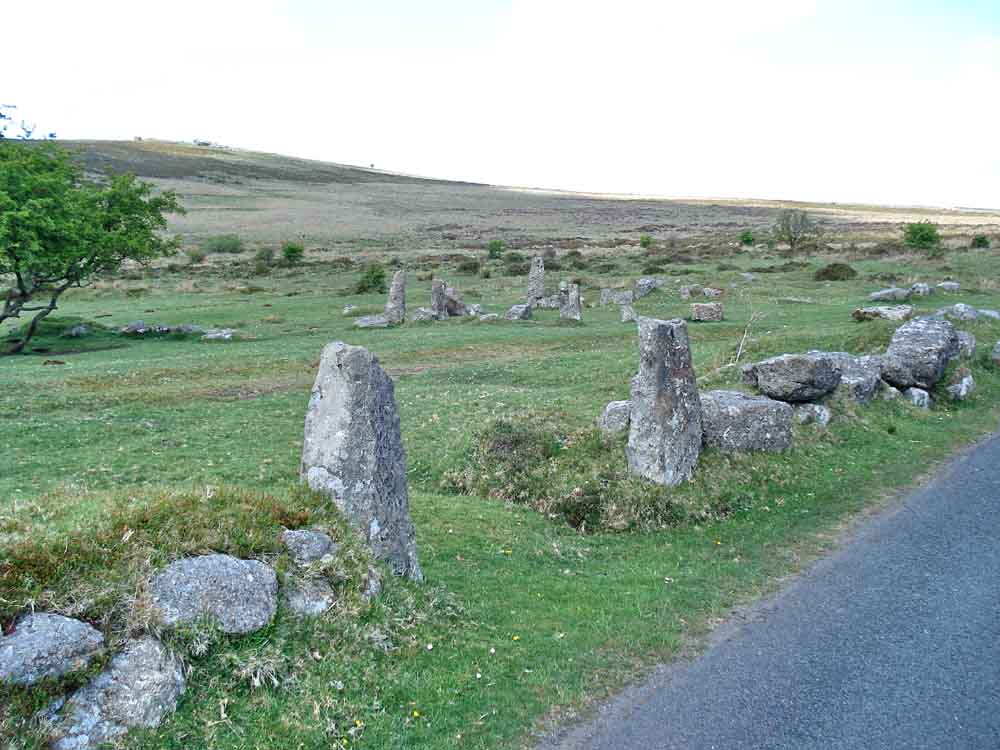 Gateposts beside the road ..... at Newhouse, an old inn.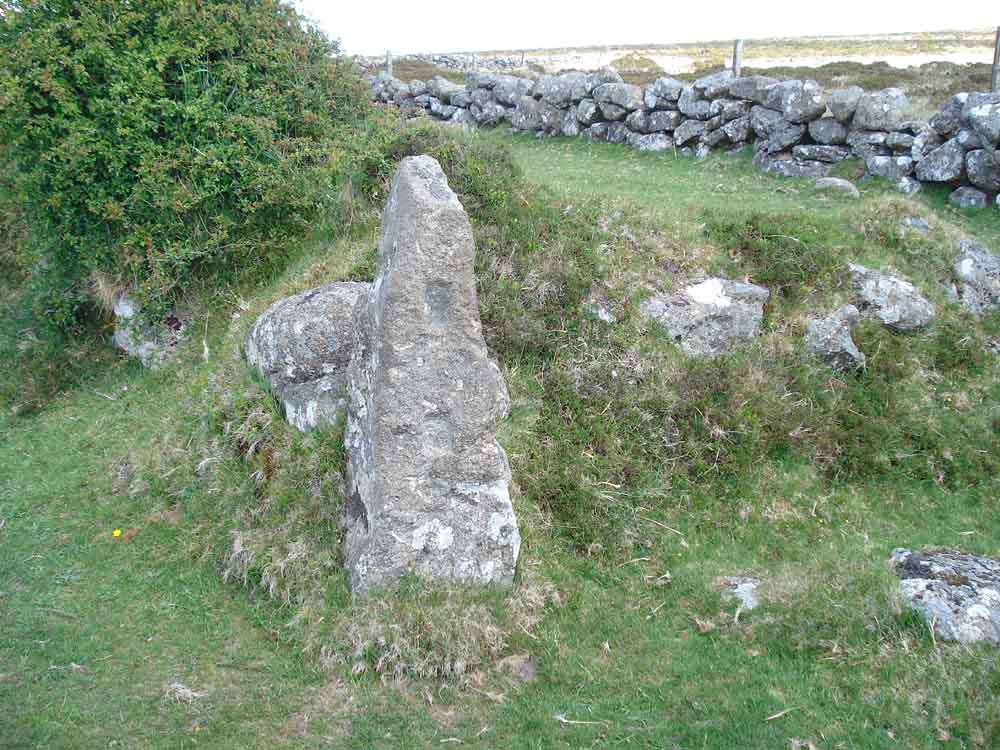 Slotted gatepost .....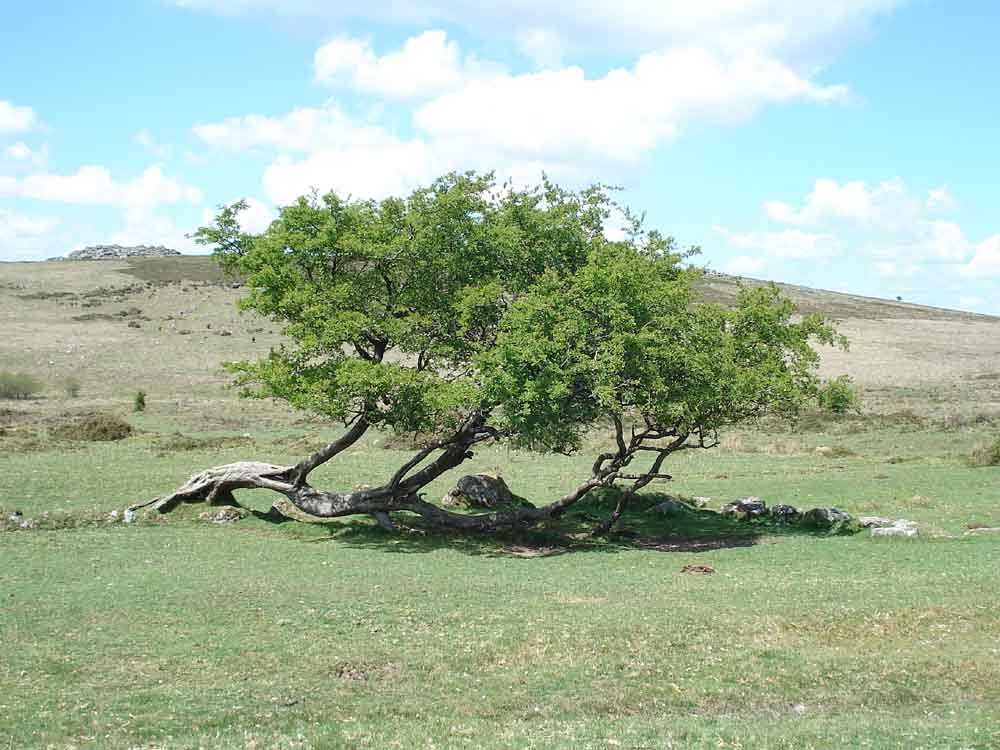 Recumbent hawthorn tree .....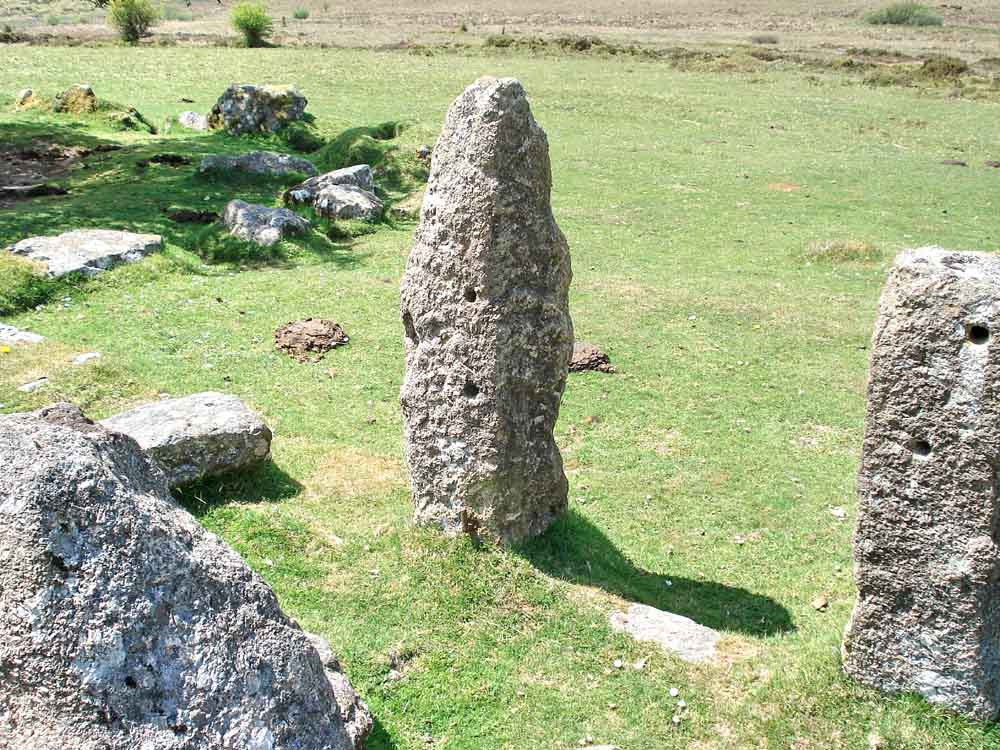 Gateposts with holes.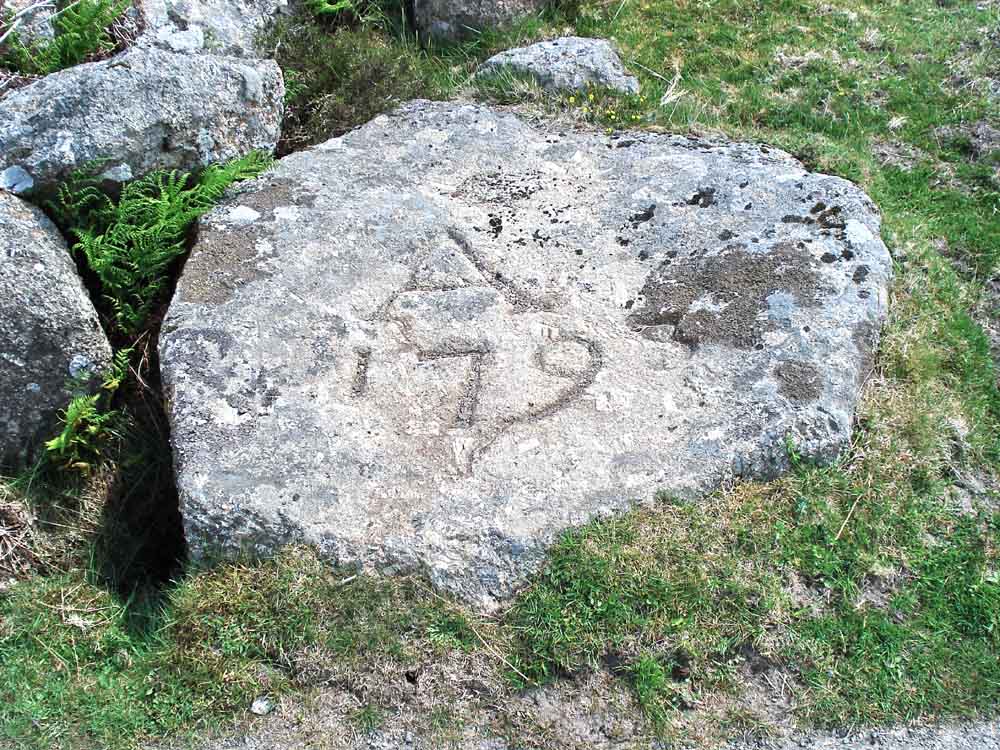 "A 1793" - an old Ashburton/Ilsington boundary marker.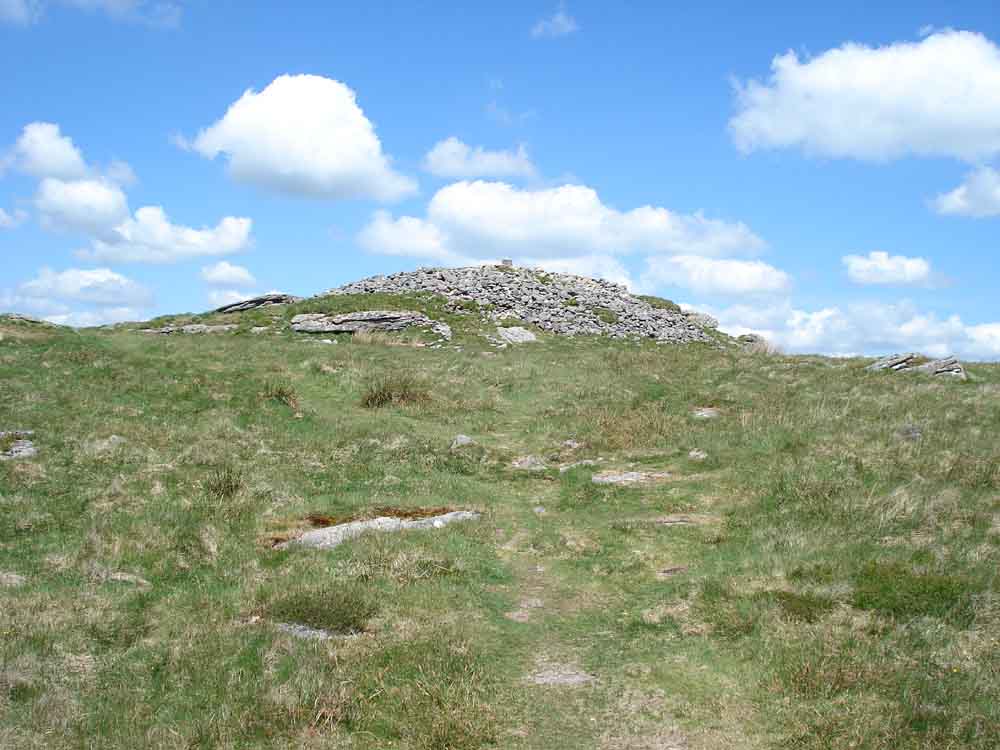 Approaching the summit of Rippon Tor, one of two large cairns .....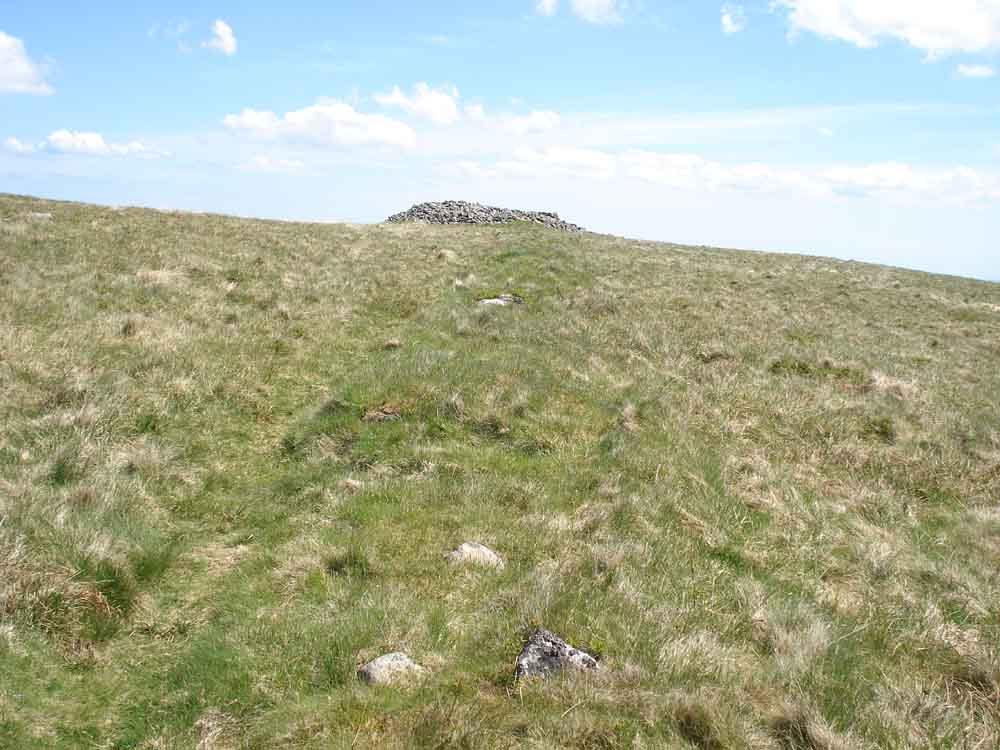 Looking along a reeve that runs to the top of Rippon Tor to the second cairn .....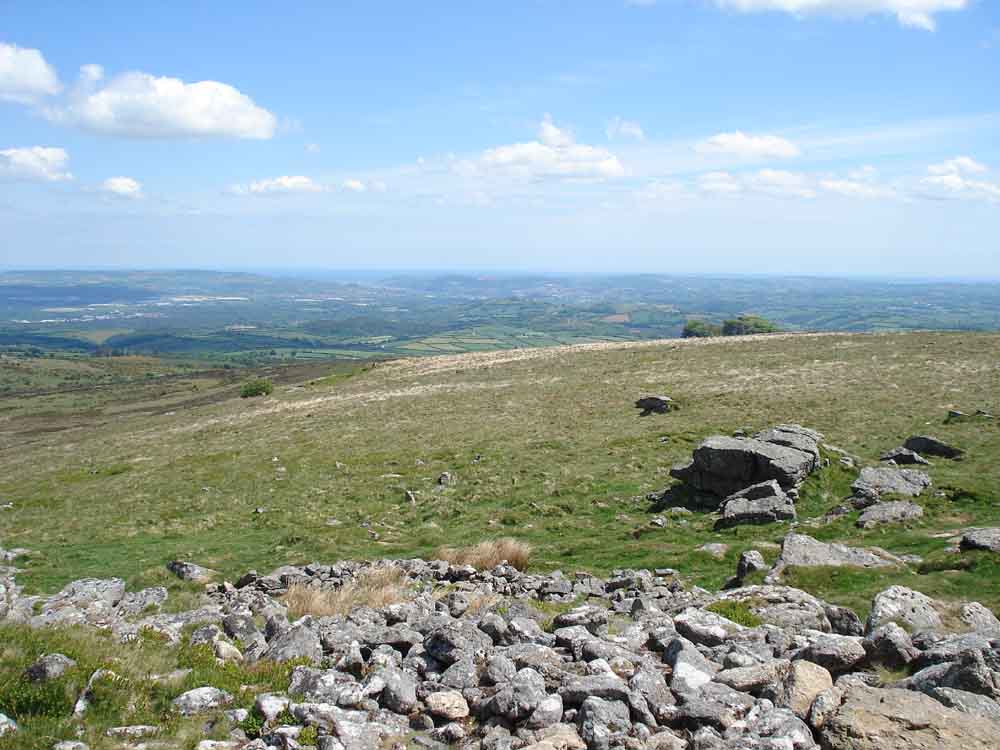 View towards Teignmouth, on the Channel coast.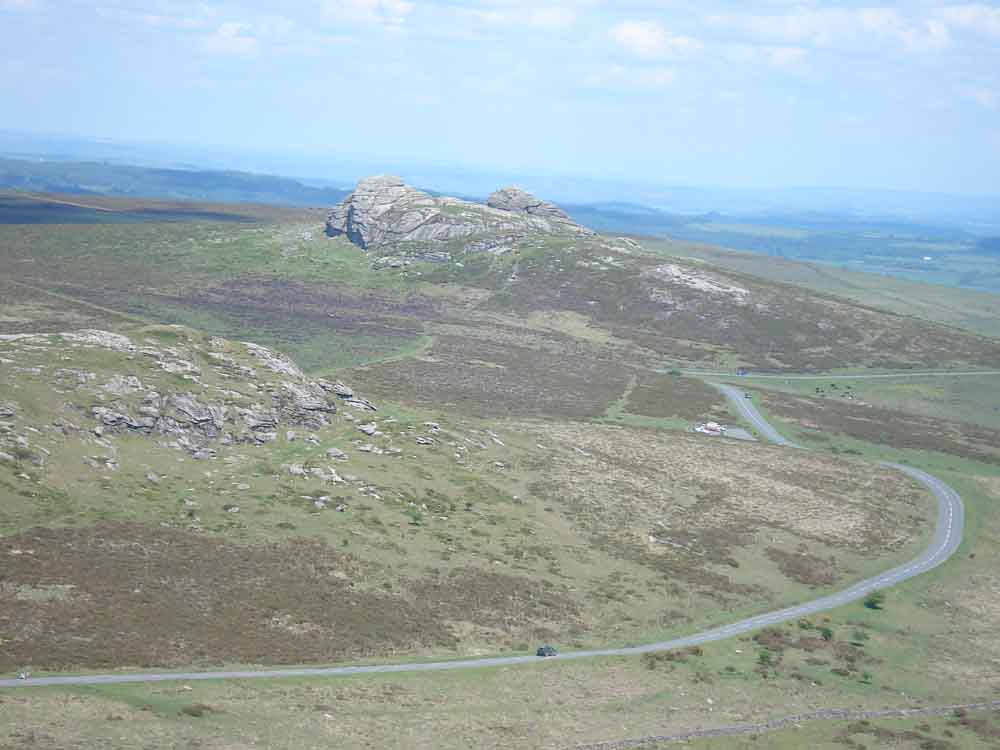 Haytor, with Saddle Tor at bottom left .....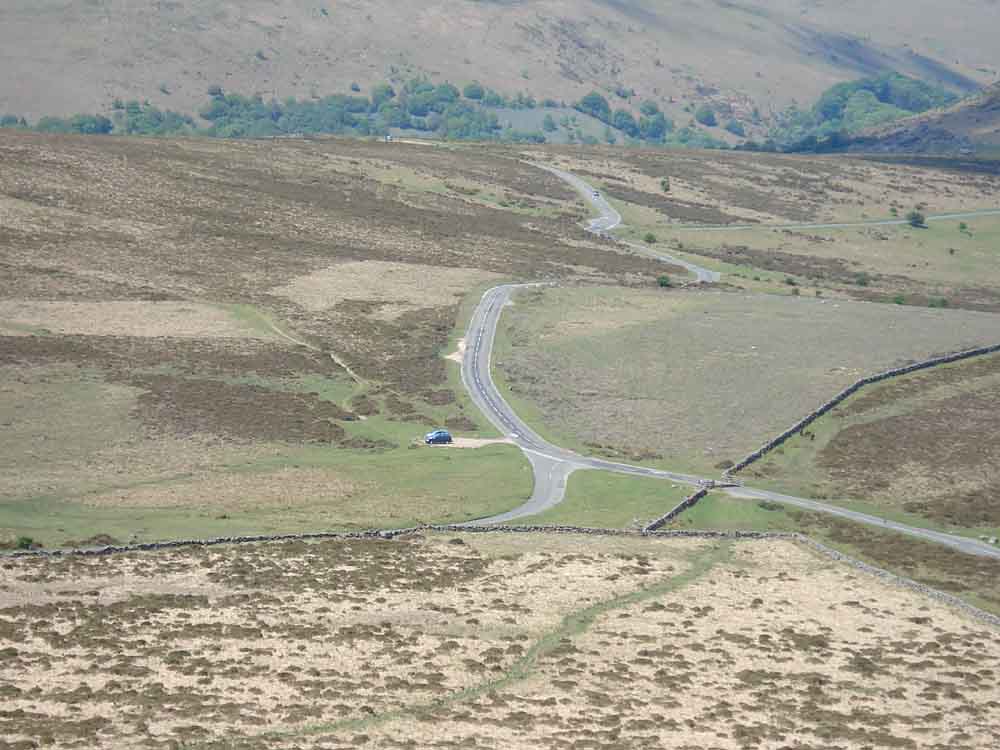 Looking down on the car park .....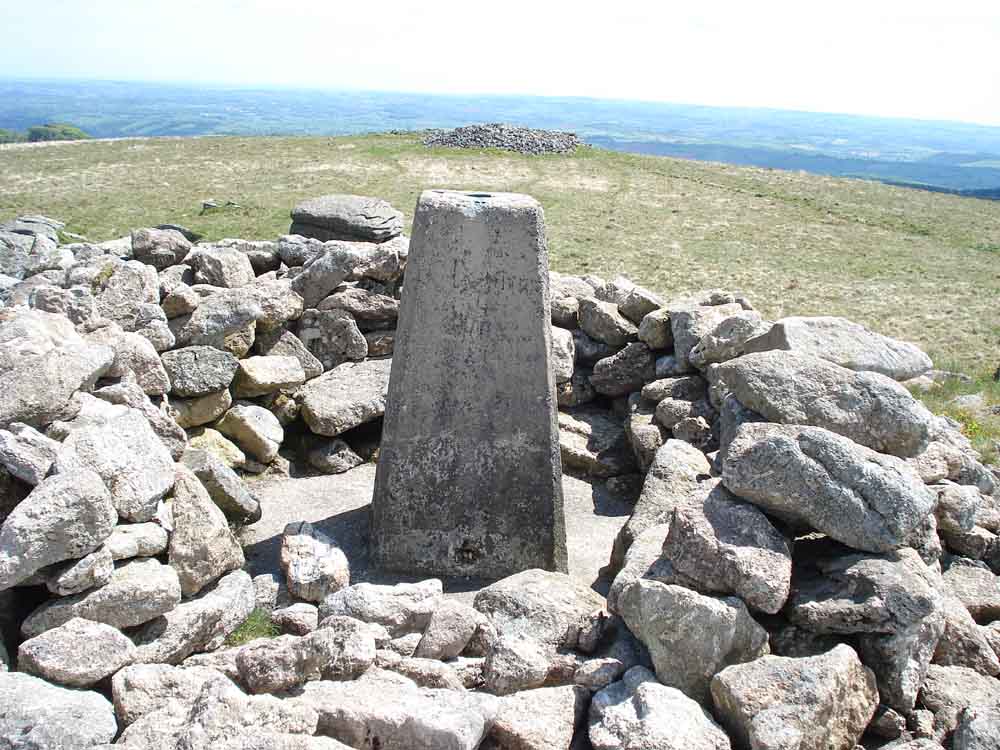 Trig point .....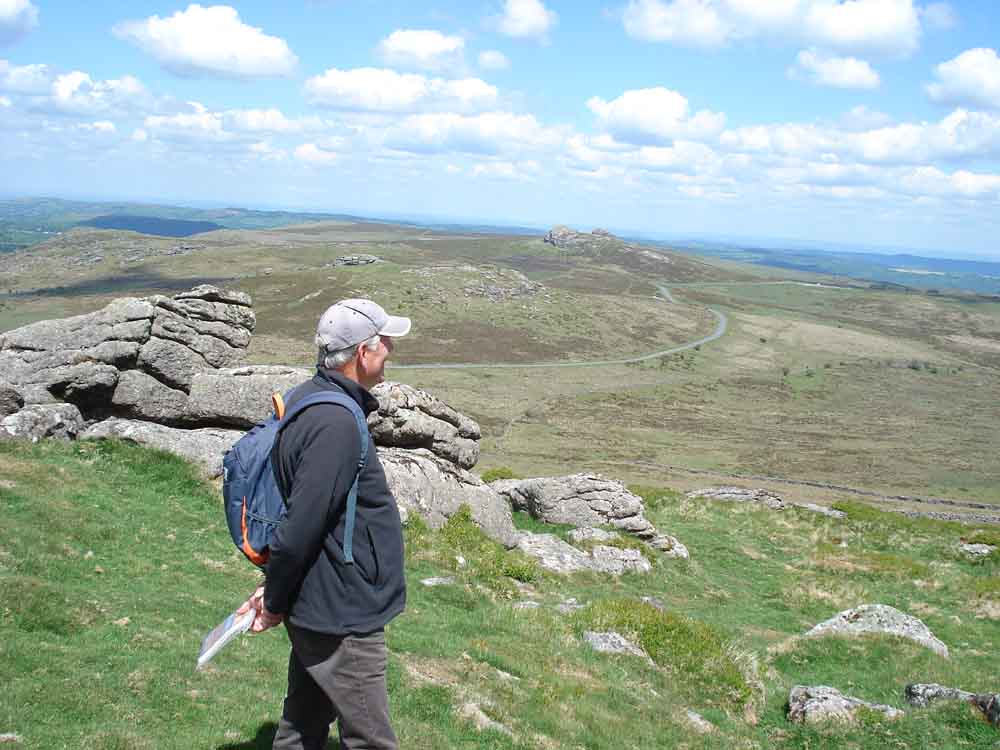 Looking towards Haytor .....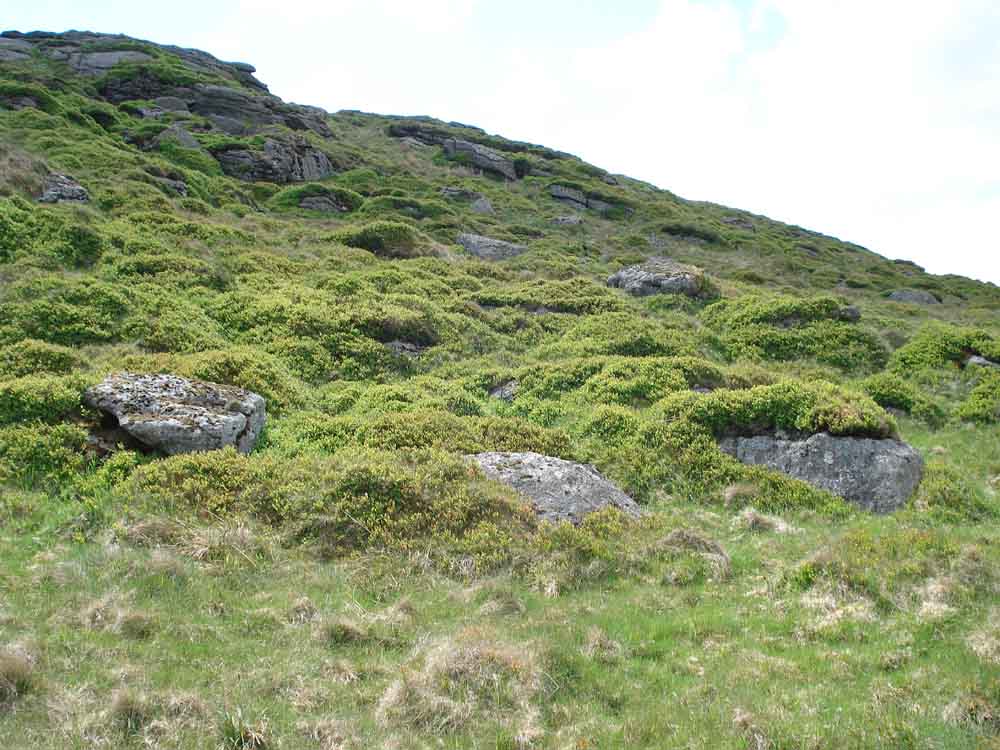 Banls of whortleberry on the north-west flank of Rippon Tor.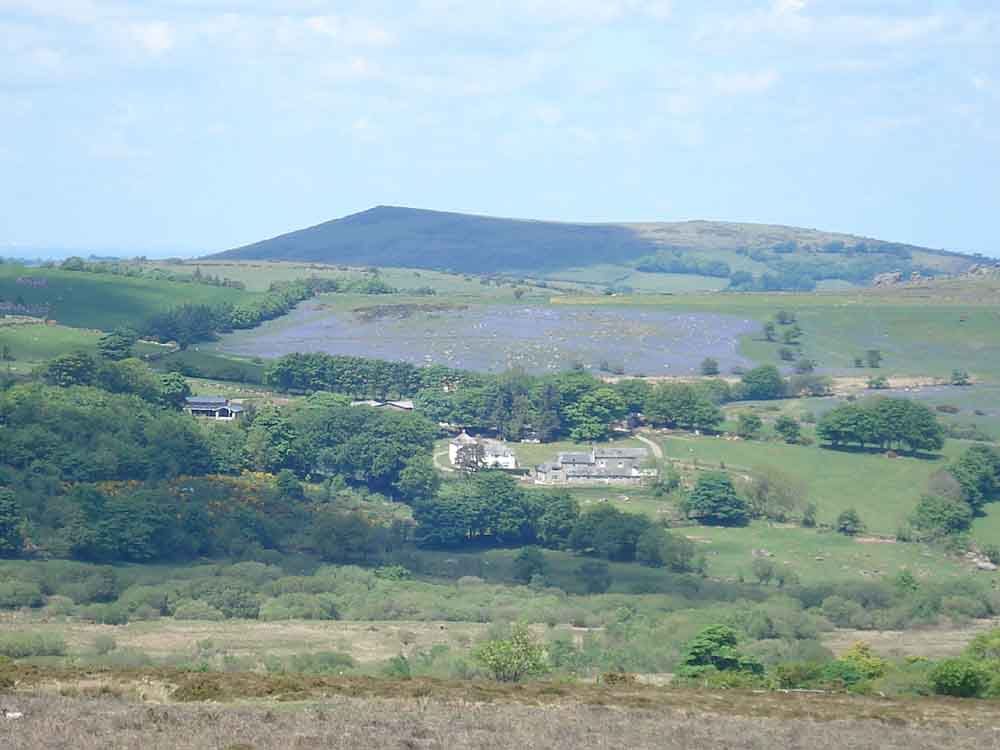 Bluebells, in the Hound Tor area as seen earkier.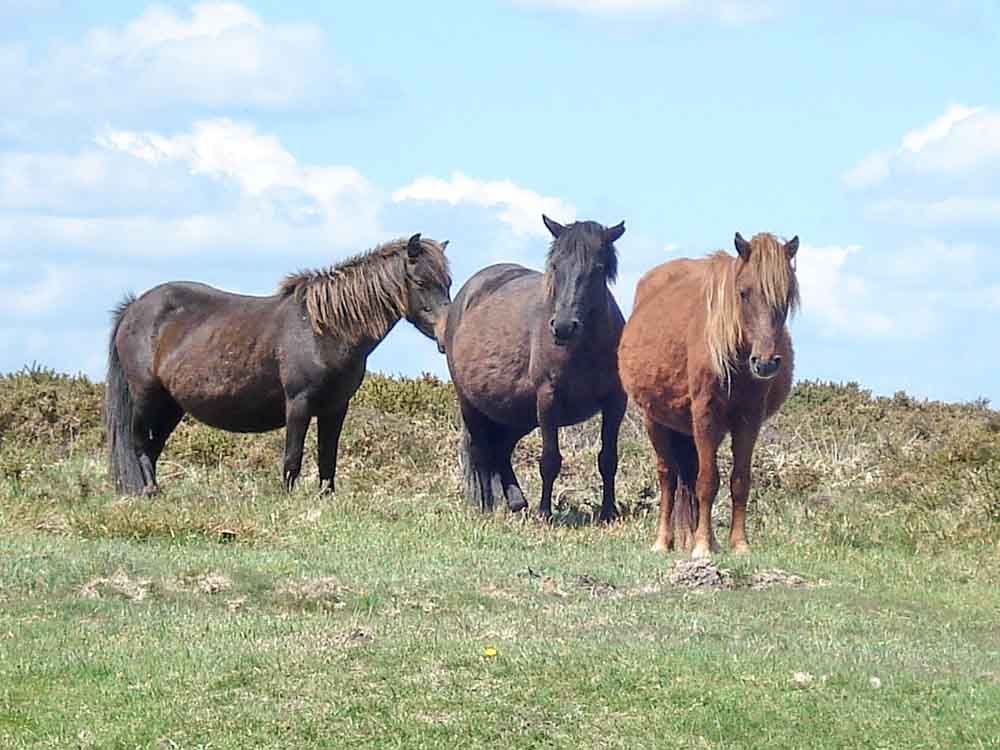 Dartmoor ponies.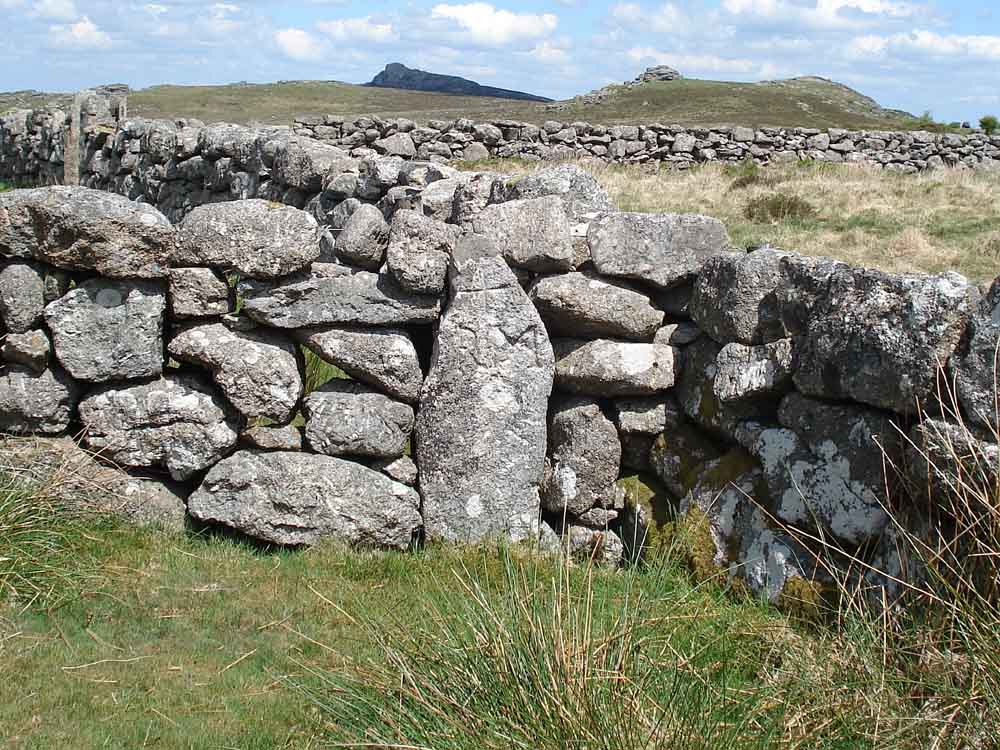 Stittleford's (Stentiford's) Cross, RM - Rawlin Mallock, a late 18th Century Lord of the Manor of Dunstone in the parish of Widecombe
MAP: Blue = planned route. Unfortunately, I forgot to turn on the GPS tracking system to show the exact route that we followed ..... the red flags mark some of the boundary stones.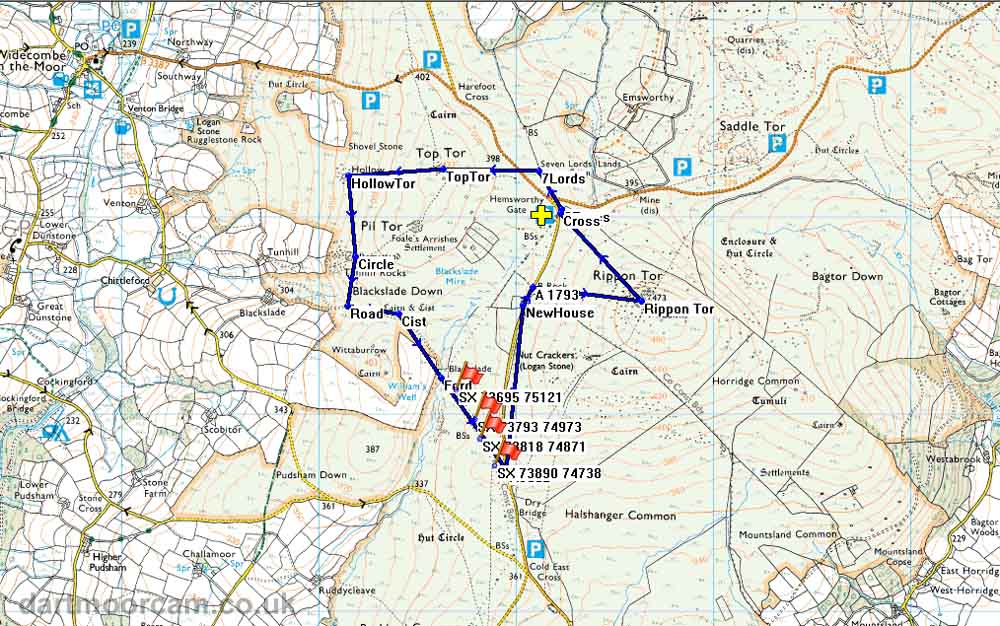 Ordnance Survey © Crown copyright 2005. All rights reserved. Licence number 100047373.
Also, Copyright © 2005, Memory-Map Europe, with permission.
The walk was accessed via the A38 from Plymouth, Newton Abbot/Widecombe turn-off and following the road for Widecombe to the Hemsworthy Gate car park, the P symbol with a yellow cross on the map.
Statistics
Distance - 7.16 km / 4.45 miles

Page 2
All photographs on this web site are copyright ©2007-2016 Keith Ryan.
All rights reserved - please email for permissions
Sister web sites
Dartmoor Tick Watch
The Cornish Pasty - The Compleat Pastypaedia